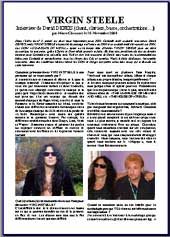 Review and Interview from the French print magazine Odym´etal, September 2004
by Marie-Christine
Another world, another dimension, then I have a little the tremor, the emotion torturing me internally. Then? Eh well, it is VIRGIN STEELE and it is nothing like any other group! My small heart is beating wildly in front of the first notes... And there, miracle or magic or both, I let myself be carried by the voice of David, it is so captivating and so cordial a voice which alleviates me completely. How not to let myself be charmed by the soft ones and pure intonations of David, even when the tone increases in power. One would need to be inhuman to not succumb to this voice. And when one opens the eyes on David, one cannot but admire as this man has so much charisma. I have seen some great singers in my life, but here, this evening, I remain happy to stand in front of such an amount of talent and expression. It is an acoustic concert which David makes so alive that one does not see the time run out. VIRGIN STEELE, one of the preferred groups of my husband, (unfortunately absent), will enter in scene or at least, its singer, David DeFeis, (the man, the artist, the musician that my husband dreams to meet more in the world) accompanied by his friend-guitarist, Edward Pursino.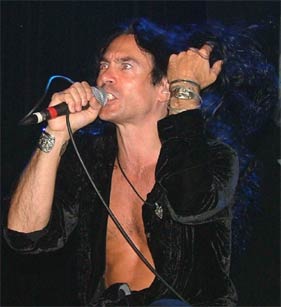 With a little théatral side which points out a little Freddy to me, the singer of QUEEN, always is it that David captivates, along with the complicity of his guitarist Edward, his audience with such an ease that I cannot prevent myself from thinking that he is a magician. Edward, with a smile on his lips, remains stoical in front of the grand gestural style of David and brings forth the arrangments with a beautiful dexterity. But those of you who know VIRGIN STEELE, know this already. Carried by the delicious voice of David, the acoustic notes give a new life and a new color to the pieces. Titles extracted from a great part of their discography, of "Age of Consent" until "The house of Atreus" (I and II). also passing through "The marriage of Heaven and Hell" (I and II) and "Invictus". Edward does not forget the solos. Here it is breaking a cord in full solo, and impassive, the music continues smiling and handling with beauty its notes, without error. Professional, very great professional because even the music lovers present at the sensitive and attentive ears notice it. The set proceeds interspersed with a medley of titles of VIRGIN STEELE but also of some covers not only metal, like that of The Rolling Stones, Billy Idol, Prince and others... very extreme & great! The so gracious voice of David and the gold fingers of Edward transport us to another universe, almost unreal, that of the pure and beautiful music. In my memory, David put himself in front of the keyboard for only one piece in order to close this superb acoustic service of more than 2 Hours. Bravo and Respect!. The curtain fell on fans left yet with their fright "steelienne" and the return to reality is sadly done but without evil. One would like to prolong this magic moment well into eternity, but the activity of the roads on scene recalls us that all good things must have an end.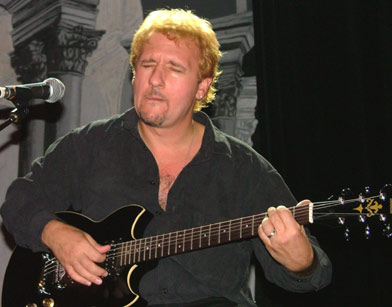 After two hours an acoustic show in which Edward Pursino and David DeFeis gave all of themselves to the fondness of the audience. A large group of fans remained at the bottom in order to meet them. The Americans of VIRGIN STEELE took approximately a 20 minute old station-wagon and came, with the smile on the lips, for the meeting of the fans present. Handshakes all around, and they are posted behind the tables of merchandising by connecting the signings and dedications of posters of the festival. Since I had my small pockets of Cds, I benefit from it to make them dedicate, they could only have signed of it one or two to not make quickly, but, Edward and David took time to sign all that there was to sign for each one among us, without forgetting the smiles and handshakes, a very cordial reception on behalf of the head of poster of this festival: two men with sympathetic feelings and a true closeness to their fans! I thus benefitted from it to take a small photograph in their company. THANK YOU FOR the FUND OF the HEART with Sylvie, Dom and all the staff of association GUARDIANS OF METAL, who work so that the concerts of Heavy Metal do not die in France!!!
... and now the Interview: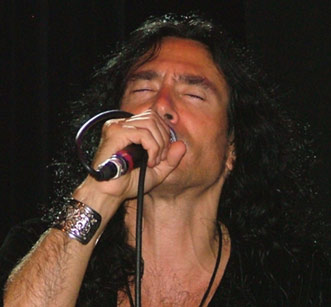 Interview with David DEFEIS for Odym'etal
by Marie-Christine the 6th November 2004

How would you introduce VIRGIN STEELE to a person who doesn't know you?
ANSWER: I would begin by attempting to describe what the Music sounds like. I would try to explain what I mean by Barbaric-Romanticism, and what my overall Ideology regarding Music and VIRGIN STEELE'S place in it is. I would tell people that this is a Music derived from the sound of primal, Paganistic Metal, filled with all the Power & Fury one associates with Metal, combined with the type of harmonic sensibilities found in 19th Century Classical Music, meaning the "Romantic School", with all of its sonic qualities, and emotional Power. For example the kinds of tonalities found in Chopin, Liszt, Verdi, or Wagner. I may then try to discuss the lyrics or how we strive onstage to commune with forces outside the normal Human experience.

What album (s) do you recommend to fans to discover VIRGIN STEELE?
ANSWER: That is difficult to say. I would determine that based on what I might know or not know of the temperament of the person in front of me. The albums are all quite different, so that is a difficult decision.

For my husband and many French fans, "Invictus" is your best album. Even if every album has its own story, which do you prefer?
ANSWER: I like them all for different reasons. They all represent something special for me. I am probably most fond of the compositions found on all the albums beginning with THE MARRIAGE OF HEAVEN & HELL through and including all of the Songs found on the HOUSE OF ATREUS Works.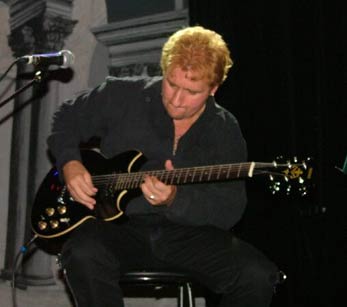 You write all the lyrics, and you compose all the music, occasionally helped by your big friend and guitarist, Edward. How do you work together?
ANSWER: Edward & I have been friends for a long time, so we have a very unique understanding & chemistry between us. More often then not, I work alone, and I bring completely finished songs to the Group. However, we also do write together, and when we do work together on a composition, it begins with an idea from either one of us, which we both then try to expound upon. We jam, and throw ideas back and forth, and when we hit upon the "Magick", we know. It feels amazing & sounds spectacular, and we are off & running again.

When and how did you have this interest for Greek Mythology? Where do you take your information and your inspirations?
ANSWER: I began to be interested in Greek Mythology & all Myths in general at a very young age. Through live theatrical presentations of Plays by Greek play-writes such as Euripides, etc., I was first exposed to them, and in addition way back when, I read several books by Edith Hamilton and several other authors, which sparked my interest in the World of Myth. I remember quite vividly a production of MEDEA that I saw as a child. This had a profound effect upon me.

Do you need special conditions to compose?
ANSWER: Lots of free time, and nobody interrupting me… I prefer the gloom of Autumn & the isolation of Winter, but I can & I do compose all year round. Sometimes it is difficult to start, but once I do seriously begin, I often find it hard to stop.

The music of VIRGIN STEELE is a unique one! It is very sophisticated, full of emotions, soft and intense, energetic, mysterious and many other qualities also. Is it easy for you to create this kind of music, what can you say about that?
ANSWER: I create the Music from my emotions, my knowledge, and my experiences…in short, from my Life. It is the Sound of my particular view of my corner of the World. Some Songs have an easier "Birth" experience than others, but they all go through the same in depth scrutiny and process of development. I am very hard on myself. I am intensely critical of everything that I do.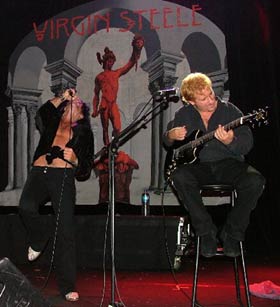 You have played in Strasbourg for The Guardians of Metal Festival, on the 4th September 2004. What memories do you keep of it?
ANSWER: It was a very special Evening. The audience was incredibly receptive to what we were doing, and very demonstrative in showing their enjoyment. I think that Magick was definitely in the Air that Night & the 9 Muses descended and graced us with their presence.

This was an acoustic show. How did you choose your songs? What difficulties did you encounter in adapting them?
ANSWER: Edward & I rehearsed all sorts of possibilities, and we performed what seemed to sound the best to us in that format. We have both always been into improvisation, and we improvised numerous variations on each of those Songs, until we arrived at something we found suitable. It is always a question of which Songs can still retain their Power & Integrity in this mode, and can we do them real justice within this style. Those Songs that still maintained their Triumphant, Melancholy, or whatever inherent quality they originally possessed, were kept in the Set. It is great to be able to re-invent the Songs in another style. It helps keep the freshness & spontaneity in.

You have played more than two hours and you managed to keep the attention of your audience. How did you manage it ? Are you a magician?
ANSWER: Hey, thank you very much! First let me say that the Audience was very kind, and very, very gracious. I think that People respond to the directness of this approach, & the honesty of our delivery. They are also able to witness in this stripped down state, the particular chemistry of Edward & I. We have the advantage in that we have been performing together for a long time in all sorts of ensembles. This has inculcated a unique dynamic in our onstage communication with each other and in our overall presentation to the audience.

Your voice is wonderful. How do you prepare it before a concert? And in general how do you keep it in shape?
ANSWER: Thanks! Plenty of Scotch & Red Wine! I generally try to warm it up carefully before each performance, or rehearsal, and I try to the best of my ability, to maintain my physical & mental states of being. Not always an easy thing to do, but absolutely fundamental to vocalizing well.

Only one date in France, why ? Are there some problems to play in France?
ANSWER: No, not at all. We did not plan a whole tour. We only wanted to do a few shows. In fact it was initially only supposed to be just Germany, but Holger the French Promoter, heard that we would be somewhat nearby, and he invited us to headline his Guardians of Metal Festival. Later in the year we will plan a more extensive schedule, but this was just…testing the waters, so to speak.

How is the metal scene in U.SA.? What kinds of metal do fans like more?
ANSWER: The Scene is good, but not so big like it is in Europe, but in general…it is quite OK. I think the USA Fans enjoy all the various forms/genres of Metal, from Symphonic Power, to Black Metal, Death Metal, etc, etc…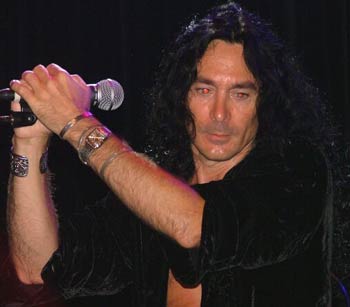 Do you work on your new album and also, a DVD. What can you say to us about it?
ANSWER: Yes, we are deep into the new album, and all is going pretty well at the moment. I have just finished organizing what will be the first of several CD's. I must comment that Frank Gilchriest is playing spectacularly on these new Works! Unbelievable drumming! The new Works are Dark, Deep, Over The Top and quite Barbaric & Romantic! It is a new development in the History of Steele! Once the new album has been satisfactorily completed we will forge ahead with the DVD & a live album.

Apart from music what another passions do you have?
ANSWER: Let me say that everything in my World revolves around Music, but OK apart from Song??? Well what's left??? Why the Wine & the Women of course! To be brief…I am passionate about all of the myriad experiences of this thing we call Life! I believe in diving deep into the multi-faceted human experience that Life is and has to offer. As regards specifics, I am interested in all sorts of things, from Ancient History, to Archaeology, Mythology, Mysticism, Philosophy, Film, Books, Poetry…etc…And as I mentioned a second ago, I am a firm Believer in The Sacred Spirit Of The Grape, and the entire attendant Dionysian Spectrum of Pleasures…

If we want to please you, what could we offer to you?
ANSWER: Eternal Life and Vintage Bordeaux! Ahhh… just your ears really…. Thanks for listening…

BY THE BLACK SUN & MOON,
David DeFeis