9 October 2002
Primal Chemistry
by David Hilsenrath
PREFACE:
VIRGIN STEELE. WHERE SHOULD I BEGIN THIS EPIC HISTORY WITH THIS AMAZING, CONTINUOUSLY INNOVATIVE METAL OUTFIT? PERHAPS IT'S BEST TO JOURNEY BACK TO SEPTEMBER, 1986 TO THE CAMPUS OF THE NEW YORK STATE INSTITUTE OF TECHNOLOGY IN OLD WESTBURY, WHERE DAVID DEFEIS AND EDWARD PURSINO PAID A MUCH WELCOME VISIT TO "WNYT" (THE COLLEGE'S RADIO STATION), TO DISCUSS THE RELEASE OF "NOBLE SAVAGE". IT WAS DURING THE AFOREMENTIONED ON-AIR DISCUSSION WHERE I INITIALLY DISCOVERED HOW INSIGHTFUL AND ARTICULATE THESE GENTLEMEN WERE. I AM FORTUNATE TO HAVE STAYED IN CONTACT WITH DAVID ALL THIS TIME AND I AM TREMENDOUSLY EXCITED ABOUT THE BAND'S CURRENT STATE OF AFFAIRS: ie, THE SUCCESS OF "THE HOUSE OF ATREUS - ACT II", "THE BOOK OF BURNING", "HYMNS TO VICTORY", THE RECENT RE-ISSUES OF "VIRGIN STEELE" & "GUARDIANS OF THE FLAME", AND ALL THE EUROPEAN & USA CONCERTS, ESPECIALLY THE TWO TREMENDOUS SHOWS IN NY ... (PERHAPS A THIRD ONE IS IMMINENT), AND OF COURSE THE UPCOMING SHOWS COMING SOON AGAIN IN EUROPE.
AS YOU ALL KNOW, VIRGIN STEELE HAS FORGED SOME OF THE MOST MEMORABLE HEAVY METAL EPICS OF OUR TIME. TO BE A FAN OF VIRGIN STEELE, IS TO APPRECIATE ALL THE GLORY, ROMANCE, MAGIC, NOBILITY AND VALOR OF LIFE. THE MUSIC HAS ALWAYS SPOKEN FOR ITSELF... AND CONTINUES TO EXPRESS THE INNER THOUGHTS OF ALL OF US WHO HAVE COME TO REALIZE, THAT A NOBLE STANCE INDEED BEARS A PROUDFUL MANE!!!
OK, ENUFF NOSTALGIA AND FANFARE!!! LET'S FLASH FORWARD TO THE PRESENT (OCTOBER 9, 2002 TO BE PRECISE), AND MY RECENT CONVERSATION WITH MR. DEFEIS & MR. PURSINO ABOUT LIFE, LIBERTY AND THE PURSUIT OF HAPPINESS!!!
Q: HAIL DAVID! LET'S GET RIGHT TO IT! TWO OUTSTANDING NY SHOWS (MULCAHY'S & LAMOUR)! TO WHAT DO YOU ATTRIBUTE THE AWESOME CROWD RESPONSE AFTER NOT HAVING PLAYED TO A NEW YORK AUDIENCE FOR OVER A YEAR?
David DeFeis: I don't know really? Perhaps the crowd was just responding to the fact that we have performed quite a bit lately and they feel our confidence, or ... they missed us perhaps! Whatever the reason, I am thankful & Eternally grateful to all, for the incredible reception!!! What do you think Edward?
Edward Pursino: I think it's simply the songs! The audience responds to the songs, and of course our delivery of them. Or maybe its those leather pants!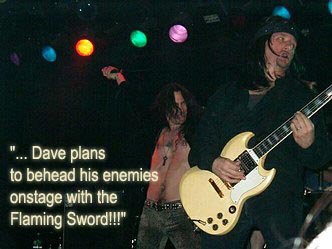 David: Or perhaps your new haircut! HA!!!
Q: GREAT, GREAT!!! HEY, I UNDERSTAND THAT A 3RD NEW YORK SHOW IS IN THE WORKS. ARE YOU AT LIBERTY TO COMMENT ON THAT?
David: Ahhh... not just yet, as all the details are not quite finalized. But ... if all goes well, it should be a Night To Remember!!!
Edward: Yes Dave plans to behead his enemies onstage with the Flaming Sword!!!
Q: OH I SEE. MOST INTERESTING!!! OK THEN LET'S TALK ABOUT THE SURGE OF RECORDINGS THAT HAVE BEEN RELEASED OVER THE PAST YEAR. "HYMNS TO VICTORY", "THE BOOK OF BURNING" AND MOST RECENTLY THE RE-ISSUES, "VIRGIN STEELE I" AND "GUARDIANS OF THE FLAME". YOU CERTAINLY HAVE GIVEN YOUR FANS QUITE A CATALOGUE OF LATE. WOULD IT BE ACCURATE TO DESCRIBE "HYMNS ..." AS A COLLECTION OF VIRGIN STEELE'S "GREATEST HITS" ... OR SHOULD I SAY EPICS?
David: Hmmmm .... Yes, "HYMNS ..." is a collection of sorts, an Anthology of various tracks from NOBLE SAVAGE up to the present day. Yes mainly Epics ... Ha!!! It does include various Bonus Tracks and alternate versions of the songs as well. Of special note is: THE SPIRIT OF STEELE in an acoustic arrangement, and a heavier version of A SYMPHONY OF STEELE (THE BATTLE MIX). Oh, and not to forget ... MISTS OF AVALON, a delicate bit that Ed and I recorded live in the studio late one evening.
Edward: Yeah, that's an interesting track, with a different type of guitar tuning. We wrote that when we were planning on re-issuing "AGE OF CONSENT", but we didn't put it on that re-issue. David wasn't sure about it so he never mixed it. He was ill the night we recorded it, and he perhaps thought he might wish to re-cut the vocal I think.
David: Yes that's true, but when I dug the tape out to listen to it as a contender for the "HYMNS TO VICTORY" CD, I said ... it is actually fine, and the mood is accurately captured for the song. I rather like how it turned out, it's a very direct approach.
Edward: Yeah, the vocal totally fits to my guitars, and the entire evening was documented quite nicely! The room was alive that night.
Q: "THE BOOK OF BURNING" CONTAINS SEVERAL REWORKED SONGS AND A FEW UNRELEASED TRACKS. REGARDING THE REWORKED MATERIAL, HOW DID YOU DECIDE WHICH TUNES YOU WANTED TO RE-INTRODUCE FOR THIS RECORD?
David: I chose to do those songs that the Band knew, and had been playing live for years, like: DON'T SAY GOODBYE (TONIGHT) & A CRY IN THE NIGHT, and also those songs that we had either done occasionally in the past, or that I thought the band would enjoy doing now, like THE REDEEMER, GUARDIANS OF THE FLAME & CHILDREN OF THE STORM. Only the ones that I felt we could still enjoy or perform convincingly were chosen.
Q: VOILE!!! NOW WE HAVE "VIRGIN STEELE I" AND "GUARDIANS ..." ... FINALLY!!! BUT, WHY AT THIS TIME? WHY NOT A YEAR AGO ... OR NEXT YEAR?

David: All things come in their time. This is/was their time. I always planned on doing them, when I could properly devote the right amount of time and energy to them. Since we really fired up the Band again during the "MARRIAGE OF HEAVEN & HELL" Era, we have been going full tilt! There was no time to deal with the early works properly until after "THE HOUSE OF ATREUS - ACT II" - Tour was finished. That's when I began compiling all the tapes and sorting everything out. Everything fell into place rather quickly and the CD's were ready, so ... the Label wanted to put them out. It kind of caps off our year, and allows everyone to regroup before the next new madness begins!!!

Edward: People ought to realize that we have been working non-stop for a long time, especially Dave! In January of 2001 we released "THE HOUSE OF ATREUS - ACT II", which is a double CD, went on tour, came back and did "THE BOOK OF BURNING" & "HYMNS TO VICTORY", for January 2002, and now the two re-issues! Holy shit that's a lot of Music!!! And that's only the last two years! Before that was "THE HOUSE OF ATREUS - ACT I", "INVICTUS", "THE MARRIAGE OF HEAVEN & HELL" PARTS I & II and "MAGICK FIRE MUSIC", plus touring, and ... David was also involved with the stage presentations of the "ATREUS OPERA", and "THE MARRIAGE - OPERA"! All the CD's are long and involved, so now a bit of a breather is in order I think. I know I'm exhausted just thinking about it, so I can't understand or imagine how David has now already begun working on the next Operatic-stage spectacle, the tour and ... the new albums! Yes plural, albums! Oh yeah, he also wants to start planning a DVD and the LIVE Album!
David: Ahhh... a mere bag of shells!

Q: THIS MAY NOT BE A FAIR QUESTION BUT I'M FEELING BRAVE ... IS THERE ONE VIRGIN STEELE ALBUM THAT RATES ABOVE ALL THE OTHERS IN YOUR OPINION ... OR IN OTHER WORDS, WHICH WORK IS YOUR PROUDEST MOMENT?
David: It is rather difficult to say, as I enjoy them all for a variety of different reasons. But ... I am possibly closest to the compositions found on "THE HOUSE OF ATREUS - ACT II" and some of the ACT I things like KINGDOM OF THE FEARLESS, as well as all the "INVICTUS" / "MARRIAGE ..." PARTS I & II tracks ... especially EMALAITH, SYMPHONY, etc ... oh yeah, also PERFECT MANSIONS. But the compositions on ACT II ... I'm really happy to have been able to stretch out and offer really diverse moods, from MOIRA to A TOKEN OF MY HATRED, to FANTASY & FUGUE IN D MINOR, it is a well rounded trip.
Edward: I like them all as well, but perhaps I am partial to "THE MARRIAGE OF HEAVEN & HELL - PART II". The whole feel of it just gets me. The atmosphere, the mood of the things is just ... huge! And ... yeah, I can't forget Part I too, with tracks like WEEPING OF THE SPIRITS, I WILL COME FOR YOU, etc. I always say there should be awards for Metal Songs, because I think KINGDOM OF THE FEARLESS should win one! It is the best Metal Song of all time in my book ... of burning! Ha, Ha!
Q: ANY FAVORITE SONGS BY OTHERS THAT YOU WOULD LIKE TO MENTION?
Edward: Anything from Led Zeppelin I and II.
David: Ahhh... some many ... too many to mention! Perhaps "Leave it there the Cat'll get it" by Ed Norton and "I'm a Man Who Brives A Dus" by Ralph Kramdon.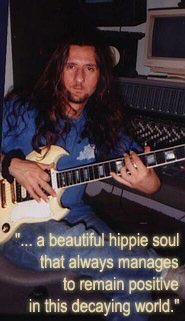 Q: LET'S TALK ABOUT THE CURRENT LINE-UP ... EDWARD PURSINO REMAINS YOUR PARTNER IN METAL ON LEAD GUITAR. CAN YOU DESCRIBE YOUR RELATIONSHIP WITH HIM AFTER ALL THESE YEARS? AND WHAT ABOUT FRANK GILCHRIEST?
David: I have known Edward since we were teenagers. I have a special connection musically with him, because we have spent so much time making music together, and mainly also because I understand him as a human being, and as a friend. We give each other the space that is necessary, and we are there if one needs the other. I depend on his rock solid sensibilities onstage and off. Edward has a beautiful hippie soul that always manages to remain positive in this decaying world. I admire that! Frank Gilchriest has been with us now since about 1994, and he I am happy to say, is still in proud possession of the eternal love to be the most powerful drummer on the face of the planet! He is better than ever and getting better by the hour! I am honored to have him in the group. He's a warm hearted wonderful man.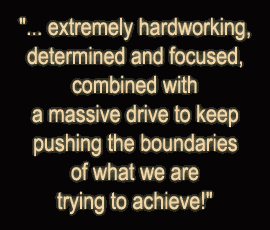 Q: AND EDWARD CAN YOU TELL US SOMETHING ABOUT DAVID THAT WE MIGHT NOT BE AWARE OF?
Edward: Hmmmmm... ah... Maybe, but he might throw the Sword at me. Ummm, seriously Dave is extremely hardworking, determined and focused, combined with a massive drive to keep pushing the boundaries of what we are trying to achieve! This can be rather exhausting for the rest of us at times, because when things are going well ..., because he never wants to stop! If we are rehearsing or onstage, and he feels that he is in good shape vocally, he wants to keep on ... and on ... "Just one more song, guys" is his anthem. If he doesn't feel like he is in good voice ... stay out of his way, he breaks things! But yeah, we're close, like Page & Plant or Jagger and Richards, you know it's the chemistry man.

David: I think you can hear that chemistry in the songs we collaborate on, like THE WINE OF VIOLENCE or THE RAVEN SONG. Also you can see & hear it onstage. I included the live track BLUES DELUXE OREGANATA (I MIGHT DROWN) on the re-issue of "GUARDIANS ...", so people could hear that early, primal chemistry that exists on that track. It's earthy, free and powerful. You can hear the audience really enjoying themselves.
Q: I UNDERSTAND, FRANK GILCHRIEST EXPERIENCED A FREAK INJURY ON A RECENT EUROPEAN TOUR. CAN YOU ELABORATE ON WHAT ACTUALLY HAPPENED?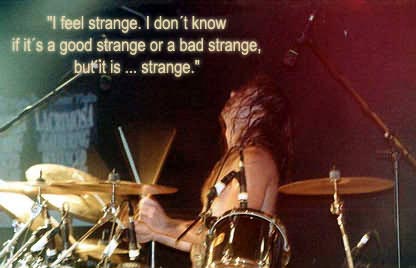 David: Yes, that's true. It was a freak thing and immensely painful for him. We had just finished our last song at the SWEDEN ROCK FESTIVAL, and we were all coming down to the front of the stage to take our bows. Frank stepped off of his drum riser, directly onto a thick power cable which slid out from under him. His leg went one way, his foot went another, and he seriously twisted his ankle, plus all the lower foot tendons and muscles. I was unaware of it until we started to go down the steps at the back of the stage. The audience wanted more, but Frank's foot was shot to Hell. I had to go out and tell the crowd that we couldn't continue.
Edward: It was a shame, because the gig was really spectacular. Dave suggested to do an acoustic number, but my guitar was whacked of tune by that point. Strange ending to a great gig!
David: We then left SWEDEN for ITALY, and once we arrived there, we took Frank to the Hospital. What a bizarre experience that was!!! Driving in an Italian ambulance is insane!!! They drive like it's the demolition derby!!! Ahhh... food for another conversation! Anyway, the Doctor wrapped his foot up, and we made plans to give Frank a special shot right before we went out onstage to perform at the GODS OF METAL FESTIVAL. This was another interesting experience which... we captured on film! Immediately after the injection, Frank said to me, "I feel strange, I don't know if it's a good strange or a bad strange, but it is ... strange". He played great though. The guy rules!
Edward: That whole day was strange at the GODS FESTIVAL. We go out there to do our show and what happens ... the entire power onstage goes out! After about 20 minutes it was restored and we could go on, but it was unnerving!
David: 25,000 people and the fucking power goes out!!! It was like fucking Lost In Space!!!
Edward: Anxiety attacks, and strangeness all around, but ... a good show.
David: Yes a good show! And a fun interview with the Italian Rock TV afterwards that I would love to see, because by that time we were completely out of our minds, on some really fine Italian Wine!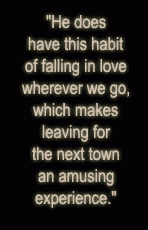 Q: THIS BRINGS US TO THE NEW KID ON THE BLOCK, JOSHUA BLOCK, ON BASS GUITAR. HOW DID JOSH FIND HIS WAY INTO THE BAND?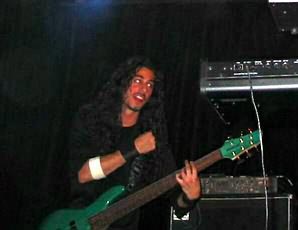 Edward: I found him playing guitar in a music store. I gave him a copy of the "INVICTUS" album, and then I saw him again in another music store, and he was playing the main riff from the song INVICTUS. I told Dave about it and he said "Yeah, well tell him to learn the whole song, and then he can come down and we'll check him out". So... that's what we did.
Q: HOW QUICKLY WAS JOSH ABLE TO FAMILIARIZE HIMSELF WITH THE MATERIAL?
David: Fairly quickly, as we were quite demanding as regards the amount of material he had to learn. He does have the ability to handle those demands, as his ear is quite good.
Edward: Dave & I both worked with Josh quite a bit and eased the situation along for him. He has fit in quite nicely! And he's really easy to get along with. He does have this habit of falling in love wherever we go, which makes leaving for the next town an amusing experience.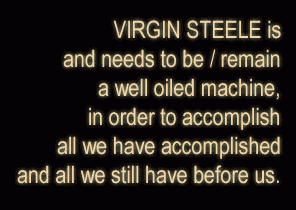 Q: HOW DOES EVERYONE WITHIN THE BAND GET ALONG?
Edward: Pretty well! No problems here! No clashing egos, no backstabbing bullshit! All is fine!!! If we didn't like each other it would have ended long ago.
David: Everyone respects each other's abilities and concerns so things remain functioning smoothly. VIRGIN STEELE is and needs to be/remain a well oiled machine, in order to accomplish all we have accomplished, and all we still have before us.
Q: NOW THAT WE'VE COVERED RECENT RELEASES AND THE CURRENT PERSONNEL, LET'S ADDRESS THE INSANITY OF THE LIVE SET LIST! YOU HAVE OVER 110 SONGS IN YOUR REPERTOIRE ... HOW CAN YOU POSSIBLY SELECT TWO HOURS' WORTH OF MATERIAL?
Edward: With an ouija Board!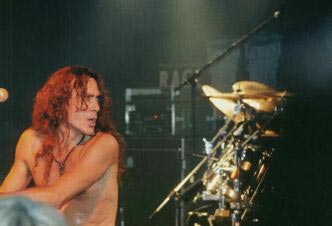 David: Yes or a roll of the dice! It is extraordinarily difficult these days! What we try to do is provide a fair selection from all the albums, and what really helps is if we are performing during a tour, we can change the set list nightly, changing things up as we go. For one off gigs and festivals where we might only have an hour or less ... it is very difficult to decide on what to play!!! Our headlining set gets longer and longer ... ha!!! But even when we have a set planned ... we often change it mid-stream during the evening, as the mood strikes us!
Edward: Yes, one must stay on ones toes, as one never knows what will happen! We usually go out on tour knowing over 50 or so songs from the albums. It's demanding to keep all that in the memory.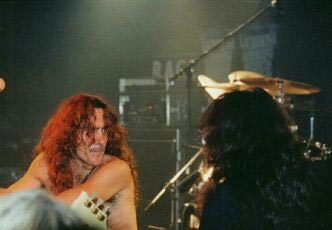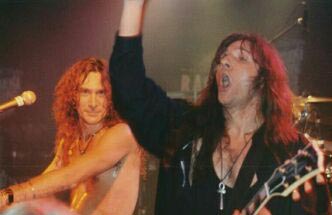 David: More Gingko Biloba in the tour rider!!! Yeah, we are not one of those bands that plays the same 15-20 songs every night. We like to keep the set fresh and ... there is a great deal of improvisation built into the show as well. We need to feel free onstage, and not be like robots. In this way everytime we come to a song, it feels like the first time, and the audience can respond to that fresh energy.
Q: YOUR RECENT EUROPEAN TOURS HAVE INCLUDED THE SUPPORT OF ACTS SUCH AS ANGRA, HAMMERFALL AND FREEDOM CALL. HOW IS THE RAPPORT AMONG BANDS OVERSEAS?
David: Quite good! Very friendly! We have had enormous fun with all of those bands! Excellent!
Edward: Yeah, great people all around, no complaints here.
David: Yeah, absolutely!
Q: WHAT BANDS ARE YOU PARTICULARLY FOND OF RIGHT NOW?
David: The same ones I grew up with like QUEEN, ZEPPELIN & SABBATH, plus ... THE CULT, MOTHER LOVE BONE, THE GATHERING, TYPE O NEGATIVE ... UFO, BOWIE, T.REX ... and ... The Howling of my 4 Cats!!!
Edward: Led Zeppelin, Queen, Deep Purple, Grand Funk Railroad, Whitesnake ... the list goes on.
Q: WHAT ADVICE CAN YOU GIVE TO UP-N-COMING BANDS THAT ARE TRYING TO BREAK INTO THE BUSINESS?
Edward: Don't quit your day job! Selling hats is easier than selling songs! Ahhh, actually be careful and don't trust lawyers. What do you say Dave?
David: I say ... Never, I mean never give up your publishing! Hold on to your songs, nurture them, & love them, because they are your children! And ... only get into this business, if you have a sincere love for music for its own sake. Don't enter the music business to get rich quick ... it never happens!
Edward: And one more thing: maintain your sense of humor!
David: And learn to love taking cold showers in winter!
Q: I KNOW THAT QUEEN HAD A PRONOUNCED INFLUENCE ON YOU DAVID, PRIOR TO THE BIRTH OF VIRGIN STEELE. IN FACT, YOU'VE GONE ON RECORD SAYING "QUEEN II" WAS YOUR FAVORITE ROCK RECORD OF ALL TIME. WHAT ELEMENTS OF THAT ALBUM STICK OUT IN YOUR MIND?
David: The outstanding compositions, combined with brilliant arrangement ideas and excellent performances / production! Ultimately the songs! They are extremely well written. It is Metal of a completely different sort. It has Drama, Romance, Aggression, Power, Beauty, Total Class, and supreme MAGICK!!!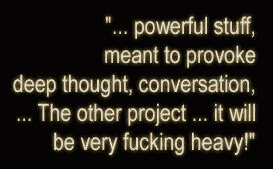 Q: LET'S GET BACK TO VIRGIN STEELE. I UNDERSTAND THAT YOU'VE BEEN IN PREPARATIONS FOR THE NEXT ALBUM. HAVE SONGS BEEN ALREADY WRITTEN? CAN YOU SHARE ANY TITLES AT THIS TIME?
David: Yes I am deeply into the writing process at this time. I'm actually working on two different song cycles or projects if you will, at once. The first is based on Ancient Sumerian Legends and concerns a person called Lilith. She was considered the first "wife" of Adam, before Eve came into the picture. Apparently She was too much Woman for poor old Adam, and She flew the coop! It is powerful stuff, meant to provoke deep thought, conversations, etc. The other project ... well ... I won't tell you about that now. All I will say is that ... it will be very fucking heavy!
Q: HOW DO IDEAS FOR SONGS FIRST ENTER YOUR MIND?
David: Directly through the frontal lobe, the door, the window or the chimney! Ahhh... it's always different. Sometimes I'll be at the piano, other times ideas come while I'm driving the car, or doing some kind of manual task. The mind expands greatly when the body is engaged elsewhere! Sometimes a lyric or a title comes first to spark the song, other times the music is first. Occasionally both music & lyric are conceived simultaneously, as in the case of hmmm... SELF CRUCIFIXION! I played and sang the opening lyrics straight away, upon sitting down at the keyboard. Whatever the initial inspiration is, I then spend hours trying to develop the song into a meaningful, coherent form.
Q: And you Edward?
Edward: Usually a riff will suggest itself to me or a chord progression, and then it's all building from there, you know further exploration and development.
Q: IF I GIVE YOU A SONG TITLE, CAN YOU RECALL IT'S INITIAL BIRTH? FOR EXAMPLE, "I WILL COME FOR YOU"?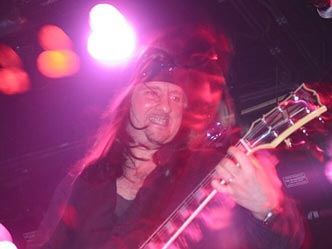 David: Yes of course. That one came to me lyrics first! It was an amazing stream of consciousness type of thing, where I remember I had gotten out of bed, and upon walking into the next room, all these ideas started sprouting in my brain, sooo... I quickly grabbed my notebook, and wrote everything down as it came to me! I then went to the piano and tried the words out against various musical bits that the phrasing and attitude of the words suggested to me. And of course further development ensued, which resulted in the whole more classical middle section. Again, whatever the spark ... the rest is development, using all one's creative, emotional, physical, and musical powers, plus all the knowledge acquired over the years. I try to stay true to the initial feeling of whatever emotion I am trying to portray.
Q: What about "I WAKE UP SCREAMING"?
Edward: That one started out as a riff that I had, which I brought over to Dave's, and he suggested the verse ideas and various harmonies and such. We then both proceeded from there, by jamming it several times and he would sing whatever lyrics popped into his head and we recorded it on a cassette. If a song holds up to repeated listenings on the cassettes, then ... we know it can make the album!

Q: HOW IS THE RECORDING PROCESS?
David: Generally it is fairly easy and straightforward. We get the job done quickly and efficiently. Sometimes it can be hair-pulling, if things are not going well, or if someone in the room is not paying complete attention.
Edward: Yeah, I recall one session that was full of complete chaos, where David had the engineer in tears! The poor guy had made some sort of technical error and he didn't own up to it, he tried to hide it from us, so everytime we came to a certain section of the song, there was a breakdown. Well finally Dave went completely crazy and I thought the engineer was going to have a heart attack! But generally those are exceptions rather than the rule.
Q: DAVID, & EDWARD, I FIND IT FASCINATING THAT GENTLEMEN OF YOUR CELEBRITY STATUS REMAIN SO GROUNDED ... ESPECIALLY AFTER THE RECENT YEARS OF BREAKING - OR CONQUERING - NEW GROUND WITH NEW AUDIENCES. WHAT DO YOU CREDIT AS BEING THE REASON FOR YOUR DOWN TO EARTH NATURE?
David: Thank you very much Good Sir!!! You are a Gentleman and an officer! Ha!!! Ahhh... Gravity I suppose, and having great people around me who are supportive. I dislike "airs" so I don't put on any. I am what I am, take it or leave it.
Edward: I don't know. I guess I am just not built that way. I'm a straight ahead person that doesn't have time for that kind of behavior. It doesn't intrigue me.
Q: I BELIEVE THAT YOU KNOW PETER STEELE FROM TYPE O NEGATIVE. HOW DID THIS FRIENDSHIP EVOLVE? DO YOU THINK YOU GUYS MIGHT EVER COLLABORATE ON A PROJECT IN THE FUTURE?
David: I met him through some mutual friends that we have. He's a very nice and very talented guy, so who knows. Perhaps if he was interested in doing so. I would enjoy it.
Q: DAVID & EDWARD, I KNOW YOU TO BE MEN WITH GOOD TASTES ... FINE WINE, FINE FOOD AND FINE MINDS. DESCRIBE FOR ME AN IDEAL EVENING OUTSIDE OF A VIRGIN STEELE CONCERT.
David: By The Hammer Of Zeus!!! Let's see ... hmmmm..... So many choices ... A Pagan Ritual Ceremony, A Night of Solitude ... hmmm.... well, the Evening should include my Raven haired Angel/Goddess, plus an interesting meal with a potent wine and amazing and stimulating conversation, etc., "climaxing" with that ultimate of unions, as I say, "where the Lifestream touches Eternity"!
Edward: Mine would include a similar experience. But I would add ... NO FUCKING PHONE CALLS ALLOWED!!! Peace & tranquillity ... that's all I'm asking for. PEACE!!!!!!!
Q: DAVID, AS WE CLOSE ... WHAT WORDS WOULD YOU LIKE TO SHARE WITH YOUR EVER-FAITHFUL FANS AROUND THE WORLD?
David: I wish to Thank Everyone who has Faith, Belief and Sincere Interest in what we do here in VIRGIN STEELE! I wish to say Thanks for all the Glorious Years thus far, and I look forward to the Future with the Greatest Enthusiasm!!! BY THE HAMMER & THE NINE, LET VICTORY BE THINE!!!!!! Remember also the Aztecs... the End of the World is (according to them), December 23, 2012. Sooo.... have some Fucking Fun!!!
Edward: To the Fans: Thanks a million! You are the best Fans a Band could ever hope for!!!
DAVID, EDWARD, IT IS ALWAYS A PLEASURE TO BE IN YOUR COMPANY. YOUR ELOQUENCE SHINES AS BRIGHTLY TODAY AS IT EVER DID ... PERHAPS EVEN BRIGHTER. BEST OF LUCK AND SUCCESS WITH VIRGIN STEELE ALWAYS. BE WELL!
David: Thank you very much Good Sir. May the Gods & Goddesses smile upon you Eternally!!!
Edward: Thanks very much for your Noble support!