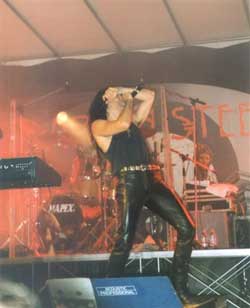 DAVID DEFEIS INTERVIEW NUMBER "4" Questions asked by CLARA RAMAS

QUESTION: First, to all the people who couldn't attend the Virgin Steele concert in Tradate, could you make a brief summary of your impressions that night? How do you feel you performed, highlights of the show, problems (if any), crowd, setlist...
ANSWER: Overwhelming. It was an Evening of Pure Magick! The Audience was with us from the first note to the last. They seemed to be in Magnificent Spirits, and ready to go far travelling with us. They sang along with everything, and chanted continuously during all the pauses between songs.
I feel that we as a Group performed better than usual, and I personally felt quite comfortable. Highlights….hmmmm….GATE OF KINGS, for one, was especially moving in TRADATE. I felt every word intensely & I know the Audience felt it too. There were a few technical difficulties, namely some problems with Edward's guitars, but we always forge forward regardless, and try to derive strength from the chaos, and we always try to turn any impending disaster into a triumph!
The full SET LIST was as follows:
AND IN THE RED SEA INTRO…
KINGDOM OF THE FEARLESS
LIFE AMONG THE RUINS
THE ANGEL OF LIGHT
THE WINE OF VIOLENCE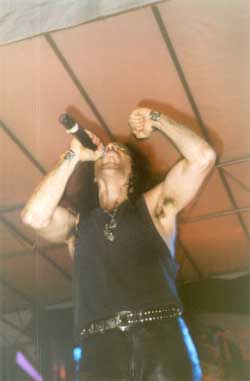 IN TRIUMPH OR TRAGEDY/RETURN OF THE KING (including Lord Priam's severed head)
GUARDIANS OF THE FLAME
VICTORY IS MINE
BLAZE OF VICTORY
DUST FROM THE BURNING
ON THE WINGS OF THE NIGHT
NOBLE SAVAGE
Audience participation…into…MIND, BODY, SPIRIT,…
WINGS OF VENGEANCE
BY THE GODS
BLOOD & FIRE
Rising Unchained intro
DRUM SOLO
THE VOICE AS WEAPON
INVICTUS
GATE OF KINGS (acoustic)
A TOKEN OF MY HATRED
Vocal Solo-CROWN OF GLORY INTRO(with extra long audience participation section due to Edward's guitar problem)!!!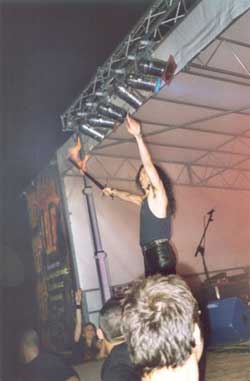 EMALAITH
THROUGH THE RING OF FIRE
THE BURNING OF ROME
THY KINGDOM COME INTRO
(Piano Introduction)
WHEN THE LEGENDS DIE
GUITAR SOLO/VOCAL SOLO/Burning Sword…
GREAT SWORD OF FLAME
MINUET IN G MINOR
I WILL COME FOR YOU
ENCORE:
A SYMPHONY OF STEELE
"MARRIAGE OF HEAVEN & HELL THEME"…
VENI, VIDI, VICI
QUESTION: After the Tradate concert you were telling me about the "Faith is the sound of the chaos inscribed on the blood of my life" line, but you didn't finish your explanation! Could you please do so now? Thanks!!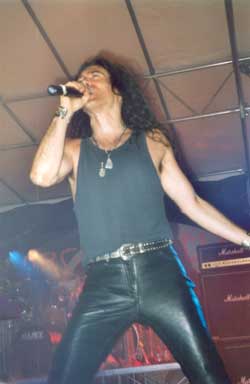 ANSWER: It is perhaps similar to the idea behind a phrase such as "grace under pressure". Although your World may be crumbling, swiriling with disorder, madness and horror, the Idea is to challenge those forces, to have a Belief, to have a Faith in the core of one's being, that is a real & true Faith/Belief in one's capabilities to withstand any adversity, drama, and all the brutality that Life often throws your way. To be centered, to be the reed that bends in the Storm, but does not break. To remain INVICTUS!!! It is Laughter in the Face Of Death. It is perhaps Confidence of a Mind, Body, Spirit Nature. In that particular Song (DEFIANCE), I am crying out to the negative forces of Life, challenging them. I am saying, " do your worst, I will not only survive YOU FUCK, but even more, I will derive nourishment/sustenance from this conflict". That which does not kill us...makes us stronger. It is a line that has a certain personal resonance to what I was going through at that point in time.
QUESTION: I can assure, from my personal experience, that you dedicate a lot of time to the fans, meeting them, signing cds etc, talking to them... has it been always like that in Virgin Steele, since the beginning? And why is it so important for you? Do you get satisfaction from knowing that your work is appreciated, or perhaps you believe that your listeners have the right to get something else besides the music... a combination of both maybe? ...Once more I'd like to thank you for your dedication and kindness!!
ANSWER: Yes it has always been this way. We have always tried to directly connect as much as possible with everyone, whether it is through letter writing, e-mail, or face-to-face visitations. I believe that it is important to do this for several reasons. If someone is investing time, attention and appreciation for what an artist does, then the artist should be gracious, and extend the courtesy to spend time with their Audience. I believe it means a great deal to People to be able to express their ideas and share their thoughts. I enjoy doing this, meeting People & finding out what they like or don't like about VIRGIN STEELE. Yes of course it is satisfying to be appreciated, and it is enormously gratifying to know that a particular song or album helped someone get through a difficult period in their Life, or was the "soundtrack" to a celebration of joy, such as the birth of a child or whatever. Hey, you're very welcome it was a pleasure. We don't often get the chance to do this so completely, so when we do have this chance…we dive in deeply.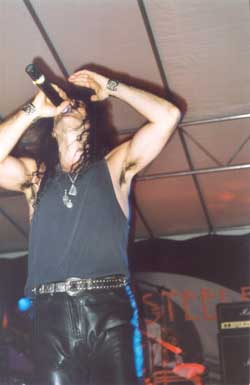 QUESTION: Now into musical questions... you are once more working on a concept album. Don't you feel that maybe this type of albums prevent you from expressing yourself in a more personal way, as you have to stick to a frame of characters, storyline etc?
ANSWER: No not at all! What many folks don't get is that I am expressing many personal things. I am not trying to give the listener a History lesson. I am trying to make a statement about the current state of affairs of the World/my Life on every album. I make parallels, connections to my particular sphere of existence all the time.
QUESTION: You are greatly influenced by the Romantic composers (Chopin, Debussy...) Will you ever do an adaptation of any of their works, as you did with Bach's Minuet in G Minor?
ANSWER: It is quite possible. I would like to do something like this one of these days. Perhaps once all the latest compositions are recorded properly, then I could devote some attention to that. Actually there is a bit that we sometimes do in the Live Show that includes some Mozart & Burgmuller.
QUESTION: Are you interested in any modern composers, from the XXth century?
ANSWER: Yes quite a few. As regards "Modern" Composers, I am partial to Alban Berg & Anton Webern. I am particularly fond of Berg's Opera "Wozzeck". It features a very Dark, intense, driven Music! Hmmm…Vaughan Williams, and I also think that John Barry the composer of various film scores such as "Dances With Wolves", etc., is quite good, and I also greatly appreciate the Works of Basil Polidorous, he of the "Conan" soundtrack fame.
QUESTION: When you write music, before actually playing it and hearing all the different parts, do you already know exactly how everything will sound, is it all in your head? Or is it more like you try different things on your keyboards and bit by bit, checking the results, you build the song?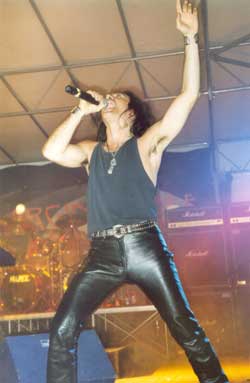 ANSWER: Sometimes the path is completely clear, and I hear it & perform it exactly as the first inspiration calls. Other times, I might begin with a melodic or a chordal, or a lyrical idea, and then I will try these ideas out with various different types of instrumentation, in order to determine what instrumental colour will properly bring out the inherent emotional qualities of the Musical selection, and accurately paint the portrait that I wish to sonically paint.
QUESTION: Why is it that, while using complex structures and harmonies, or unusual chords, you keep the time patterns very simple (4x4...)?
ANSWER: In actuality they are not always simple. Occasionally there are moments of odd times, such as 5 or 7. It is deceptive. The measures more often then not, change quite frequently. For example in the introduction to A SYMPHONY OF STEELE, the bars change from 5/4 to 6/4 to 9/4 to 6/4 then to 5/4 again, then 4/4, 5/4, 3/4, 6/4 and finally 4/4. However the way in which I like to use the meter or time changes is often not jarring, it is more of a subtle, sensual form of rhythmic propulsion. If all the harmonies plus the rhythms are strange…to me it sounds either too chaotic, or too studied or clever, as if one is trying too hard to showcase their technique. I am only interested in generating strong emotions, therefore whatever works to push the envelope in that direction…that is what I go for. The complexity or lack thereof is completely irrelevant to me.
QUESTION: You do a great effort vocally speaking in your live shows, and also in the studio, using your voice in a very powerful and savage way... aren't you afraid of losing it if you keep roaring and screaming like that?
ANSWER: Thank you very much. Actually… No. At this point in time I have learned to be able to do what I do with a healthy amount of consistency, and with minimal amount of fatigue or vocal damage. When I am physically ill…that can be a different story, but in general, I am aware of how far I can go, and how fast my re-cooperative powers are. But that being said, because I always want to give a 1000%, I still sometimes fret & get anxious about my voice, and wonder if I am in peak condition for a particular show.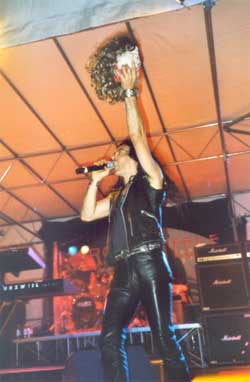 QUESTION: In another interview we did, when talking about Numerology and number in 3 in particular, you mentioned the "as above so below philosophy". What's that?
ANSWER: In Magick the statements, " Man is made in the image of God", and "God is made in the image of Man", are considered equally true. Man/Woman can become God/Goddess, for…"We contain the Divine Essence"... Therefore, we are the image of God/Goddess, in miniature, and God/Goddess is Man/Woman written/made large. We Humans are the microcosm containing everything that exists within the Universe. "As above… so below". Human events on Earth run parallel or mirror the events of the Gods/Goddesses in the Heavens, because both rely on the same forces, or powers that all serve or culminate in what is called the "One". It is a way to become a God or Goddess. Astrology is based on this concept. The oldest utterance of this idea is believed to have come from the Emerald Table of Hermes Trismegistus. He was supposedly the grandson of Adam, and the builder of the Pyramids.
3 is the number of Creation. The number 1, while potentially creative…alone is…sterile. To multiply…2 x 1 remains 2, and 2 only creates a pair of opposites. To reconcile the opposites and derive more numbers, the number 3 is needed. Therein you will find the Creation, the Image & the Multitude contained. 3 is the creative force of procreation.
QUESTION: In your later lyrics there is an expression that appears many times: "black stars". Is this symbol supposed to evoke something in particular? What inspired you to create this unusual concept?
ANSWER: Yes. It represents several ideas. One idea represents The Dark regenerative Powers of Nature, Duality, Good, Evil, Love, Hate, etc. When Dionysus rules the Winter months he is associated with the Black Sun which leads a procession or dance of the stars on their Eternal Journey passing through the nether worlds of Darkness before the new Sunrise, as opposed to Apollo the bright shining Sun God who lead the stars the rest of the year. The Black Star/Sun, is also associated with Lucifer and symbolizes the fallen stars of heaven.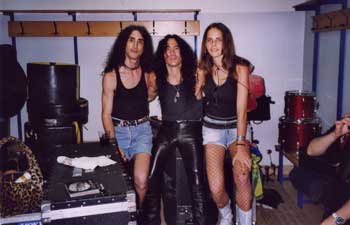 In Alchemy the first stage of transforming matter into its primal state, (ridding it of the imperfections it may have inadvertently acquired), is derived by burning…leaving behind a dark…black mass…black considered the absence of colour, therefore all impurities & imperfections are removed and the material can be transformed into the so called "Philosopher's Stone". This stage of transforming material into "first matter" was known as Nigredo, or Black Sun, Black Crow, or Raven's Head. I particularly like the image of a negative or dark/black star…sprouting Flames of Black Fire! I find the inverse of everything in the Universe quite interesting. This idea is related to the "as above so below idea", in the manner in which it concerns the reconciliation of opposites. One of the goals of "Magick" is to balance the opposites in order to control the Universe, and to create a "third" new element.
And now a few more questions with answers from JOSH BLOCK:
QUESTION: To all the people who couldn't attend the Virgin Steele concert in Tradate, could you make a brief summary of your impressions that night? How do you feel you performed, highlights of the show, problems (if any), crowd, setlist...etc..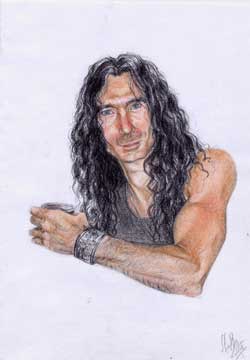 ANSWER: This particular show I think was one of our favorites as a band. We all felt that this concert was one of the best yet from Virgin Steele. Despite some technical problems, everyone played well, performed well, and most important, every fan seemed to have a great time from the first note to the last.
QUESTION: What changes to the Set will you prepare for the CHEYENNE BIKER Festival, if any?
ANSWER: The set we have prepared already works very well. There is always the the possibility of adding, subtracting, or re-arranging. So we will see....
QUESTION: We all know it because we have seen the shows, but in your opinion how is a VIRGIN STEELE Concert different from any other power metal group's concert? What makes VS the special group it truly is?
First, there is something to be said about the level of musicianship. We all work very hard to be able to play at a certain level as individuals. Also, some musicians just fit naturally together and I think we are lucky enough to have this. Second, is that we all love playing and performing live. We have the same love for the music that the fans do and to be on stage sharing that together is what we live to do.
AND SOME QUESTIONS FOR EDWARD PURSINO:
QUESTION: To all the people who couldn't attend the Virgin Steele concert in Tradate, could you make a brief summary of your impressions that night?How do you feel you performed, highlights of the show, problems (if any),crowd, setlist...etc..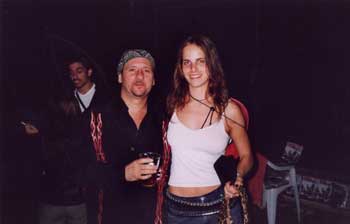 ANSWER: the concert in tradate was absolutely amazing,.the band played beautifully and there was just the perfect level of tension.I felt my performance was ok, however I had a slight mishap with my guitars which pissed me off, however I felt that the circumstance improved my passion for the music, and my overall emotional delivery.the crowd was with the steele every step of the way although we had a few problems they just loved the excitement of our focus to perform to our greatest fans, THE ITALIANS!!!!!!!!
QUESTION: What changes to the Set will you prepare for the CHEYENNE BIKER Festival, if any?
ANSWER: we will probably put in some other favorites and a few classics, however that remains to be seen. STAY TUNED I`LL PROBABLY BE SPORTING A DIFFERENT LOOK ,PERHAPS.
QUESTION: We all know it because we have seen the shows, but in your opinion how is a VIRGIN STEELE Concert different from any other power metal group's concert? What makes VS the special group it truly is?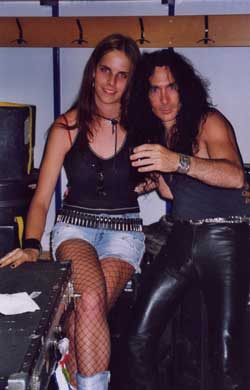 ANSWER: THINK WHAT MAKES OUR CONCERT`S DIFFERENT IS THAT WE ARE MUCH DIFFERENT THEN MANY POWER METAL GROUPS. DAVID IS REALLY AN OPERA SINGER AND CLASSICAL COMPOSER AND I REALLY LOVED ENGLISH HARD ROCK AND CLASSIC ROCK, JOSH IS REALLY A FANTASTIC GUITARIST AND FRANK G IS TRULY AN FABULOUS PROGRESSIVE DRUMMER AND A TRUE WARRIOR, MIX IT ALL TOGETHER AND YOU HAVE A VERY UNIQUE SHOW, MUCH FURTHER FROM TRADITIONAL POWER METAL. AND OF COURSE
THERE ARE ALL THE BLUES INFLUENCES AS WELL.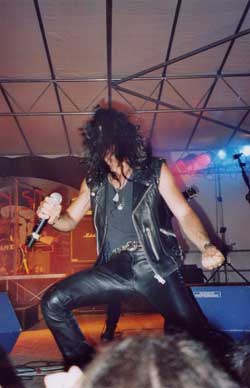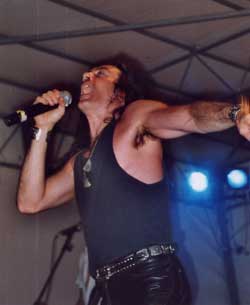 Photos by CLAUDIO CONTESSI :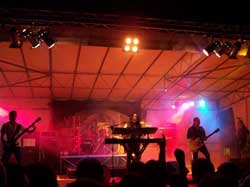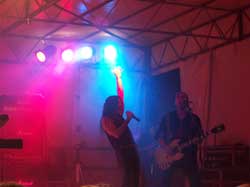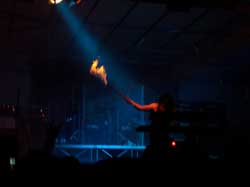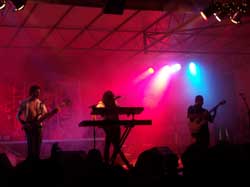 Photos by ROBERTO LUNGHI: