with METAL MASSACRE-WORLD VERSION ITALY
conducted by NAVA JERRY just before the TARANTO Concert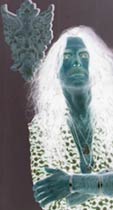 1. Ciao, how are you?
DAVID DEFEIS: I am OK, thanks for asking! All is going pretty well at present.
2. Tell me about your future projects.
DAVID DEFEIS: Well... the first item on the list is a new Studio album. This will most likely feature some of the material from my latest Theatrical Presentation called "LILITH", that was recently presented in Germany. This Work is very Dark & over the top, and features the next phase of development in VIRGIN STEELE Music. Some of it is Epic, Barbaric & Romantic, and parts of it are very melancholy, tortured & haunted. There is actually about 3 albums worth of Music, so... what form it will all take is still being sorted out.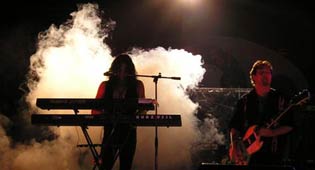 After this album we will probably complete a Live Album & a DVD..., and after that we shall see... As regards an exact release date for the new album... all I can tell you is that there is a wealth of material to still go through, so it might be awhile yet. Basically... it will be finished when it is finished, but rest assured, it will be Strong, and we will announce it to the World once it is ready.
3. What do you think about Italy and do you know Italian bands?
DAVID DEFEIS: Yes I know Rhapsody... a very good Band & very nice people!!! (I spoke with Alex yesterday actually). I have also met several other groups, due to all the Italian Festivals we have performed at. I've met Labyrinth, Soul- Takers, Lacuna Coil... and many others. I think it is wonderful that Italy has joined in on the Metal Scene. You have some very talented musicians & singers in your Country!!! Let It Roar!!!
4. How is the health of true metal music in the USA?
DAVID DEFEIS: It is OK. Much better than before, but not quite at the peak it was at some time ago. I believe that Metal Music will remain strong forever, regardless of whatever the flavor of the month is at any given time. It is far too Noble a Musical Style, to ever disappear!!!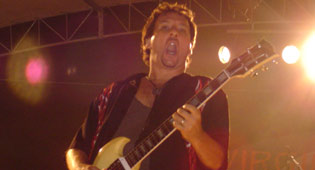 5. My favorite album is noble savage and yours?
DAVID DEFEIS: I like them all for different reasons. Each one is a photograph of what life is/was like at a certain point in time. Perhaps I am most fond of all the Works from The Marriage Of Heaven & Hell Part 1 album, on through and including everything on the HOUSE OF ATREUS albums. I feel that these Works represent the strongest collections of songs. But again, I enjoy them all.
6. What is your best seller and how many copies did you burn?
DAVID DEFEIS: The best sellers, are INVICTUS, the two "ATREUS" Works, and perhaps NOBLE SAVAGE. "Burn"???.... We don't burn copies, that is for the bootleggers. Ha!!!
7. What do you remember about the live show in cremona at biker fest (I live 40 miles near cremona)?
DAVID DEFEIS: I remember it as a good strong concert, with a very positive reaction from the Audience! It was a great evening.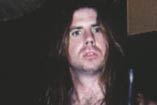 8. Why do you play metal and not another kind of music?
DAVID DEFEIS: Metal Music for me allows me to express all my musical styles & emotions. I feel very free within this Music. I can push the envelope in a more classical direction, or an aggressive or a more Barbaric-Romantic direction, and still have it sound like Metal. I am able to utilize all my various influences, from the Theater, to all things Musical inside the Metal World! It is the Music that represents the sound of my Spirit.
9. What do you think about nu metal and mtv?
DAVID DEFEIS: Just like in any other genre of Music, you will have both good & bad examples of a particular style. Some nu-metal is fine, and some is not so fine. MTV??? I don't see much Metal on there anymore, but the new Fuse channel has been doing a nice job supporting the Metal Scene.
10. Give me your 3 best albums of all time.
DAVID DEFEIS: Hey unfair... there are more than 3 on my List! I love so many albums, and I would rate them all at number 1, but OK, let's try .... hmmm… QUEEN II would be on there, LED ZEPPELIN 1 would be on there, and T.Rex "ELECTRIC WARRIOR" would be on there.
11. How are the reissues of your first albums going?
DAVID DEFEIS: Fine. I think the Fans that grew up with those recordings are quite happy, because they now have high quality versions to listen to, plus they received bonus tracks & very detailed packaging on those re-issues. I think our newer Fans, by that I mean those who came onboard from either Noble Savage onward, or those who discovered us with "The Marriage" or "Atreus" Works, were perhaps a little puzzled. The Band has evolved tremendously since those early records were made, and there is not that much there on those very early Works for our newer Fans to relate to.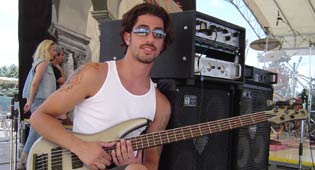 12. During this years did you live only with music?
DAVID DEFEIS: Yes.
13. When will we see you in Italy next time?
DAVID DEFEIS: On August 7 at the South Cheyenne Biker Festival in TARANTO! We are the Headliners. For further details, please see our OFFICIAL SITE at: www.virgin-steele.com
14. Hey thanx from all the metal guys from Bergamo and all writers of METAL MASSACRE... SAY WHAT YOU WANT!!!
DAVID DEFEIS: CHEERS, A LOUD HAIL, & NOBLE GREETINGS TO YOU ALL!!! A ROYAL THANKS & A ROUND OF DRINKS TO YOU FOR YOUR GREAT FAITH, HONOR, BELIEF, SUPPORT & DEAFENING ROARS AT EVERY SHOW!!! THANKS FOR THE MAGICKAL EVENING IN TRADATE!!! WE ARE LOOKING FORWARD TO SEEING YOU ALL AGAIN IN TARANTO!!! BY THE HAMMER OF ZEUS....REMAIN...INVICTUS!!!!!!!