THE MARRIAGE OF HEAVEN & HELL INDEED:
VIRGIN STEELE / ANGEL Double Headliner Bill at MULCAHY'S LONG ISLAND, NY:

I arrived at the venue MULCAHY'S on the night of April 25th with high hopes and great expectations. Though I had seen VIRGIN STEELE perform before, I had not seen the Band in any onstage action since perhaps....the mid 1990's! My job, and life in general conspired to take me away from the Metal action for awhile. Anyway, with found memories of my previous VIRGIN STEELE encounters ringing in my head, I grabbed a drink and eagerly awaited the Group's arrival.

The top DJ Fingers, from our top Radio Station here WBAB, walked out onto the large MULCAHY'S stage at 9:40 and the place went nuts!!! Feelings, anticipation and hopes ran high this night for the "Homecoming" of VS! Since the Band does not perform all that much in the States, everyone, True Fans, Old & New Friends and Foes alike, were all in attendance to see the boys. Fingers spoke about how when he first started his FINGER'S METAL SHOP Program, VIRGIN STEELE was the first group he ever interviewed.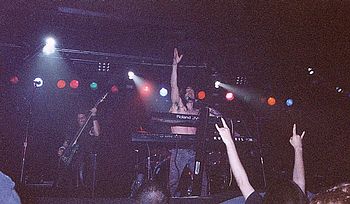 After prepping the crowd for about 5 minutes the lights dimmed and the roar of doom filled the PA. A bizarre intro-tape with strange sound effects, and voices of what sounded like demons from the crypt blasted through the air. (I was told later that it was actually David....enough said!). Exactly 3 minutes later in a barrage of Lights, hair and fury VIRGIN STEELE made their Triumphant homecoming launching furiously into INVICTUS! They did not ever let us down! WOW!!! They were more powerful, more aggressive, more competent than I ever remembered them being! They totally blew me and everyone I spoke to away! The band were in top form and the crowd was with them every note and gesture throughout. After INVICTUS the band launched into: THE FIRE GOD, A TOKEN OF MY HATRED (which David dedicated to his enemies), a very expressive GOD OF OUR SORROWS with just David's voice & Edward's guitar, CONJURATION OF THE WATCHER from the about to be issued in the USA, BOOK OF BURNING CD, followed by an Edward Pursino guitar solo segueing into a vocal solo from David complete with a burning sword! What could be next??? GREAT SWORD OF FAME of course, with the band in raging form, leaping and working every inch of the stage. THE WINE OF VIOLENCE was next followed by IN TRIUMPH OR TRAGEDY, then RETURN OF THE KING, CHILD OF DESOLATION (beautiful and full of pathos), BLOOD & GASOLINE, a gem from "The Marriage...", FLAMES OF THY POWER, KINGDOM OF THE FEARLESS and then...the climax of NOBLE SAVAGE! The place went completely ballistic by the end and I think the band could have and perhaps should have played all night. Like Black Gods of The Sun they were! Demonic and in total contrast to the next act.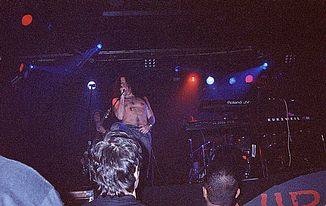 Alas it was time for them to say good night and they bowed to thunderous applause! ANGEL the great band from the 70's came on next and while they were very good and are highly skilled it was a bit of a let down after THE STEELE. VIRGIN STEELE play with such power, might and energy combined with a great sense of theatrical display & talent that anyone would have a hard time after their set. ANGEL were quite angelic in all their white finery, and singer Frank Dimino still possess a great and remarkable voice! I spoke with David briefly after his set, (he and the band were busy signing CD's and talking with fans & friends), and he said he really liked ANGEL and in fact they were big heroes of his when he was a kid! He also said he was very interested in going to go see them again, as he couldn't really hear all of their set, what with talking with all the fans and such.

For me it was truly the power of the Sword Of The Gods! What a statement to bring back to their homeland!!! A great night for VIRGIN STEELE & Metal!!!

David Hilsenrath (words & pics)

P.S.:

It was a great joy, a pleasure and an honour for us to bring back to our home, the VIRGIN STEELE Experience! I wish to thank the following people for their help and cooperation in making this concert a reality: Gail Flug, Danny Stanton, Fingers & WBAB, MULCHAY'S, Dave Hilsenrath, ANGEL, and of course Each and Every one of our Fans, & Friends who attended & witnessed what was for us a Magickal Night!!! It isn't often that we perform on our Island/State, so I must tell you I was a bit nervous, as I wanted this performance to come off without any technical or human errors! I hope in the end this was achieved. Judging from the very loud rumblings of the audience, I think it was a success!

The warmth, the enthusiasm, the Magick out in the audience was....truly amazing!!! I want to Thank All who were there!!! It is a show that will live in our memories for a long, long time.

After the gig, I went out into the audience and signed CD's, shirts, etc., as did the rest of the boys, and generally spoke with all who were there. It was truly Magickal to be able to have the time to actually visit a bit with those who enjoy the band!!! Again thanks to all, and thanks also again to Dennis and his Lady, for the bottle of Mead!!! I drank it last Night.....Great stuff By the Knowledge of ODIN!!!!!!!

So in conclusion....I say, "CHEERS & HAIL LONG ISLAND, SEE YOU AGAIN SOON"!!! BY THE GODS & GODDESSES,

DAVID DEFEIS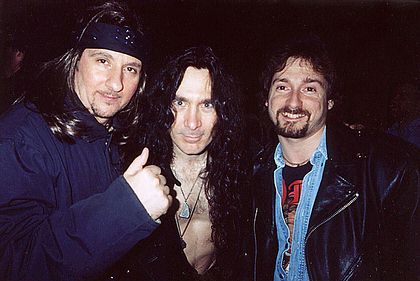 Demonic: David Hilsenrath (right) encountered Black Gods of the Sun.