VIRGIN STEELE live at the "Nit de Reis" fest, Palau Sant Jordi
Barcelona, Spain, 4 January 2003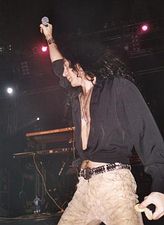 As you may know, on the 4th of January took place in Barcelona the second edition of an emerging festival called "Nit de Reis" which included national acts like Dark Moor, Rosendo and Saratoga and international names such as Iron Saviour, Lost Horizon, Saxon, Blind Guardian and, of course, Virgin Steele.
The name "Nit de Reis" comes from the tradition of the three kings handing out presents to all the children during the night of the 5th January. Needless to say that Virgin Steele's show was the best present that their fans could receive.
The band jumped on stage with A Symphony of Steele, which already turned crowds mad. They said that about 5.500 people attended the festival and that a big part of them was already there from the beginning.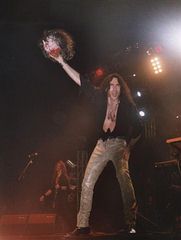 Virgin Steele was the third band to play out of seven, so they offered an almost-an-hour show whilst the sun was setting. Although the duration wasn't enough for their fans, the setlist the band choose was a complete success so the show was intense and full of emotion. Virgin Steele made Palau Sant Jordi -the venue- crumble with the already mentioned A SYMPHONY OF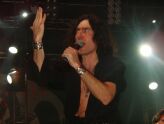 STEELE, but also with VOICE AS WEAPON, INVICTUS, I WILL COME FOR YOU, GREAT SWORD OF FLAME, KINGDOM OF FEARLESS, WE RULE THE NIGHT and NOBLE SAVAGE. Even there was time for a solo byEdward and one by David, who also showed the Great Sword in Flames and the head of Lord Priam (!) in this pocket-size show.
Must be pointed out one of the most touching moments of the night: it was when the crowds were told that it was David's birthday and Edward's had been the day before. Immediately, the audience started singing "Happy Birthday". Maybe this is why David seemed to be so happy and emotioned on stage, or maybe it was the general enthusiasm of the people during the whole concert.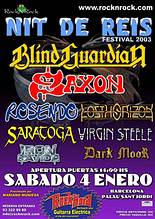 Who knows...
Needless to say that the four members did above their best. David had the audience in his hands, Edward left everybody speechless with his solos and vital energy, Josh built genially the basis of all the tunes and Frank's rhythms made fans' hearts beat at a time.
The other bands, specially, Saxon and Blind Guardian, perfectly completed the night. But we are looking forward to see a three-hour show, an opera, or whatever may come from Virgin Steele in Barcelona.
Maria Picassó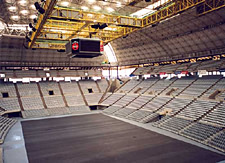 The venue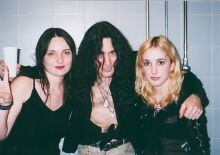 The birthday party continues - backstage after the show:
Monica Hernandez Boza (r.) with friend and David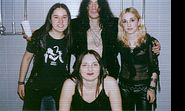 Backstage at the NIT DE REIS with the spanish Fan Club
President Monica Hernandez Boza and friends