CARNIVAL OF SOULS at MULCAHY´s, Wantagh, NY May 8th 2004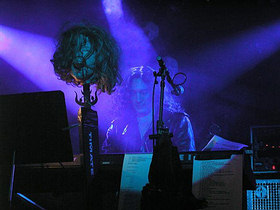 By Edmund Alscott
The sound of mutant children being born, wolves moaning, ghostly shrieks & howls, heartbeats of dead ghouls and other assorted madness heralded the arrival of CARNIVAL OF SOULS onstage last Saturday night. Then in the middle of all that sonic bombast what seemed to be a nine feet tall ancient druid type figure appeared, who then proceeded to remove his head!
As the swirling chaos and fog somewhat abated VIRGIN STEELE'S David DeFeis demonically appeared (accompanied by the High Priestess of keyboards Lynn Delmato), crooning out a mournful Gothic Blues that seemed to be either about a walk with Lucifer, sex or both.
After this "strange & beautiful" introduction the Group launched into a non-stop barrage of obscure covers, savage voodoo Blues and a bit of VIRGIN STEELE inspired Power Metal. Noteworthy among the many highlights for me were WHITE, IN THE CLOUDS, and PURPLE RAIN, complete with some passionate additional lyrics. Also of note was the very unexpected and thoroughly enjoyable DESERT PLAINS, (performed true to VIRGIN STEELE'S version found on "AGE OF CONSENT"), and FLAME ON with the introduction from VS' "SWORD OF THE GODS" grafted on, along with a strange & beautiful middle section that David created, which featured some over the top poetics!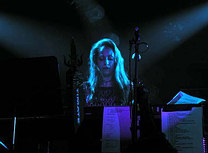 QUEEN OF THE DEAD from the Exorcist "Nightmare Theater" album was an inspired choice, as was a new version of THE INVOCATION from that same album. THE INVOCATION led into a highly stylized "Gothic" type version of SYMPATHY FOR THE DEVIL that was quite possibly the best version this writer has ever heard.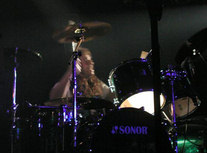 The approach that CARNIVAL OF SOULS seems to be going for is to not simply re-create the songs exactly as they were recorded, but to re-invent them as if the band had just composed them on the spot. The group explored many inspired improvisations and everyone did a spectacular solo turn. Mark Edwards (a.k.a. Geoff Fontaine) performed a powerful drum solo that concluded with him playing with super huge sticks! Edward Pursino on guitar was flashy, tasteful & brilliant as always.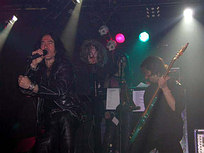 Josh Block did a stellar job on bass, Lynn Delmato performed a wonderful keyboard solo that combined Bach with Eddie Jobson from UK, style riffing, and David DeFeis was in unbelievable vocal & physical form. Unencumbered by having to play too much keyboards, one can truly appreciate what a powerful and majestic front man he really is.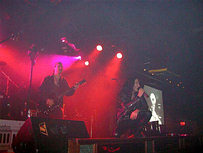 The stage set was quite entertaining as well, with dead trees, demons, a portrait of St. Michael, and other assorted paraphernalia strewn about. The group also brought along vintage black & white horror movie footage, which was broadcast on the venues 4 extra large screens and TV monitors. Excerpts from the 1962 film "Carnival of Souls" was displayed, along with the entire classic movie "Horror Hotel".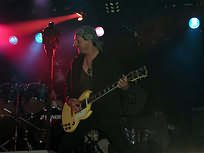 From what I understand, there will be a few more of these shows in the days to come. If you are a fan of VIRGIN STEELE, and or a fan of quality music in general I urge you to not miss the next appearance when this Carnival comes to town!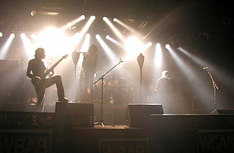 SET LIST:

1.BLACK MASS INTRO (with headless demon walking around onstage)
2.BIG "E" Chord!!! WALKING THE DOG
3.TAKE ME FOR A LITTLE WHILE / CRYING IN THE RAIN
4.MONKEY MAN
5.THE INVOCATION (a new version)
6.SYMPATHY FOR THE DEVIL (Weird version)
7.FOUR STICKS
(DRUM SOLO***)
8.SWORD OF THE GODS Intro - FLAME ON.with Poem insert
9.THE WANTON SONG
10.F# DRONE GTR / VOX SOLO
11.BLACK LEATHER
12.PURPLE RAIN
BASS SOLO
13.ACE OF SPADES
14.QUEEN OF THE DEAD
15.CHANGE IN THE HOUSE OF FLIES
16.DESERT PLAINS
(GUITAR SOLO***)
17.KEYBOARD SOLO
18.THE END... into... WHITE
19.AMERICAN HORSE
20.IN THE CLOUDS
21.Organ Solo YOUR TIME IS GONNA COME
22.THANK YOU
23.GIMMIE DANGER
24.Doors Jam RIBALD Intro / ROAD HOUSE BLUES