CARNIVAL OF SOULS at THE V.P. SOUTH , Amityville, NY October 23rd 2004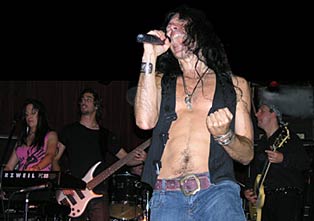 by Dave Hilsenrath
Photos: Gail Flug

I have witnessed many a VIRGIN STEELE performance, both electric and acoustic, but having missed the last CARNIVAL OF SOULS appearance, I really had no idea what this incarnation of DeFeis & Pursino was all about, or what I was in for on October 23.
Needless to say, I was shocked, delighted & thoroughly entertained! First let me say this. The VP South is not the sort of venue that our heroes usually appear in. The stage is way too small for their very large production, and the room itself while fairly long, is rather narrow, but talk about up close & personal, it doesn't get much more close up and personal than that! You literally get drenched in the heat and sweat coming off the stage, and you will occasionally get whipped by flying hair! And damn, this was one hot performance. Live, untamed, dangerous, wild and free. Brilliant! I loved it!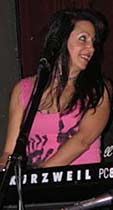 Weird psycho moans, groans and bizarre shrieks cycled up from the PA, and then BAM!… there was David DeFeis and keyboard player Lynn Delmato conjuring up a pact with the Devil at some rural midnight hour crossroads. A mournful gothic Blues tune elevated into a roar as the rest of the band entered into the sound spectrum. This group performs high energy, kick-ass, Bluesy Metal / Rock music that somehow manages to also be both ethereal and gothic. I felt like I was not in a bar on Route 110 in Amityville, NY, but in a bar somewhere in the 7th Circle of Hell, or the swamps of Louisiana, during a night of full moon, with a vampire stalking me! There was if I remember correctly a full moon.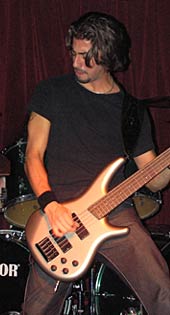 DeFeis, was all over the stage wailing and sailing high up into the rafters with that incredible voice of his. One moment he sounds like a piercing violin or guitar, and the next like a knockout punch from the hammer of Zeus! His delivery on Purple Rain, complete with his own lyrics, was unbelievable. David constantly inserts his own lyrics and poems into the set throughout the night. Edward, with a wall of Marshall amps behind him, performed spectacularly. It is so obvious that Edward and David have been working together for years, as the chemistry is so evident you can reach right up and touch it, and on a stage like the VP South, you don't miss a moment of what they create. Josh Block on bass played excellent counterpoint to the explosive drumming of Mark (Geoff Fontaine) Edwards, and the afore mentioned Miss Delmato, kept up an atmospheric swirl of wild keyboard sounds and devil-blues style piano all night long.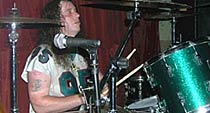 Their highly inspired set was very long (I think almost 3 hours non-stop), very well thought out, put together, and filled with many special surprises. As they say, "Strange & Beautiful"! "Monkey Man" from the Stones, was one example of an inspired choice, and the arrangement that they constructed was brilliant. VIRGIN STEELE'S own "Strawgirl" a real gem, (which I was told has never actually been performed live by VIRGIN STEELE), was performed that night. This was a true rare experience. "Gimmie Danger" from Iggy and the Stooges Raw Power album, was played heavier and with more passion and catharsis than the original version, and the "Chloe Dancer" / "Gentle Groove" combination performed stripped down with just piano and vocal was really beautiful & stunning. "Change In The House of Flies" was powerful while at the same time, eerie as all hell, and "Born On the Bayou" really summed up their whole approach for me.This is a music that is Bluesy, yet dark and full of power and menace. The set list I present here will give only a slight indication of what the CARNIVAL OF SOULS tries to achieve. They must be heard & experienced live to fully comprehend their essence. I urge you to do so at the next available opportunity. You have been warned.
:SET LIST:

1. BLACK MASS INTRO
2. BIG "E" Chord!!! WALKING THE DOG
3. SUPERSTITIOUS / SLY Jam / BORN ON THE BAYOU
4. TAKE ME FOR A LITTLE / CRYING IN THE RAIN…
5. MONKEY MAN-into ...
6. THE INVOCATION-into ...
7. SYMPATHY FOR THE DEVIL-into ...
8. FOUR STICKS into ...
(DRUM SOLO***)
9. SWORD OF THE GODS Intro - FLAME ON - with Poem insert
10. THE WANTON SONG
11. F# DRONE GTR & VOX SOLO
12. BLACK LEATHER
13. PURPLE RAIN
14. CHLOE DANCER / GENTLE GROOVE
15. ACE OF SPADES
16. QUEEN OF THE DEAD
17. CHANGE IN THE HOUSE OF FLIES
18. DESERT PLAINS into ...
(GUITAR SOLO***)
19. THE END… into ...
20. WHITE - into ...
21. AMERICAN HORSE - into ...
22. IN THE CLOUDS
23. GIMMIE DANGER
24. STRAWGIRL
25. Organ Solo - YOUR TIME IS GONNA COME into ...
26. THANK YOU
27. BRING IT ON HOME
28. THE ROVER
29. Doors Jam RIBALD Intro (WHEN THE MUSIC´s OVER) / ROAD HOUSE BLUES / BREAK ON THROUGH

ENCORE: KNOCKIN' ON HEAVEN'S DOOR