FESTIVAL SHOWS 2005: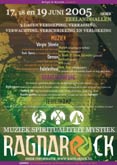 18 + 19 June 2005 RAGNAROCK FESTIVAL Goes, Netherlands
Two Headliner shows: electric on the 18th and acoustic on the 19th!!!

"Pagan's, Gnostics and Spiritual People of all persuasions ... you are Invited to"....

... RAGNAROCK - 40.000 square metres Music, Spirituality and Mysticism
Unique festival taking place on 17, 18 and 19 june in De Zeelandhallen in Goes (Holland)
For the first time Ragnarock will take place with a very special variety of activities
* All styles of music by world famous and unknown artists from folk to METAL, to a three hour operatic-rock -spectacular featuring

VIRGIN STEELE,
DEMON, WITCHFYNDE, DEATH SS, HEAVENLY, SKYLARK, OMNIA, DREAMAKER, WOTAN, WIZARD, STRIKELIGHT, MARAUDER, GODDESS OF DESIRE, BACKLASH, FAUN.

* Lectures of well-known speakers in the nearby Van der Valk Hotel
* A grass-field with rituals, workshops, shamans, meditations and a witches-cafe in yurts and tipis
* De Zeelhallen will be filled with:
* The spiritual Drakekopbeurs ('Dragonhead Fair') with emphasis on health and consults
* The fairylike Fantasy Village with stands, a gothic fashion show and well-known writers
* A comicheroesfestival with an esoteric touch and signing sessions
* A music market with all styles of music
* An exposition with renowned and unknown artists
* A stage for music, theatre and cabaret

Ragnarock is three days of deepening, surprise, expectation, fright and temptation and initiated to allow every conviction and idea to exist harmoniously alongside the other. The world is a melting-pot of violence towards people with different beliefs, while Ragnarock is open for people with any belief in the world.. every human being! They can eat and drink outside and parttake in activities that are interesting, beautiful, funny or scary, but above all, you can be part of all those convictions you have never heard about. Those beliefs are not to convert you, but to make you familiar with them and to not let you leave the area the same person, because... everything will prove to be different from what you expected. The immensity of Ragnarock can't be over-estimated, the only way to at least get sòme idea of what to expect is to visit www.ragnarock.nl <http://www.ragnarock.nl/> and have a taste of the many flavours.

Check out the Festival´s website at www.ragnarock.nl
(in dutch, english and german)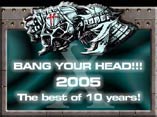 24 June 2005 BANG YOUR HEAD FESTIVAL Balingen, Germany Canceled!
For detailed information check out www.bang-your-head.de


June 25, 2005 NUMMIROCK 2005 Finland Canceled!
NUMMIROCK open air festival site
Headliner or Co-Headliner, tbc



November 05 2005 KEEP IT TRUE FESTIVAL
Lauda-Königshofen, Germany

Info from the K.I.T.- Team:
"Hi Friends,
... finally we can present to you our headliner for The KEEP IT TRUE V Festival. Epic Metal Gods VIRGIN STEELE will headline KIT V with a very special show. This will be the only show in Germany in 2005. We will do anything & everything to make this a unique experience for you AND for VIRGIN STEELE.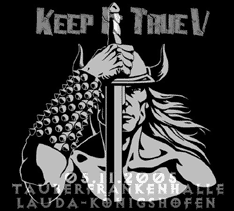 So finally the KIT V billing is complete:
KEEP IT TRUE V
called-"Guardians Of the Flame"
05.November 2005 Lauda-Königshofen, Germany, Tauberfrankenhalle
VIRGIN STEELE (USA)
(Only German Show 2005)

RAVEN (UK) (Only Europaean Show 2005)
JAG PANZER (USA) (Special "Ample Destruction" Show)
RUFFIANS (USA)
INTRUDER (USA)
SLOUGH FEG (USA)
SKULLVIEW (USA)
STORMWARRIOR (GER)
FORSAKEN (MALTA)
IGNITOR (USA)
KEEP IT TRUE V Warm Up Show called-"Night Of the Blade" 04. November 2005 Dittigheim, Sporthalle
ANVIL (CAN)
POWERGOD (GER) (exclusive Covershow)
EMERALD (HOL) (Final Farewell Show)
STRIKELIGHT (GRE)
Tickets are already available on our website www.keep-it.true.de for 17 Euro (KIT) and 8 Euro (Warm Up) plus postage and also at our presale partners.
Metal On,
KIT Team"