18 September 2009

New Merchandise Available
Virgin Steele has made an arrangement with Value-Merch.com for these two great new t-shirts. One is the "Noble Savage" cover, the other is the logo. They ship worldwide. Please contact them through their site for more information.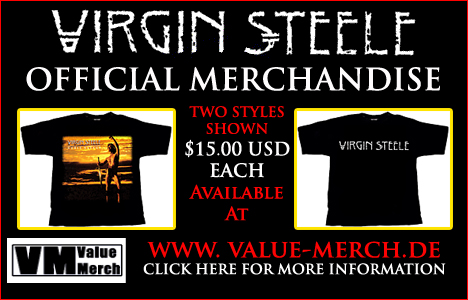 12 August 2009

PLAY IT LOUD FESTIVAL CANCELLED :
" Today we received unfortunate news from our booking agency. It appears that the PLAT IT LOUD FESTIVAL has been cancelled. As you can imagine, we were very sorry to hear this, for we had been looking forward to performing for all our Friends in Italy once again...Fear not...We will make it a priority to return to your shores as soon as possible. Keep well, remain Forever INVICTUS and have a Glorious rest of the Summer & Beyond..." "Across the Oceans Of Time...We are Called By Your Voice...We Will Return"....
BY THE GODS & GODDESSES, VIRGIN STEELE


7 July 2009

David DeFeis to be interviewed on Hairhut Radio Show :

If you live in the Long Island New York area be sure to tune in to the Hairhut Radio Show. There will be plenty of Virgin Steele music and chat from David. Here are the details:

Date: 7/11/2009 starting at 11:00 AM-2 hours of Metal!
Venue: WHPC 90.3 FM
Address: Garden City, New York USA 11530

For more information visit their myspace: www.myspace.com/hairhutrocks

24 June 2009

New show announcement:

VIRGIN STEELE has confirmed a Festival for 2010
On July 31, 2010 the Group will perform at The Headbangers Open Air Festival in D - Brande-Hörnerkirchen (bei Elmshorn)-Germany
Venue: Bauernhof mitten in der Botanik
In Other News:
For a new book coming out shortly about the names of Metal Groups, David DeFeis was asked, "What does the name VIRGIN STEELE means to you". The following is his reply & explanation:
I am into opposites...dichotomy. I enjoy bringing together elements that are often kept apart. I believe that through creative combination, one gives birth to a third element previously non-existent, derived from the union of these opposites. Because of this I wanted a name that would embrace & encompass both sides of the Musical Coin as regards to the songs I was composing. I wanted a name that would express both the heavy and loud as well as the delicate and tender. A name that expressed everything, from a whisper to a scream; the primal, the barbaric, the romantic, the bombastic, yet subtle, the refined... the grandiose, yet earthy quality the songs possessed. The Music was to be a call, a shout, an invocation to Freedom and the continual awakening to the awareness that every moment of life is lived to its fullest potential. Therefore the name had to live up to the sound, and be reflective of such grandiose aspirations.
What does the name VIRGIN STEELE mean?
To me it means: a fresh approach, a new lease on life; pure Music/Metal, fresh from the fiery forge, ready to be tested, tried and to prove itself, baptized in the flame of life; full of hunger and power, rich with dignity and majesty, with an awareness and respect for tradition, but combined and fueled by a desperate need to carve out new frontiers of expression. To take the music as far as it can possibly go; to slice through, & break the boundaries wide open. There are no limits!!!

It means a new way, a new approach, a new Vision of Life and Beyond. It represents cutting through all the webs of lies and crap that exist in the World and getting straight to the Heart. It's Magicakl...it has that Excalibur pulling the Sword from the stone quality...and it also implies carnal appetites...When you spell it VIRGIN STEELE, it designates a personal connection, as to someone's name, like Russell Steele, or Remington Steele. Plus the extra "E" adds extra Energy & Magick and makes the 2 words symmetrical with the same amount of letters, visually enticing the Mind, Body & Spirit.
Another question I am often asked is, 'What do you call your music, and how do you categorize yourself???' There are three terms I like to use when discussing the VIRGIN STEELE sound ... 'ROMANTIC EXPRESSIONISM', 'SYMPHONIC BLUES BASED METAL', and, my favorite, or more appropriately, the one that most aptly conjures up the Sound of this Music in my mind, 'BARBARIC ROMANTICISM'. All things are possible in the Land of STEELE. Again...the opposites attract.

From the symphonic grandeur of 'EMALAITH', or 'I WILL COME FOR YOU'; to the delicacy of IPHIGENIA IN HADES, 'GOD ABOVE GOD', or 'LAST ROSE OF SUMMER'; to the brutal crunch of A SYMPHONY OF STEELE or 'INVICTUS', one can tell that we are an eclectic band that delights in risk-taking and experimentation. We do not care about trends or being the 'flavor of the month'. We are here to create Music that will have a lasting value like the great masters. If that sounds pompous, then, hey . . . So be it. We are not put on this earth to conform to what someone else's opinion of us is. We are here to be all that we can possibly be within ourselves...

You might have read that our manifesto is:
We were born to defy, we were born to heed our own heart's call and our own voice. Amidst a sea of lame excuses, mediocrity, conformist rhetoric, and other bland sentiments that pass for ROCK MUSIC these days, we stand as an Island, a Fortress, a Bastion, a Haven for the Foundation of what we consider to be the True METAL Faith and perhaps the CLASSICAL MUSIC of the 21st CENTURY. A Testament to the Power of the Will, exploration and self expression. An alternative to the ever present corporate menace that passes for Popular Music.

As we begin the new Millennium, we see our goal to be a union, a convergence of various Forms into one. Music, be it ROCK based, CLASSICAL based or whatever, Poetry, Theatre, Painting, Sculpture and Film can and will be molded, blended and reborn in new and exciting shapes. Shapes/forms which can enrich our World, galvanize our emotions, open our senses, our hearts, our minds, to Spheres, Plains, and Oceans of unlimited possibilities through which we may see our Universe and our relationship so it in a new and different Light! To truly live, to drink the new Wine, to bathe in new Waters both strange and beautiful, to embrace what was lost and what may be found, this … is the Spirit which drives our passion ever onward!

We invite you to join us on this Quest for Life, Adventure and the Pursuit of all Forms of Emotion, Expression and Passion!!! BY THE GODS & GODDESSES it is time to Fly!!! ALL are Welcome, ALL are One, THE GATE is Open for those who have the Wish and the Will to Walk on through!!!

David DeFeis
More Summer reading:
The following is a link to an essay/thesis discussing the various Cultural/Historical References found in Metal Music, written by Mr. Filippo Festuccia.

Mr. Festuccia wrote this Work and discussed it in an hour long speech as part of his high school final exam. We found his essay quite interesting, and thought it would be a nice idea to share it with you all, as it is very informative as well as entertaining. We hope you will enjoy it!

We send out a "Royal Thanks" to Mr. Festuccia for his great support, and for his willingness to allow us to publish his thesis on this site.

Essay On Heavy Metal
Cheers & Hail,
VS HOME OFFICE
Mark Gorman
4 June 2009


A Quick INTERVIEW with David DeFeis of VIRGIN STEELE (regarding last Saturday Night's Performance, 30 May 2009):
SW-Flaming hails, Lion of Fire!
ANSWER: Cheers & BY THE GODS & GODDESSES to you!
SW-How are you? Is everything fine?
ANSWER: I am well thanks for asking. Let's begin!
SW-How was the show?
ANSWER: It was an incredible Evening....full of passion, power, and the full range of sounds, and emotions...It contained everything from a whisper...to a Scream and Beyond.
SW-It was Virgin Steele's night. How long was your set? What songs did you perform? Were there any new songs to baptize in Fire of live show?
ANSWER: The Set was pretty long...over 2 hours. We actually could have played quite a bit longer, as everyone was very into it. We did not play and new songs from the forthcoming album, but we did play some things that we had not really planed on doing, such as Bring It On Home and the Medley at the end of the night. That stuff was all spontaneous off the cuff music, that was played due to the mood, circumstance and the specific situations that occurred that particular Evening. The Set was as follows:
IMMORTAL I STAND
BLACK MASS BLUES
WINE OF VIOLENCE
BRING IT ON HOME…
IN TRIUMPH OR TRAGEDY
RETURN OF THE KING
KINGDOM OF THE FEARLESS-Where Lord Priam's severed head made an appearance
THE VOICE AS WEAPON
INVICTUS
Guitar Solo/VOW OF HONOUR
DEFIANCE
DON'T SAY GOODBYE
BONEDUST
DUST FROM THE BURNING
ACOUSTIC SET:
SNAKESKIN VOODOO MAN
GATE OF KINGS
GOD OF OUR SORROWS
PURPLE RAIN
A CRY IN THE NIGHT
DON'T CLOSE YOUR EYES
LAST ROSE OF SUMMER-first ever live onstage performance
VENI, VIDI, VICI-featuring the Flaming Sword
NOBLE SAVAGE
Medley: MIND, BODY, SPIRIT, WHOLE LOTTA LOVE, WE WILL ROCK YOU, BLUES FROM HELL…

SW-How did your magickal voice feel on that night?
ANSWER: I was a bit concerned at first, because for several days prior to the gig I was fighting a bit of a cold, but on the night...my voice felt strong and ready to roar. I was determined to peel the paint off the ceiling & walls, and I think that effect was achieved.

SW-How did you like the audience? Did people open their feelings to be in complete chemistry with the group, under the charms of Steele?
ANSWER: I loved the audience! They were absolutely incredible. It was really nice to be able to perform on Long Island, and the response was really overwhelming! There was truly a Mountain Of Love in the room. Everyone was really respectful of one another and really energized and passionate. We had people traveling in from Connecticut, Maryland, New Jersey, Michigan, and there were even a couple of guys from Canada there, along with all our fellow Long Islanders. It truly was a Magickal crowd. They were really in tune with all the songs, and sang each word and all the melodies, riffs, etc....I thank them all for their huge outpouring of support!

SW-Every show is unique. What was the special mood of the night? Raging or rather tender, mysterious, magickal, triumphant? Other or altogether?
ANSWER: It was every word you expressed and beyond. We also had moments of insanity, anger, and frustration (when some of our gear did not work properly), but all in all it ended Triumphantly. It was an Epic, Barbaric-Romantic Evening. I felt as I said before a whole lotta love from the audience. I send out a Royal Thanks to all who were there! We did film a bit that night so...who knows maybe some of the footage might wind up in a DVD later on...we shall see.

SW-How did the Group feel & play? I'm sure excellent as always, I mean specifically on this gig.
ANSWER: I thought the Group played very well. Each of us put all our Mind, Body & Spirit into the performance, and really turned on the energy to full power. We really tried to connect with every member of the audience, and make each and every note mean something. We felt wild & free, like coal black horses racing the wind on the open plains under a full blazing moon.

SW-What do you feel when you light up your Sword? I remember on that LI night you told me that you are Fire and nothing can come between you and your audience. So, when you perform this Rite of Flame, does Fire run inside your veins?
ANSWER: Yes it does...Performing in itself is incredibly moving and invigorating, and when you also bring in elements such as fire, and the sword or other ritualistic ingredients, the performance often takes on the form of an Ancient Drama, or Mystery Play, and the Spiritual or Religious aspects are often enhanced. Onstage I become more than the sum of my parts. I feel a union, a convergence of forces, lifting me higher and higher. Saturday night I felt like Odin's right hand, or like a massive oak Tree, ready to engulf the World, unify and impart something of great import. I felt energized, psychotic, yet in control, spontaneous, wild and free.

SW-What was the audience response? Were people a part of the Mystery? What was in their eyes? Sacred awe, admiration?
ANSWER: I'm sure each person reacted in a different way, as that particular ritual sends so many unconscious messages and invokes different images for each person who witnesses. The audience really seems to enjoys the Sword. I believe it awakens something primal, and something Noble in each person and they all seem to have a desire to share in the fire communion & transfiguration that is offered. We will return again soon to the Sacred Island Of Long...I once again thank each & every one who came...YOU ALL RULED THE NIGHT!

SW: "Thank you very much for the great interview full of Flame!! Your answers so passionate. The gig itself must have been a
volcanic eruption
! I wish I was there! Maybe next time... Thank you! All the very beast!"
ANSWER: My pleasure...I hope you will get the opportunity to see the Group onstage one day soon...Thanks for your belief and your interesting questions...
BY THE BLACK SUN & MOON,
David DeFeis

29 April 2009


ITALIAN SHOW ADDED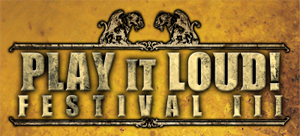 Thanks & Cheers to you all...
VS HOME OFFICE
Mark Gorman
---
19th February 2009

LIVE IN CONCERT!
FRANK CARIOLA'S SUNDANCE on MAY 30th...

Doors Open At 8:00 PM
The Band will take the stage at: 10:00 PM There will be no support bands. This will be a full scale VIRGIN STEELE performance.
THIS IS AN ALL AGES SHOW!

In addition to the performance, VIRGIN STEELE will also do a "Meet & Greet" directly after the show. Please feel free to bring down any discs or photos you would like the band to sign.

SUNDANCE is located at: 621 Route 25A, Rocky Point, Long Island, NY
For more information, contact: 631-228-4708 or 631-228-4711
or visit their site at: http://www. sundancerocks. com/


The ticket price for this show is $15.00
---

INTERIVIEW ABOUT SUNDANCE GIG on 1-25-09:
By Edmund Alscott: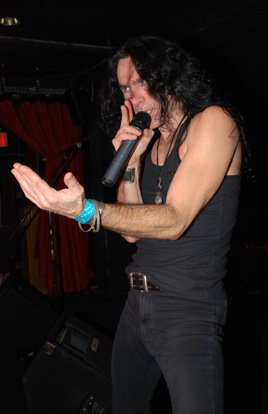 1. Tell me David what was your impression of the gig you played at Sundance last Sunday?
ANSWER: Well…it was really quite nice. We had a most amazing time. I felt really loose and so did the band. It was a very relaxed atmosphere, no stress, no pressure, everything was well organized, when we went up to do our bit; we were primed, ready and full of fire. It was a pretty ferocious set.

2. Exactly how long was your set?
ANSWER: I'm not exactly sure, but I think we played close to an hour. At first we weren't sure what the whole event was to be like, as we were under the impression that there might be all sorts of guest moments, and confusion, so we didn't know if we might just do 1 or 2 songs or some covers, or whatever, but when we actually all got together to plan what to do, we said alright lets just do what we do. Therefore we ended up doing most of our epic over the top material and really going for it. I think the band played very well, and I felt very free vocally, so I went for all the human guitar type of things that I enjoy doing onstage. It was somewhat chaotic for us, as we didn't have our normal stage crew or front of house guys with us, but regardless it went very well. The Staff at the venue is very helpful and very nice, and the whole operation was well structured and professional. There was a brief dangerous moment with the flaming sword when it came time to extinguish it, but all went well in the end.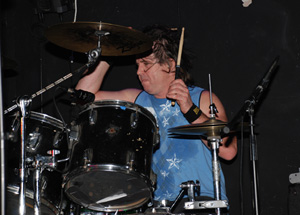 3. What was the occasion…something about an anniversary?
ANSWER: Yes it was a celebration of the venue's owner, Frank Cariola's 40 years in the business of promoting, and supporting live music on the Sacred Island Of Long!!! Frank is a real veteran of the scene. He has booked everyone from GUNS & ROSES to METALLICA to everyone you can possibly think of. We played his club many times in the early days and all throughout our career. In fact Frank actually briefly managed one of my bands when I was 16, so we have a nice history together, and it was a pleasure and an honor to be a part of this festive celebration for him. And it was indeed a Glorious celebration! They had incredible food going all night, and wonderful drinks…the atmosphere was very positive, very supportive and friendly. There wasn't any bickering between the groups, the whole Staff was top notch, and Frank was in great spirits. He was so close to the stage during our set, I thought he might actually join in and start playing! He was very into it, we were very into it…it was one of those rare magickal evenings, that only happen now and then.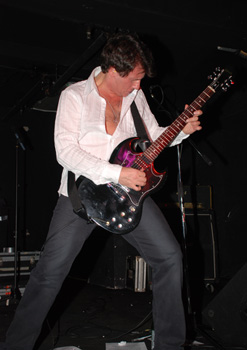 4. I understand that there was some grumbling about the cover charge for the event. What was that all about?
ANSWER: A few people were upset at the price, but if they had come anyway they would have seen that it was well worth it. The spread Frank had arranged was absolutely amazing! There was an abundance of everything. It was really quite lavish, plus there were quite a few bands playing that all really performed very well. Everyone played his or her ass off, so it was well worth the price of admission. Our audience is very varied we have older Fans who have been with us for some time, but the majority of our audience is younger people, and they have been hit extra hard by the recent changes in our economy, so I can understand the gripping, but if one stops to consider all the factors…the evening was actually a bargain.

5. Will you be doing more shows at Sundance?
ANSWER: Yes later in the week we will begin to discuss our return for a full over the top blitzkrieg to be scheduled sometime close to the spring. I would actually like to do kind of a double show, where we play the first half doing our acoustic thing and then the second half the full blazing electric stuff.

6. On another note, how's the new album coming?
ANSWER: Great thanks! We are deeply involved, and we hope to have it out by May…It is quite long at least 80 minutes and in fact could possibly be a double album if we actually complete all the tracks…we shall see.

7. Is it a concept album?
ANSWER: Yes it continues where VISIONS OF EDEN left off, and wraps up those lyrical ideas. Musically it features all sorts of moods, from over the top Epic, too doom-like, melancholia…I'm looking forward to its completion and to getting back out and performing more.

Thanks very much for this short chat. I wish all the best for the new album and the continued live presence of VIRGIN STEELE!