22 December 2010


We have confirmed the first dates for 2011...More will follow. The 2 dates for July are as follows:
VIRGIN STEELE
Date: Thursday, July 14th 2011
Event: Masters of Rock
Location: CZ - Vizovice
Venue: Areál likéry Rudolf Jelinek


VIRGIN STEELE
Date: Friday, July 15th 2011
Event: Metalcamp
Location: SLOVENIA - Tolmin-


10 November 2010
Greetings Friends,

You can now preview the entire BLACK LIGHT BACCHANALIA CD online at: www.music.aol.com

Go to the full CD listening parties. There you will find VIRGIN STEELE'S new album.

Also, there is still time to enter to win signed posters and albums at our friend Bryan Reesmans's blog: Go to Attention Deficit Delirium to enter! Watch for a full interview with David there soon.

Cheers & all the best,
VS HOME OFFICE
Mark Gorman
29 October 2010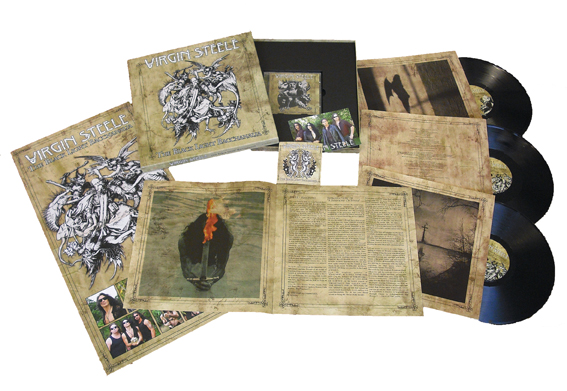 Virgin Steele Limited Edition on Vinyl - Details Revealed!
Finally the majestic boxset of "The Black Light Bacchanalia " is available (see photo). The box set is a real treat for all VIRGIN STEELE fans and is limited to 3.000 copies worldwide.
The box set includes: -
3 LPs with printed inner sleeves + 1 bonus track -
the jewel case version of the album -
a full coloured poster -
a full coloured sticker -
a full coloured postcard -
12 page booklet in vinyl format with the Virgin Steele history written by David DeFeis
"The Black Light Bacchanalia" is already out in Europe as a limited edition digipak (inc. bonus CD) as well as standard version and download and will be released in the USA/Canada on November 9th......the boxset will out in USA/Canada on November 23rd.



NEWS FROM DAVID DEFEIS:
Greetings & Cheers!
I have been getting some inquiries about what the new album is all about, and I thought that it might be nice to answer them in a kind of Q & A type manner, so here we go:
One of the questions I am getting is....What does the title, "THE BLACK LIGHT BACCHANALIA" Mean?
My answer is this...Well...it is my way of saying something like "This insane Life"….It should be thought of in the same spirit as the way Dante called his Work "The Divine Comedy". He was discussing Life in all its multifaceted craziness, and I mean something similar with the phrase, "The Black Light Bacchanalia". I too am speaking about Life and all its attendant drama, aches, & pains, pathos, joys & sorrows. By that phrase I also mean "The Great Reversal". Where when one culture conquers another, the deities of the conquered people become the demons of the conquerors religion. Everything is turned upside down…topsy-turvy. This is essentially what happened to Paganism & Gnosticism. The Pagans were killed off, and their worship of Bacchus/Dionysus with their bacchanalias was suppressed. But...in the glow of the Black Light things that are white are illuminated... the other colors fade into the shadows…The Pagans went underground….
Another question of late is: Is this a concept album? And if so what can you tell us about the concept?
Yes it is a concept album. It does continue the tale I began on the "Visions Of Eden" album, and brings those elements to their conclusion, with the death of Lilith (in TO CROWN THEM WITH HALOS), & also God finally lamenting all the damage he has done & the havoc he has wrought in ETERNAL REGRET. I equate Lilith with Hypatia( the ancient Pagan astronomer/philosopher of Alexandria, who was murdered by Monks) & Joan Of Arc, and & Lyzebel, (a Sumerian Queen who most people know as Jezebel), (but that name is a perversion of the original Lyzebel, which means Baal is exalted) (She too was murdered), as well as all the various Goddess figures. I continue the discussion of the death of Paganism and the eradication of the Female Goddess Principle due to the rise of the Mountain-Fire-Father God, but I go further with discussing the rise of "organized" religion and its mark upon Paganism, and the subsequent coming of the Dark Ages. However, that being said, I am really discussing today's Dark Ages, and the rise of fundamentalism in all walks of Life, not only religion, but politics, and everywhere else. And ultimately the album is about Rebellion. Rebellion against authority, God, government, whatever…. etc….This is quite clear in songs like THE ORPHEUS TABOO.
A question for those who heard about some of our difficulties... :How did the recordings go?
ANSWER: They went very well for the most part, but we did have a few problems along the way. Due to the late summer storms we had a few electrical/technical mishaps! We lost various tracks that had to be re-recorded...I did panic at one point, as I had lost a fair amount of information that needed to be done again…Fortunately I do write everything down the old fashioned way, so I always have my notes to refer to...this helped! It was quite stressful, but it only made the album even more passionate and raw. I can somewhat laugh about it now, as I have gotten it all together...but...living through it was a bit unnerving...
Next question: What is different about this album compared to your others?
ANSWER: Using the 12 notes that are found in Western Civilization's Music, I feel that I was able to invoke new emotions and new combinations of these notes and chords that I have not utilized before. For example tracks like TO CROWN THEM WITH HALOS & THE BLACK LIGHT BACCHANALIA (The Age That Is to Come), contain various Musical elements & moods that have never before appeared on a VIRGIN STEELE album. That kind of mutant riffing and that kind of bizarre sequence in the bridge of the latter tune are quite different for us. It is darker than before in certain areas, and also more straight ahead in others. I think there is a nice balance between the various styles we do. I think that everyone really played their collective asses off. Frank G., gives the drum performance of his Life on these tracks. There is just so much virtuosity coming out of him these days. Josh did amazing guitar solos and fat rhythms, and Edward played with tremendous passion and great energy. I think it may be among our finest recorded performances thus far. All the feeling of our summer live shows went into these recordings. Performing gigs first and then recoding right after definitely can spice up one's studio game!
I am also really pleased with the artwork. I chose 3 separate yet related covers for each of the 3 configurations we are releasing the album in. The covers are all from around 1400 or 1500, and have to do with the Inquisition or the occult. They are wood carvings or etchings, and I have used a few more of them inside the booklets. These are "found" images that I have located among various items in my house. I have been going organic with our covers for quite a while now. For example the HOUSE OF ATREUS covers were made from a shield that hangs on a wall in my house. While I am working on the albums I look around and see if anything will leap out at me and scream "this is the sound of the album in visual form". Again for example, with THE HOUSE OF ATREUS shield...when I looked at that it screamed to me" KINGDOM OF THE FEARLESS"...so I immediately took it down from the wall and had it photographed. The same with these 3 images for the new covers. I heard the moans of THE BLACK LIGHT BACCHANALIA when I viewed them...
The other images inside the booklet are kind of media-manipulated artworks that are part paintings and part something else. These were done by my friend Julian Iliev, and they are great, & they too capture the Spirit residing inside the sounds. All these various components were Nobly put together by one Jens Reinhold. Jens did a Glorious job bringing all these elements together.
I thank our new label SPV for all their Noble enthusiasm for the Group and for this album in particular! They have really gone the distance in issuing these 3 various formats! Incredible!
And the last question for the moment: We have heard that you said this album seems like a debut album. What do you mean by that?
ANSWER: I mean that it has that kind of " we're out to prove ourselves" fire that many debut albums have, and it is well paced and diverse yet also quite connected. It contains that kind of spontaneity and raw passion that makes it seem so fresh. It sounds like we are all very excited about what we are doing. When I first heard all the tracks back to back in one go, it reminded me of the feelings I got upon listening to the first 2 Led Zeppelin albums, or Van Halen's debut or Queen 1. It just felt so alive and reckless, polished, yet wild. I hope that everyone will enjoy it…
BY THE HAMMER OF ZEUS! (And The Wrecking Ball Of Thor...of course)!
David DeFeis
October 20, 2010
28 September 2010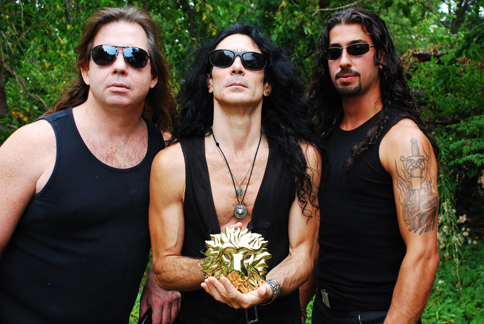 Update: Well....believe it or not...we have actually finished "THE BLACK LIGHT BACCHANALIA" album and sent it off to our label, Steamhammer SPV for publication/replication. It was a mad, wild time these past few weeks & days recording and mixing like banshees! But....we made it....A week ago seems like an entire lifetime ago. It seems like every possible situation and change of season has occurred in a matter of hours and days. I personally went through the full dynamic range of emotional upheavals possible....One minute I was on top of the World, the next completely beneath it....and everything in between. Through it all as we say here in the Land Of Steele....we remained...Invictus!
As always when it comes time to actually part with an album and send it off into the World, I get very crazy. I always want to completely re-do it, to go back to the beginning and live with everything longer, but this of course is impossible. I am always frantic and rushed with every album, but this one was exceptionally challenging. Its birth was very much like how they did it in the long, long past, when people like Chuck Berry or Elvis would record a song, and then it would be immediately pressed and released only a few short hours later. After finishing these final mixes, I straight away began the process to send the album over to our label, so I really did not have the opportunity to live with these final mixes, listen back and adjust anything along the way....I trust that all turned out well and can only judge things from my initial gut reaction....which was that everything seems fine and nice and raw! In the end Life goes on and all projects must have their completion, and this one is now well on its way to landing in your hands soon. I hope you enjoy it....All of us here in the House Of Steele stand behind it, and think that it makes a very appropriate soundtrack to the coming Autumnal Season...We poured all our blood, sweat, & energy into these tracks and everything from $200 dollar scotch (a very nice gift from a Fan) to 7-ll coffee went into the making of it. May it empower you and take you on journeys both strange & beautiful....
Cheers & BY THE BLACK SUN & MOON,
David DeFeis September 27, 2010

25 September 2010
New Album News!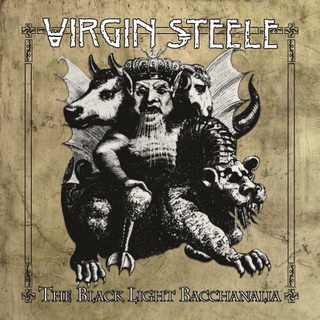 The new album - THE BLACK LIGHT BACCHANALIA - will be released on October 22 in Germany, Austria & Switzerland, and the rest of Europe on October 25, & on Novemeber 9 in the USA. The BLACK LIGHT BACCHANALIA will be issued in CD format, (artwork on right) Limited Edition digi-pak, (artwork bottom left) with a bonus CD, and Triple Lp Vinyl with a book, CD, and extensive packaging. (Artwork bottom right)
Running Order:

1. BY THE HAMMER OF ZEUS (AND THE WRECKING BALL OF THOR)
2. PAGAN HEART
3. THE BREAD OF WICKEDNESS
4. IN A DREAM OF FIRE
5. NEPENTHE (I Live Tomorrow)
6. THE ORPHEUS TABOO
7. TO CROWN THEM WITH HALOS Parts 1 & 2
8. THE BLACK LIGHT BACCHANALIA (The Age That Is To Come)
9. THE TORTURE'S OF THE DAMNED
10. NECROPOLIS (He Answers Them With Death)
11. ETERNAL REGRET

THE BLACK LIGHT BACCHANALIA BONUS CD WILL CONTAIN THE FOLLOWING:
1. WHEN I'M SILENT (The Wind Of Voices)
2. SILENT SORROW
3. FROM A WHISPER TO A SCREAM-(The Spoken Biography)

ALL MUSIC & LYRICS WERE WRITTEN BY David DeFeis
Published & Copyright by DEFEIS MUSIC
ALL RIGHTS RESERVED.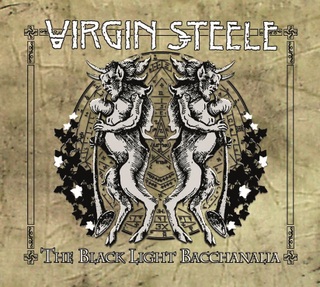 The latest from the Studio: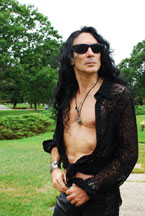 This has been one tense week for us.....to say the least! Josh & I have worked like Demons from the farthest crypts of Hades, and Vikings on a rampage to complete this album. Due to some freaky electrical malfunctions caused by the various late summer storms we have had here, we lost various tracks from the majority of the songs on the album, including information on drives that were the backups....The Gods & Goddesses of all things involving the Currents of the Earth & Sky are not always kind.... Luckily we had enough material from earlier sessions backed up on other drives, to be able to go in and frantically begin work again, re-recording over the past 3 or 4 days about 75-80-% of the album all over again in terms of vocals, guitars and a few stray bits of orchestration....Now after a harrowing week, we are in the home stretch and once again racing to the finish line in our attempt to make our deadline. While we are in for another major league insane day & night...this actually looks possible.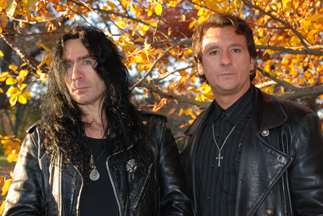 The end result of all this manic activity, is that an already raw and passionate album is even more raw and passionate! Listening back last night, I was reminded of the untamed fury and pure unadulterated energy of albums like Led Zeppelin 2, or the early Van Halen albums. Not that Virgin Steele sounds like that per say, but that spontaneity..., that abandon, is captured here. If Zeppelin came back today as a Barbaric-Romantic Metal band...and were releasing their first album, they might have made an album like we are making now....It sounds like a debut album in many ways.....It is very honest and overflowing with exuberance. It is heavy when it needs to be, atmospheric on occasion, Epic in all directions, violent, tender, proud and ultimately...defiant....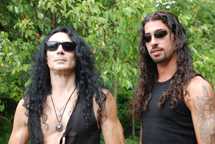 I want to express my Thanks to my Friend and bandmate Josh Block for his dedication, determination, and for hanging in there with me, not only playing wicked guitar on the record, but also contributing his exceptional engineering skills throughout the recording & mixing process. I also wish to thank our good Friend and long time recording engineer Ed Warrin for his tireless assistance, keen ears, great wit, and Noble skills in helping to bring this album to a proper close.

I also wish to send out A Royal Thanks and a Round Of Drinks to: our drummer Frank Gilchriest who contributed amazing drum performances and thanks & Cheers to Edward (Van Dorian) Pursino for his passionate guitar work ,and positive vibes throughout these past several months of traveling and recording.
We hope that you will all enjoy the fruits of our Summer Of Madness....
BY THE BLACK SUN & MOON,
David DeFeis
---