Outside the wind howled & fog covered the streets, inside … the candles flickered with the Spirit of Memory, the fire spoke of days long past and ages yet to come, the wine was cool, fragrant and bewitching, and the faces were noble, proud, and thoughtful, wrapped in the swirling mists of dream ..... and the band played on … and on ...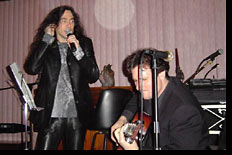 ... or two of them did anyway. David DeFeis and Edward Pursino orchestrated these musical events for a most magical evening of sound. Their concert was an "Un-Steeled" acoustic interpretation of the VIRGIN STEELE catalogue, performed passionately, honestly, flawlessly. With just Edward's acoustic guitar, David's voice and (only on one section the introduction to God Of Our Sorrows, a piano), they made true Metal magic, and perhaps carved out a new direction or perhaps even a new genre for themselves: "Pagan Acoustic Sky Hymn Metal" perhaps!?!

The music was still bombastic, brutally heavy at times, yet also tender, mystical, gothic and dangerous. Yes it can be frightening to sit in front of a man who one second is calmly crooning, and then in the next instant suddenly and unexpectedly roaring!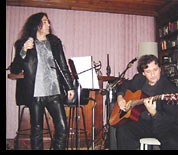 I was fortunate to be one of a handful of people in attendance for what was really a very intimate, private showcase. What I am describing took place last night at the home of David DeFeis. He and a few good friends rang in the New Year with this rare acoustic performance. The food was exquisite and did I mention, the wine flowed freely, (along with the beer, champagne and various other Spirits), and the company was gracious and excellent. If my memory serves me correctly, the songs they performed were as follows:

1. TWILIGHT OF THE GODS
2. TRANSFIGURATION
3. A CRY IN THE NIGHT / DON'T CLOSE YOUR EYES
4. DON'T SAY GOODBYE
5. A GREATER BURNING OF INNOCENCE
6. GATE OF KINGS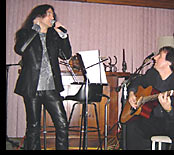 7. GOD OF OUR SORROWS / PURPLE RAIN / WILDFIRE WOMAN
8. DO YOU WALK WITH GOD
9. FOREVER WILL I ROAM
10. EYES WITHOUT A FACE
11. A WHISPER OF DEATH INTRO / HOUSE OF DUST
12. A long "MEDLEY"of - GARDEN OF LAMENTATION / Serpent's Kiss Intro, Agamemnon's Last Hour, A Whisper Of Death, Great Sword Of Flame, Whisper of Death Riff, into EMALAITH, THE BURNING OF ROME, and PERFECT MANSIONS (MOUNTAINS OF THE SUN).
13. Another "Medley" of - MISTS OF AVALON / UNHOLY WATER / TRAIL OF TEARS
14. TAKE ME FOR A LITTLE WHILE / The RESURRECTION DAY intro, into WEST OF SUMER
15. LOVE IS PAIN

The sound emanating from our friends was rich, and surprisingly full for only two people. Geoff Fontaine the former Exorcist drummer was in attendance (along with his delightful fiancé Patricia), his comment to me was, "this is heaven on earth".

After the performance the lads rang in the New Year, and the champagne flowed like the raging waters of the Niagara Falls! VIRGIN STEELE drummer Frank Gilchriest "The Kraken", belted out a few standards including a glorious version of Iron Maiden's Revelation sung passionately into a bookcase!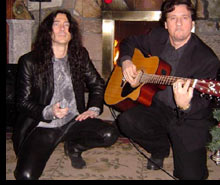 A most grand & noble time was had by all who were there. Many thanks go out to David, Edward, Frank G., Josh, Buddy (the most excellent sound engineer, killer job mixing Sir!), Lisa, Joyce, Laura, Craig, Nora, Diane, Gail, Bryan, Christie, Mrs. Ianone, etc., etc., for making this a truly fabulous and memorable evening for me!!!

Quickly now take this show on the road gentlemen! Oh yes one thing I forgot to mention, the entire evening was recorded for posterity.
Cheers and a Happy & Noble New Year to you all!!!
Brian M. Mallone