Questionnaire for David, Ed and Josh ...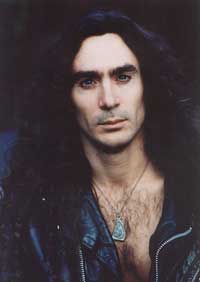 1. ON WHAT MAXIM ARE YOU ACTING IN LIFE?
David DeFeis: Huh!!! I'm not acting, I am being, living, doing, and becoming continuously, all that I can possibly be. I am trying to improve in all areas all the time. My ideology, is... "MAKE YOUR LIFE A WORK Of ART"!!!
Josh Block: I'll take on whatever the moment brings.
Ed Pursino: My general rule of conduct is to treat people exactly like I prefer to be treated. I believe in honestly and a complete devotion and commitment to what ever project or work task is at hand.Whether it be recording a new record or buying a new home or a fancy car, put your heart into the complete project, if you don`t shelf it. Life is short and all of us must do the things that excite us and we all have to have a reason to get up in the morning or evening that is. Creating new guitar expressions is definately a cool way of life, having it influence all areas of my wakeing moments is still something I am searching out. I guess all of us are forever searching!!!!!!!!!!!!!!!!!!
2. WHAT CAPABILITIES WOULD YOU LIKE TO HAVE?
David DeFeis: The ability to fly! To be able to grow Glorious Wings and fly whenever I feel like it. And also perhaps to live underwater, so I can visit the Sea Nymphs in Poseidon's Castle. I hear that they are quite sensuous!
Josh Block: I'd love to be able to fly.
Ed Pursino: I guess I would like to speak about 3 different languages, I get frustrated when I can`t groove on something because I don`t get it. It would also be cool to master different instruments, maybe my next life. I would also love to be in 7 diferent places at once.
3. WHAT DO YOU CONSIDER TO BE YOUR PERSONAL STRENGTHS?
David DeFeis: My ability to stick to things, to see things all the way through, even when the going gets difficult. To never give up, to remain ... INVICTUS!!! And in addition, my composing skills, my vocal histrionics, playing ability and performance capabilities, both on & off the stage.
Josh Block: Having a very level head on my shoulders.
Ed Pursino: My personal strengths are communicating to people of many different cultures, I think I have the gift to break all barriers. Every man and woman are born with special gifts and my strength is to recognize them immediately.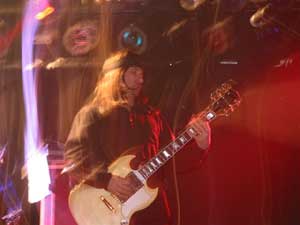 4. WHAT MAKES YOU ANGRY?
David DeFeis: Everything & anything! Ha! Rudeness, and ignorance combined with a know it all attitude, bad drivers, and the way the Universe can fuck with you constantly, doing little minute sabotaging things that build up & up, until.... OVERLOAD!!!!
Josh Block: People who have no common sense and people who are very rich or powerful and have absolutely no talent or brains.
Ed Pursino: Ignorance, racism, violence, jealousy, arrogance, the list goes on!!!!!!!!!!!!!!!!
5. WHAT ARE YOU AFRAID OF?
David DeFeis: Losing my voice in the middle of a tour, used to be a fear of mine. Now... hmmmm... being bored. Boredom leads to disaster with me.
Josh Block: In the words of David D. DeFeis ... "I fear nothing, for I am a God!!!"
Ed Pursino: Amusement park rides, riding horses and any fast motion that I have no control of. I`m also afraid of going flat broke because I can`t seem to manage the evil green very well!!!!!!!!!!!!!
6. IS THERE A TEMPTATION YOU CANNOT RESIST?
David DeFeis: The Companionship, the Charms, the Beauty, of Women.
Josh Block: Good food, or good sex.
Ed Pursino: Yes, however I would like to keep that to myself.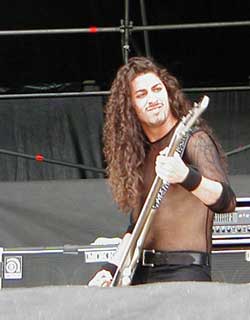 7. WHAT DECISION WOULD YOU LIKE TO UNMAKE?
David DeFeis: Probably many, but in actuality, I believe that I can live with my mistakes. Regrets ... yes of course, but in the end I am OK with who & where I am now so...ahhhh fuck it. Let things lie where they fell.
Josh Block: Going to college for something I hate.
Ed Pursino: None.
8. WHICH EVENT WOULD YOU LIKE TO BE PART OF?
David DeFeis: The Birth Of a New World.
Josh Block: Mardi Gras
Ed Pursino: Every great summer metal festival and every great wild party!!!!!!!!!
9. WHAT MAN OR WOMAN WOULD YOU LIKE TO MEET?
David DeFeis: Lilith/Sophia, the Primal Fount Of Creation.
Josh Block: I would like to stare God in the face....and ask him where humankind went wrong.
10. WHAT HEADLINE WOULD YOU LIKE TO READ ABOUT YOURSELF?
David DeFeis: "DEFEIS, The First Man To Bring BARBARIC-ROMANTIC MUSIC To Mars" ... Pictures at 11:00...
Josh Block: "Josh from New York hits the $200 million lotto jackpot!!"