4 July 2002

From the Underworld up to the Gods - VIRGIN STEELE live in Europe, June 2002
We left the USA for London, England on June 2. And as luck would have it, just prior to our heading out to JFK Airport, Frank Gilchriest, "The Krakan", our drummer ... lost his wallet! By The Hammer Of Zeus, much screaming, hollering, searching, (to no avail) and general mayhem followed, but...we eventually prevailed (sans wallet), and made it to the airport with a few precious minutes to spare, so .... what to do??? Go to the bar for our customary round of drinks before flying across the Great Pond. (Nice flight actually).
We arrived in London on June 3, where we were promptly informed by the English Customs officials that we were to be sent back home, as the proper work permits had not arrived!!!!!!! Outrage, and indignant grumblings erupted all around. Finally after much discussion, we were let into the country. And still more...as things go...our Label, failed to arrange for a pickup to the hotel. Thanks!!! Par for the course I suppose. So anyway, ... we all piled into one large English taxi, along with all of our equipment/belongings ... sitting on top of us, and proceeded to drive to our hotel.
After much cursing and getting whacked on the head by various falling pieces of gear, we arrived at our destination, only to be informed that our rooms were unavailable at this time. We waited about 3 hours or so before being allowed to check in. During this waiting period, we had a few drinks and clogged up the hotel lobby with all of our luggage.

The evening was more promising, as we found a nice English pub to dine and drink in, and afterwards we enjoyed the Queen's Golden Jubilee Concert. This was quite interesting and I will speak more of this another time. Many thanks to Brian May, the Queen, Rod Stewart and various other fine folk!!! Actually extra special thanks to Rod and his impeccable haircut which was quite inspirational to us .... Ha!!!
The next evening was our concert at THE UNDERWORLD. A Royal & Noble Thanks to all of you who were there!!! Given the fact that we were the headliner, we could play a nice long show ... so we did! This set was... hmmm ... INVICTUS, THE FIRE GOD, A TOKEN OF MY HATRED, GOD OF OUR SORROWS, VOW OF HONOUR, DEFIANCE, CONJURATION OF THE WATCHER, GUITAR SOLO FROM EDWARD, VOX SOLO FROM ME (alas...the burning sword was denied this time)!!! I had burned the sword on our previous trip to THE UNDERWORLD, and the owners were not very amused...hence the banishment this time of my Great Friend, "Sir Burning Sword".

THE UNDERWORLD, is entirely composed of very old wood, hence the rather large Fear of Fire!!! Nevertheless a roaring ... GREAT SWORD OF FLAME did follow, then LIFE AMONG THE RUINS, THE REDEEMER, DON'T SAY GOODBYE, THE WINE OF VIOLENCE, IN TRIUMPH OR TRAGEDY, RETURN OF THE KING, CHILD OF DESOLATION, FLAMES OF THY POWER, and last... KINGDOM OF THE FEARLESS. The Encore was NOBLE SAVAGE .................. A rousing Night of mayhem!!! Thank You London!!! Cheers to our support bands, AREA 51 and DRAGONFORCE!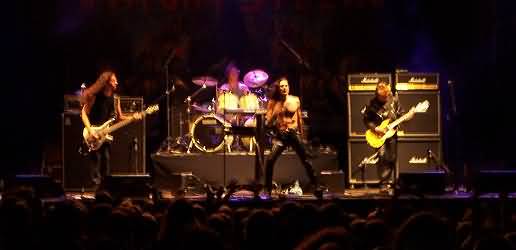 The next night we performed in Bochum, Germany at THE MATRIX. I believe this might have been perhaps our finest German show to date!!! The audience was fantastic, totally responsive, singing everything, all night long and just totally with us every step of the way. The set list was the entire London show set, plus, A CRY IN THE NIGHT, DON'T CLOSE YOUR EYES, (performed acoustic style), the complete version of GUARDIANS OF THE FLAME, and BLOOD OF THE SAINTS, as well as a great & majestic drum solo from Frank. During the Sword Burning sequence, I might have used a bit too much of the Fire-Power Solution, as the thing nearly took my arm off! But ahhh .... fuck it, the Sword burned like the furnace at the heart of Hephaestus' forge!!! Thank You Bochum for making this such a Magickal Night!!! YEOW!!!!!!!!!!! Cheers & many Thanks to our support PARAGON! A most excellent and noble outfit!!!!!!! Let it Roarrrrrr!!!
And then ..... we rode across Land & Sea to arrive in SWEDEN, to perform at the SWEDEN ROCK Festival. Our traveling companions on this part of our journey were the band DORO. I have to tell you, in addition to being an extremely kickass Metal outfit, they are really nice, friendly, down to earth people! It was a pleasure to journey with them! Thanks & a Loud By The Gods & Goddesses to you all, Doro, Nick, Joe & Johnny!!!

Upon arrival we checked into the very gracious hotel provided, and had an interesting/entertaining evening, mixing with other traveling Rockers and the party of 100 or so Swedes, celebrating something or other. Great fun indeed, and nice meeting you all!!!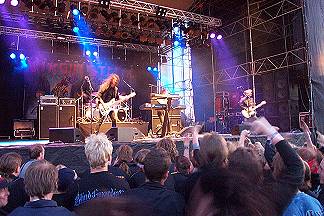 The concert day was perfect. The crowd was outstanding! Great attitude, feeling and energy throughout the performance! Thanks for having us SWEDEN ROCK! Our only problem was, the injury to Frank Gilchriest. As he came off his drum riser to come up to the stage-front to take his bow with us, his foot landed on a rather large cable which decided to move one way, while his foot had the desire to go elsewhere, resulting in a serious twist of fate!!! Frank damaged his foot/ankle quite severely, requiring the aid of a hospital once we arrived in Italy. This resulted in us not being able to play an encore. We are very sorry about that Sweden, but ... kindly remember what I said..."we will return".

During this great day, I did get a chance to hear some of the other acts. I can tell you that GAMMA RAY, were fucking great!!! Also STEPPENWOLF was excellent, as was CANDLEMASS and HALFORD! Cheers to all!!!!!!!
OK, next stop ITALY! As I said we had to take Frank to the hospital. He actually went twice. The night/early morning of our arrival, which resulted in nothing really being done, and the next day when I accompanied him along with our DJ Friend Claudia. This trip resulted in us acquiring the correct & proper drugs to administer to Frank just prior to our performance. He was determined to play no matter what! The "Krakan", has the heart of a true warrior!!! The return trip from the hospital via ... insane ambulance driver was surreal and highly entertaining to say the least!!!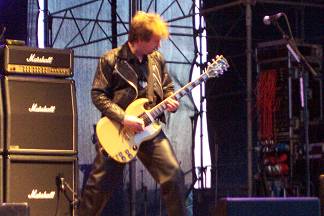 OK, showtime! The Doctor is summoned the needle is prepared and Frank gets the point in the end. He said to me, "I feel really strange, I don't know if it's a good feeling or a bad one, but it is strange". As soon as we walked onstage to prepare to perform, what happens .... ? The entire power decides to quit!!! No power, sooo ..... what to do??? After much ringing of hands, cursing, insults and threats, the power is restored. I believe it was originally all connected to one circuit, hence the problem. Now all is ready and we blasted off with INVICTUS. We had a 45 minute slot, so we tried to cram as much as possible into the set. We performed, if memory serves ... THE FIRE GOD, VOW OF HONOUR, DEFIANCE, A TOKEN OF MY HATRED, GREAT SWORD OF FLAME (with blazing sword), LIFE AMONG THE RUINS, THE REDEEMER, DON'T SAY GOODBYE, I WILL COME FOR YOU, along with various vocal and guitar improvisations/accelerations. And ... our "Krakan" performed like a true champion!!! Stunning crowd, great feeling and excellent mood, even during the Rain!!! MILLE GRAZIE ITALIA!!!
Once again we got to meet and actually hear a few of the other bands. DORO, once again was excellent! BLAZE was quite good and is a very nice person. SYMPHONY X, played a great set. BLIND GUARDIAN was excellent. Funny, just prior to our set, the security was trying to throw their drummer Thomas, off the stage for some bizarre reason. He asked me to help him, which I did, as he wanted to see our set from the stage. I hope he enjoyed it!
We had to do some Italian TV things, (hey ... somebody please send me a copy, it was exceptional), and an autograph session, so I/we only got to see a little bit of the MANOWAR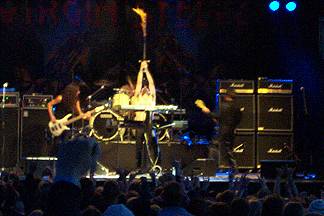 set, but I can assure you, that they were most excellent as always! Many Cheers to them!!! And hey ... thanks to their Mama D for the corkscrew!!! That wine saved my Life By Zeus!!! I met the RHAPSODY guys once again. Ciao Alex, Fabio, Manuel, nice to see you again. Keep well & more Chianti all around!!! Also a nice surprise was seeing André from ANGRA once again. again, many Royal & Noble Thanks to All our Friends around the World!!! We really enjoyed performing for you!!! Also Many thanks to Dirk Lehberger at Noisegate Productions, all Promoters around the World, our Label Sanctuary Records group, (Dirk P., Naughty, Christine, Beate, Antje, Marcos, Al Philp, etc ... ), and Cheers & thanks to Our Crew: Big Ed Warrin, Kyle Sabel, Nicoli Wurk, and Andre Bargmann!!! Excellent job!!!

In conclusion this tour was a resounding success and a personal triumph for all of us in VIRGIN STEELE, and for all those who believe in the Nobility, Power, Grace & Glory of Metal Music!!!!!!!!!!! See you all again soon!!!
DAVID D.DEFEIS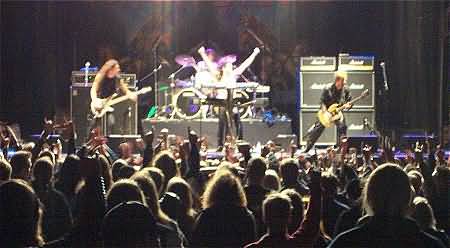 (pics: Naughty)

Here are a couple of pics taken by Stefano "Steven" Ricetti at the GODS OF METAL festival: