7 October 2002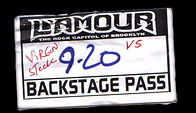 VIRGIN STEELE live at L'AMOURS,
Brooklyn N.Y.C. September 21 2002
Saturday Night at L'amour's and what could be better than that? Saturday night at L'amour's,with VIRGIN STEELE headlining the concert! Greetings folks it is Dave Hilsenrath once again to tell you about my latest encounter with the one and only VIRGIN STEELE.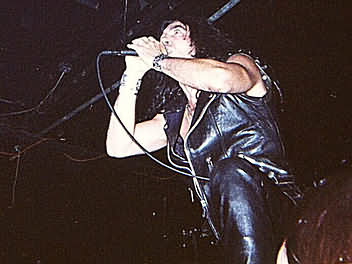 Saturday September 21st is a day that will live forever in my METAL HEART. I awoke that morning with a newfound feeling of excitement as I knew that the day would hold extraordinary delights and Metallic wonders. I knew that my evening would take in the Legendary L'amour's Club and the Legendary VIRGIN STEELE.
I arrived at the venue at around 10:30 or so and already the place was filling up and there was an electric charge in the air. I witnessed several very fine metallic combos strutting and hawking their Metallic wares on the stage. A new band ZANDELLE caught my attention with their fine performance and sincere down to earth charm. Next up was GOTHIC KNIGHTS who also gave a tremendous performance. I think we will hear more from these fine bands very soon. I did take home the ZANDELLE CD and it does crank.
Finally the witching hour had arrived (at 1:00 AM) that is L'amour's for ya, always a late one. But I can tell you that nobody went home. Everyone stayed (including all the other support bands), to hear Long Island's own VIRGIN STEELE. No intro music, no fanfare, just Frank's countoff and boom they exploded headlong into INVICTUS, their in concert set opener for some time now. Roaring and wailing in the dim dark atmosphere of the club, like the soundtrack for an eternity in Hell.
Next up was LIFE AMONG THE RUINS, taken at breakneck speed, then VOICE AS WEAPON, from THE HOUSE OF ATREUS ACT II! A fine choice, as this song sums up the dark, heavy brooding qualities of the band very well. Voice As Weapon, spills over into I think CONJURATION OF THE WATCHER (from the BOOK OF BURNING album), then DEFIANCE, DUST FROM THE BURNING, A TOKEN OF MY HATRED, (if memory serves correctly), followed by a beautiful version of CROWN OF GLORY (UNSCARRED) from THE MARRIAGE OF HEAVEN & HELL PART 2.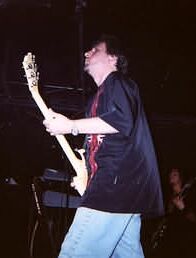 Next was a ripping guitar solo by Edward Pursino! Never mind that "Pulverizer" guy, this man rules the frets! Ed's solo segued into David's vocal solo moment, complete with once again THE Flaming Sword! I thought the owner's of the club were going to shit their pants, as L'AMOUR'S has a very low ceiling! Much frantic waving to try to get David's attention ensued so he could lower the Sword, as he was holding it directly over the sprinkler system! I asked him about this after the show and his response was, " Dave I'm a professional, I knew the sprinklers were there, have no fear". OK, says I!
This episode concluded with GREAT SWORD OF FLAME, then came the rousing singalong, A SPHONY OF STEELE, followed by THE WINE OF VIOLENCE, IN TRIUMPH OR TRAGEDY, RETURN OF THE KING, FLAMES OF THY POWER (this song should be a Hit Single, what a memorable chorus!), then Frank Gilchriest's amazing drum solo. I think he is perhaps the best Metal drummer alive today. Total power and total class. Next David returns to the stage and announces Frank and they launch into I WILL COME FOR YOU. Holy, I say Holy, what a version! "Passion and restraint are at war within me", oh sorry David but I felt the need to quote you! A mighty passionate vocal, a blazing guitar, a celestial keyboard, a deep bass and a thunderous drum combined to make the music of the spheres. Yes I enjoyed this one a whole lot. After the triumphant conclusion of this masterpiece from THE MARRIAGE OF HEAVEN & HELL PART 1, the Band left the stage.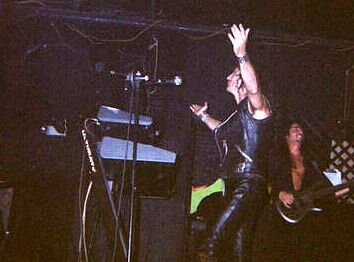 After a few moments of crowd chanting the "Black Gods Of The Sun & in this dark aspect the Moon", returned to offer us KINGDOM OF THE FEARLESS (THE DESTRUCTION OF L'AMOURS, oh I meant TROY). A crushing encore delivered with supreme hatred, power and always Barbaric romantic class. A classic and noble ending to a great show!
Backstage after the show was the usual chaos and madness. I look forward to the next performance with the greatest enthusiasm combined with a fair amount of fear. These guys are getting scarier and scarier these days. Oh one more thing. Since I am a frequent visitor to the club THE DOWNTOWN located in Farmingale, NY, I was privy to some potentially interesting news. It seems that the mighty VIRGIN STEELE just may be doing one very special 3 hour concert there at the end of December. I will keep my fingers crossed and investigate further. Thanks for listening. Be well,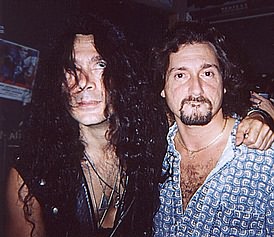 David Hilsenrath
(photographs: D. Hilsenrath)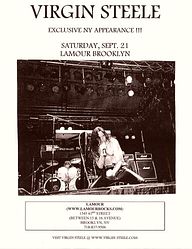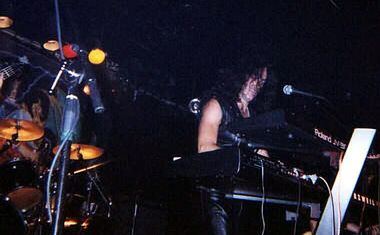 Set list:
INVICTUS
LIFE AMONG THE RUINS
VOICE AS WEAPON
CONJURATION OF THE WATCHER
DEFIANCE
DUST FROM THE BURNING
A TOKEN OF MY HATRED
CROWN OF GLORY
GUITARSOLO / VOX SOLO >>> GREAT SWORD OF FLAME
A SYMPHONY OF STEELE
THE WINE OF VIOLENCE
IN TRIUMPH OR TRAGEDY / RETURN OF THE KING
FLAMES OF THY POWER / DRUM SOLO
I WILL COME FOR YOU
ENCORE:
KINGDOM OF THE FEARLESS