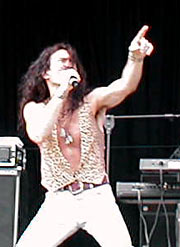 A SUMMER DAY IN HEAVEN & HELL
Virgin Steele live at the Parco Nord (Open Air) in Bologna/Italy, 28th June 2003
It was 5 o'clock in the afternoon and as hot as Hell, but the sky was getting black and a storm was upon us. In fact drops of rain came down very soothingly and it was really quite refreshing, however the real thunderstorm was about to begin…
"Bring On The Thunder, Bring On the Rain" … the intro to "A Symphony Of Steele" kicked in and out of the black four Children Of The Storm appeared on stage! The impact was tremendous! The crowd was electrified and ready to face the Twilight Of The Gods, not everybody was there to see Virgin Steele as it was a festival of many important names (Blind Guardian, Type-O-Negative, Opeth, Lacuna Coil…) nevertheless the hardcore fans were screaming their heads off while the rest of the people just stared in amazement and couldn't believe what was happening!
Alas at the very beginning Edward Pursino had a slight problem with his guitar set-up, so the techs had to come in and change the cables while the others went on playing. But when he was jacked in beyond doubt he made up for it! His dexterity, his elegance, his power all combined to make a sublime performance! Enter the Danger Zone! You really have to experience Virgin Steele live to realize how potent their songs are!
Talking of power… Frank Gilchriest was a real hurricane behind the drums, they must be made out of titanium or something just to sustain the colossal stress; he was very precise and effective, and very lucky (physically speaking) to be playing a short set. Short? Yes, unfortunately for us Virgin Steele could only play for about fifty minutes as their placement on the bill wasn't as high as they deserved; anyhow I assure you they were the most memorable fifty minutes of my life!
The set list that Virgin Steele offered us was astounding! After "A Symphony Of Steele" another thunderbolt was about to come… "The Voice As Weapon". Greatly performed, by the band and audience! And David Defeis' voice was indeed a weapon, he was in great shape and it is amazing how his live performances are so close, if not even better than the studio recordings, plus his stage presence is magnetic, an untamed Lion! Ha! He also challenged us to do some vocal stuff, he "roared" some really high notes that we couldn't possibly reach, anyway he told us we had good voices. Sadly the mixer didn't get the volume levels quite right so the keyboards couldn't be heard too well, damn festivals!
What next… another killer track: "Invictus"! This really turned on the crowd! Josh Block looked very comfortable in his role, he didn't miss a note and he really had that Noble Savage vigour, though a lot of people found his attire somewhat peculiar…
Then came the most Magical moment of the show, "The Burning Of Rome". This song still has a mystical ancient spirit, a true epic! It should be performed indeed in Rome's Colosseum!
Then the band showcased other two classics, in order "Through Blood & Fire" and "Wings Of Vengeance", superb as every Virgin Steele song can be. During the show some fans put up a banner that said "We Crown you KINGS", the band looked somehow impressed!
If "The Burning Of Rome" was the most magical moment of the concert, "Emalaith" had to be the most emotional one; the best love song of all ages some say! It was a real honour to be able to hear this song live… among the Ruins!
Because of time constraints "Emalaith" was interwoven with "Through The Ring Of Fire", from blood to fire - from love to power, so to speak. As I said the sands were running low so Virgin Steele had to end their show with their Flaming Sword ritual and the mighty "Great Sword Of Flame", a blazing end to a volcanic concert!
If Virgin Steele were great on stage they were even greater off stage, they spent more than one hour meeting the fans, signing booklets (including people that went there with the whole catalogue), having photos taken and good Italian drinks! All with great courtesy and patience, they are true noble Gentlemen!
"Mille Grazie" to all the band & the crew who made the show happen! Good luck and don't forget that Italy loves you! Hope to see you again, very soon.
Alessandro L. Orler
Photos by Giuseppe Rossini