"A Barbaric - Romantic Movie Of The Mind" - THE VIRGIN STEELE INTERVIEW - Part II:
And now Josh Block, Edward Pursino & FRANK GILCHRIEST answer some of Edmund's Questions ...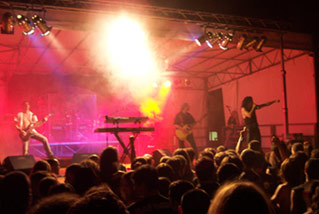 1. It has been awhile since you were last in Germany. What can we expect from your performance at the Bang Your Head Festival this summer? Will there be any special surprises? And what is the feeling like onstage these days?

Josh's ANSWER: You can be sure that the performance at Bang Your Head will be filled with pure energy and power. We really never play the same set twice. While there are some songs that we keep in the set, we are always changing and rearranging others.

Edward's ANSWER: I`M LOOKING FORWARD TO THE BYH FESTIVAL AND WE`LL PROBABLY DO A NICE COMBINATION OF OLD AND NEW MATERIAL. I`M NOT QUITE SURE IF THERE WILL BE ANY SURPRISES, HOWEVER YOU NEVER KNOW. THE FEELING ONSTAGE IS LIKE IT`S ALWAYS BEEN, INTENSE AND WILD. IT WILL BE NICE TO SEE OUR OLD FRIENDS IN GERMANY.

2. How does a group like VIRGIN STEELE prepare for such events?

Josh's ANSWER: Lots of drugs and alcohol! No, we generally have a very rigorous rehearsal schedule to prepare for any concerts that we play. Whether it is just one festival or a full scale world tour, we are sure to condition ourselves physically and mentally in order to give our best performance possible.

Edward's ANSWER: WE REHEARSE QUITE ALOT AND TRY TO SET THE TONE FOR THE ENTIRE EXPERIENCE. WE USUALLY PICK THE BEST SOUNDING SONGS AND RUN WITH THAT.

3. How are things going with the new album? Is it in the style of HOUSE OF ATREUS, or INVICTUS or what?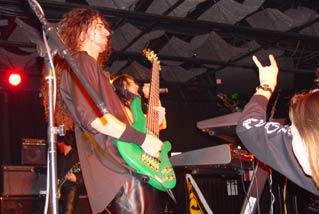 Josh's ANSWER: I guess you can say that it takes some elements from some of the previous albums, but also incorporates a new element and style of its own. Why would anyone want to do the same thing twice? People are constantly learning and growing everyday...it should be the same with music. You can be sure that this album will be the most over the top album yet.

Edward's ANSWER: I BELIEVE THE NEW MATERIAL IS A BIT DIFFERENT, AND DOES TOUCH ON BOTH SIDES. IT`S REALLY JUST THE NEXT STEP IN VS HISTORY, BECAUSE NO ONE REALLY KNOWS WHAT TO EXPECT FROM US. I THINK THAT IS WHAT KEEPS IT EXCITING.

4. Can you tell us when it will be issued?

Josh's ANSWER: Definitely in the not too distant future. Right now there is a lot of material being selected and finalized for the album.

Edward's ANSWER: NO, BUT IT WILL COME OUT SOMETIME BEFORE 2006.

5. When can we expect a major headlining tour in Europe of VIRGIN STEELE? What about the USA, any touring plans?

Josh's ANSWER: All of these plans will be worked out and arranged, as the album will be released. I am sure that we will have some major touring plans to support this new release. We will definitely be hitting all the hot spots in Europe, the US, outer space ... who knows!?!?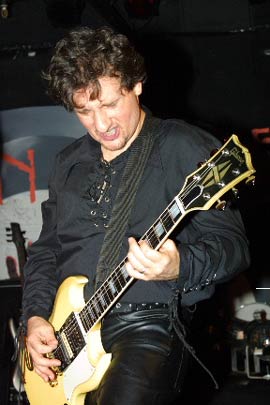 Edward's ANSWER: WE WON`T DO ANY FULL SCALE TOURING UNTIL AFTER THE NEW RELEASE.

6. What do you remember about the early days, your first encounter with the Band? How did you come to begin playing together in the Group? Have you any special stories or memories from that time?

Josh's ANSWER: I'll never forget the first time I played with the band. It's been more than 4 years now. I was only 18 years old (I just turned 23 in these past few days!!). I was approached by Edward in a local music shop while jamming on some riffs. I had no Idea that Virgin Steele was without a bass player for their House of Atreus Act II World Tour. Ed heard me playing and asked me to learn 6 or 7 songs, which included Invictus and Through Blood and Fire, and come down and play with the band. I am guessing that Dave and Frank liked what they heard since I am still here!!

Edward's ANSWER: I REMEMBER CLEARLY, JAMMING WITH DAVID AND MY BROTHER, WHO PLAYS DRUMS, BACK MANY YEARS AGO. DAVID AND I HAD BEEN FRIENDS FOR YEARS BEFORE VS, SO AFTER VS1 AND 2, IT WAS JUST TIME TO CREATE THE MAGIC THAT BECAME NOBLE SAVAGE. IN THE 80`S IT WAS PRETTY WILD THE METAL SCENE WAS BOOMING AND WE WERE YOUNG AND HORNY MEN WHO LIKED TO DRINK ALL NITE LONG AND HAVE FUN WITH THE LADIES.

7. What was the inspiration behind your becoming a musician? What sparked your interest in music, and why did you choose metal music to be your career?

Josh's ANSWER: I have been listening to classical music since I was a baby. It was what inspired me to play the contrabass in an orchestra for almost 10 years. At the same time I started playing guitar and there was something about the guitar solos in heavy metal that made me want to be able to play like that.

Edward's ANSWER: FROM A VERY YOUNG AGE I LOVED THE IMAGE OF BEING A GUITARIST IN A ROCK BAND. I LOVED GRAND FUNK, LED ZEP, QUEEN, AND I FOUND THAT I HAD A SPECIAL GIFT TO PULL IT OFF.THE WHOLE PERFORMANCE SIDE OF IT WAS AMAZING, AND BACK THEN THE SHOWS AND RADIO WERE MUCH MORE ROCK INFLUENCED. MY OLDER BROTHER AND SISTER LISTENED TO MUSIC ALL THE TIME, SO I GREW UP WITH ALL THE ROCK INFLUENCES. THE METAL SCENE WAS COOL BECAUSE IT WAS GUITAR ORIENTED AND LOUD!!!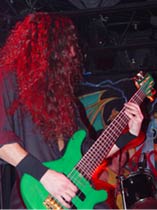 8. Hey Josh, The BOOK OF BURNING album is really heavy and great. What do you remember about those sessions?

Josh's ANSWER: I really enjoyed those sessions. Having the opportunity to play guitar on much of that album was a great experience for me. It was a lot of fun to experiment with new guitar sounds, and rewrite and rearrange some of the songs with David. I always enjoy working with David inside and outside the studio. I am looking forward to the release of the new album, and eagerly awaiting the Fan's response to it.

9. And Edward, The NOBLE SAVAGE album is a classic in the VS Catalogue. What do remember about those days in general, and more specifically what do you recall about the making of that album?

Edward's ANSWER: THOSE DAYS WERE REAL SPECIAL, THE GUYS WERE FUN AS HELL AND THERE WAS ALWAYS SOME WILD SITUATION HAPPENING.WE DID REHEARSE THE SHIT OUT OF THE MATERIAL AND PLAYED IT ALL LIVE BEFORE RECORDING A SINGLE NOTE. THE ENGINEER, AL WAS A BLAST AND I WAS COMPLETELY ON TOP OF MY GAME.
WHEN I LISTEN NOW TO THE ALBUM, I SAY HOLY SHIT, I PLAYED THAT. WE WERE VERY HUNGRY AND FULL OF ENERGY.THAT ALBUM DID SET THE TONE FOR LATER YEARS.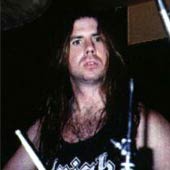 10. Hail Frank, the INVICTUS album is a VS Classic. What do recall about those days in general, and more specifically what do you remember about those sessions?

Frank The Kraken's ANSWER: The Invictus days were wild and ferocious. We were on the road constantly and living the life. The band made a big push into Europe riding the success of the Invictus album. I believe the Invictus years marked a turning point in the bands sound both in the studio and live. Dave's vision of bombastic and beautiful metal weaving around modern and ancient myths along with incredible orchestrations came down on all of us like thunder on a warm summer night. Lately I've been listening to Invictus quite a lot as I set up my drum studio. I've been blasting it over and over again and having a rip playing along to it. It's got a pair of balls the size of King Kong's. It's led Dave and I to throw around the idea of doing a special show were we play that album straight through as it was recorded. We would be grateful for any feedback on this idea. Happy New Year to everybody! I look forward to hanging with everyone this year (You know who you are). May we all stay Invictus!

Time held me green and dying,
Though I sang in my chains like the sea-Dylan Thomas, "Fern Hill"

Cheers, The Kraken