10 November 2007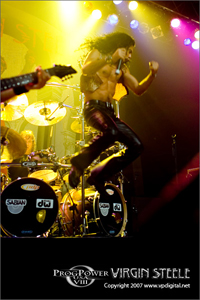 We added a second Gallery of photos from ProgPower by Todd Brown. Click here to be directed to Gallery 2 or click the photo above.
28 October 2007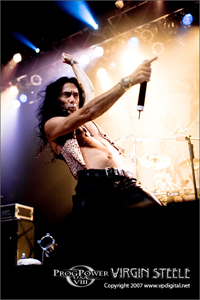 Todd Brown, the official ProgPower photographer, sent us some great photos from the show. Click here, or the photo above to see them.

8 October 2007

Virgin Steele at Progpower USA
Review by: Mark Stevens - Photos by Mark Gromen and Bill Murphy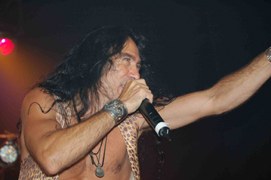 VIRGIN STEELE put the power in the ProgPower Festival last Friday night in Atlanta, Georgia. This group of talented metal merchants showed the USA all the skills that they have acquired over years of performing for their European fans. Their one-hour set was a lesson in true power, class, virtuosity, energy and pure showmanship. This was Rock Theater at its finest!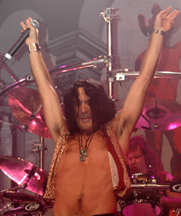 VIRGIN STEELE is that rare breed of artist that understands that thecomposition is the main, essential ingredient. They don't perform meandering finger exercises. This group really has songs! Magnificent anthems, hymns and epics that are chock full of melody, hooks, musical inventiveness, style and passion. All this and much more was on display Friday night. Composer, vocalist/keyboard player David DeFeis was in truly amazing voice, hitting every note that appears on the recordings and beyond! This man reaches impossible high notes with ease and confidence, all the while performing with more drama and energy than an entire Broadway production. Physically imposing, with an outstanding physique and the most intense facial expressions this side of Lucifer, this man taught us all a thing or two about being a front man. Dramatic as hell, he makes you believe in every word that he is singing.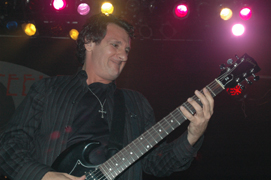 Guitarist Edward Pursino, played with all the brilliance and accuracy the group's intricate songs require, but like the singer, he too does it all with fire and passion, never forgetting the oh so essential art of communicating and performing in front of a live audience.

Frank Gilchriest on drums, proved to the audience that he is every bit as accomplished as his recordings suggest. His technique is dazzling and his power and musicality always shines through and reflects the wealth of his experience, and the depth of his understanding and commitment to his performance. He along with bassist/guitarist Josh Block anchored the group, giving DeFeis and Pursino, the freedom to display their pyrotechnics. And speaking of pyrotechnics a funny moment occurred after David displayed his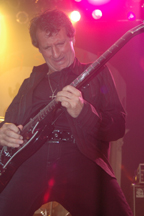 "burning sword" for the audience. With the sword still burning brightly he walked into the wings of the stage intending to pass this torch off to a stage hand in order to douse it with water, so he could continue singing unencumbered, but the fearful stage hand kept running further away from him down the long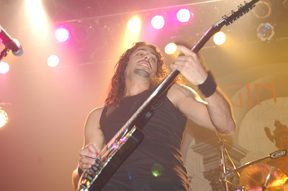 corridor to where the main garage doors are. After a fashion David gave up trying to reach this fellow, flung the sword to him, and quickly raced back up the corridor and up the stairs onto the stage to be right on time for the first lyrics of KINGDOM OF THE FEARLES! This was quite impressive as he managed to do all this without appearing winded or unduly annoyed!

I declare this was truly a triumphant show, so the set closer VENI, VIDI, VICI was very well chosen. This mammoth epic was introduced as, "a song from our Invictus album, and also a very nice Italian restaurant that we ate at last night" by David.An amazing ending to an amazing and majestic show. Oh yes, and as an added touch of local color, the group incorporated the old classic "Georgia" into the ending of Veni, Vidi, Vici!

For me.they were truly the best band of the evening. Unique, beholden to none, they stand clear as one of America's finest metal acts. They clearly are in a league all their own.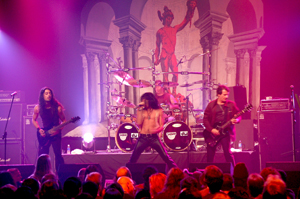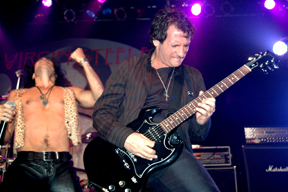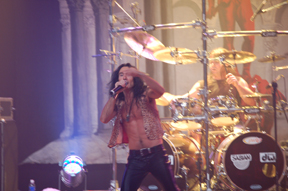 THE SET LIST for PROGPOWER - Friday October 5, 2007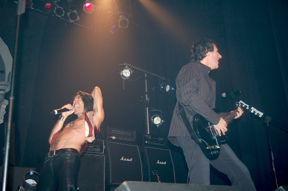 A SYMPHONY OF STEELE
IMMORTAL I STAND (The Birth Of Adam)
BLACK MASS BLUES
THE WINE OF VIOLENCE
KINGDOM OF THE FEARLESS (The Destruction Of Troy)
THE VOICE AS WEAPON
INVICTUS
BONEDUST
DEFIANCE
VENI, VIDI, VICI
Photos from Italy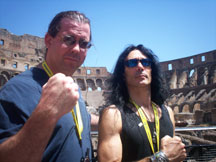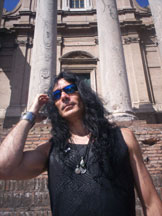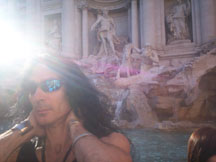 30 Questions for David. The Virgin Steele Interview
Photos by Gail Flug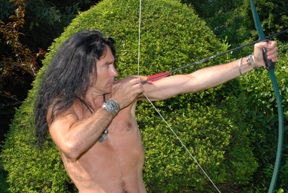 Hello David! I thank you for accepting my interview request. Tell me, how are things going with your life and Virgin Steele. Tell me the latest news?
Greetings to you! You're very welcome. It is my pleasure…
Things are going very well at the present time. We have been back and forth to Europe several times this summer for various concerts and open-air festivals. Now at the moment I am back to work writing and recording. I am working on several different albums at once, because I have written so much music, and I am trying to figure out what will be the best way to present it all. In addition, I am now endorsing the gear made by a Polish company called Alphard. I am having a Glorious time wailing and roaring through the collection of stage microphones that they just gave me. Oh yes, and currently we are preparing for PROGPOWER. We are performing there on October 5th.
Please tell me, when will the new Works come out!!!
At this time, I don't have a scheduled release date. I am currently working on all of them, and when I have finished with everything, I will then consider how and when each one shall be presented & released. I do not want to rush anything or even think about a time frame. I simply want to create and record. These things usually take on a life of their own after awhile. Most likely it won't be too long before at least one album is ready to go.
Will you release a concept cd like The House Of Atreus? What are the new songs like?
I don't know if I will release both CD's that I am working on at the same time, or one right after the other, or spaced apart…it all depends on what the final direction of each one turns out to be. Right now I have so many songs, and I am trying to organize them all into two or even possibly three coherent albums, while at the same time…still writing more songs. It is all a bit crazy & chaotic the way I am working. Anyway, some tracks are very heavy, but I also have some strange, ethereal tracks and also some acoustic songs that might go together on one album. We shall see. I want each CD to be complete, strong and able to stand on its own, before I issue anything.
Where was it recorded?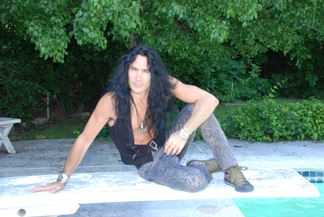 Some of it was recorded in my home and the rest remains to be seen. As I said, I am still recording and also writing and re-writing. Nothing is totally finished yet. I am still a long way from completion.
What are your inspirations for composing?
Life experiences, plus my thoughts & observations about the World, and my relationships with all those strange & beautiful beings I share my Life with, plus every possible Human & In-Human emotion, Anger, Love, Fear, Power, Immortality, Alienation, etc., and all my interests in everything under the Sun & Moon…the wailing of the Wind, Clouds, Darkness, Snow, Fire... It is endless…
Will you play on some more festivals? Which festival do you like the most?
Yes we have done several already over the past few months and we will do some more. As I mentioned before, we are now getting ready to do PROG-POWER, which is a USA Festival. I have enjoyed all the Festivals that we have done. One of the best ones was the one we did a few weeks ago in Italy. It was called the EVOLUTION FESTIVAL. It was a very high energy, exciting show with a really great audience. We will probably return to Italy and possibly a few other countries as well, this coming Autumn, for some special acoustic dates. We have been doing this for a while now, and the songs really work very well in the stripped down environment of an acoustic show. Somehow…they are even heavier this way…the lyrics take on greater weight in that environment. The shows become incredibly personal…and cathartic.
What can we expect from you on stage?
We give it everything we have. We don't hold back, we blaze, we burn, and we explode ourselves! We use every ounce of energy we possess to deliver a high octane, balls out concert that is over the top, spiritual, cathartic, bombastic as a wrecking machine, yet…always musical. Also after the concerts we always make sure that we spend time meeting and greeting everyone who wants to meet us. This is something we really enjoy doing. We try to make sure that we remain on hand to sign anything and everything that the Fans bring for us to sign.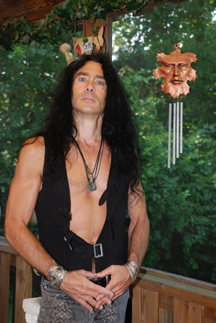 What do you listen to these days?
Lately…hmmm…Ethereal Nordic Music…THE CULT, TYPE O NEGATIVE, QUEEN, MOTHER LOVE BONE, ROBERT PLANT, BRYAN FERRY, KATE BUSH…and also various Soundtracks…(I like the Works of John Barry), plus Classical Music…Verdi, Chopin, Shostakovich…Etc…it goes on and on…
What is the difference between now and when you first started Virgin Steele?
The songs and our capabilities. We are a much better band now! The songs are really well crafted and the performances are much better than in the early days. Stylistically we have evolved enormously. We have developed our own unique way of working, composing and recording that prominently states, "This is VIRGIN STEELE". Sometimes groups that wish to cover a VIRGIN STEELE song come to me and ask…"how did you come up with this, what is the secret behind the sound"? I try to explain to them that the meat of it all resides in the harmonic vocabulary. It exists in the kinds of chord/harmonies that I am using. Most people miss that. I have my own harmonic vocabulary that is the bedrock foundation that the songs rest upon, and my way of utilizing these chords is quite different than the way most other groups approach this kind of thing.
What has been your greater success or satisfaction thus far?
The fact that we are still here, still doing it, still being creative, still developing and expanding, not resting on our laurels, but still right out there on the edge, and still attracting new members of the audience. I am also proud of the fact that I have been able to take my compositions to the Theatrical Stage not only once, but 3 times, with those "Metal-Operas" that I did in Germany.
Getting back to your endorsement with ALPHARD SOUND TECHNOLOGY ETP - POWER OF YOUR SOUND can you tell me how that came about?
They are a Polish company that has become quite huge. They have about 6,000 employees now, and they make really excellent gear. A guy named Bart Gabriel, who is a mover and shaker on the Polish underground Metal Scene, introduced me to their equipment. He loves VIRGIN STEELE, and he got me involved with the Company because he is a true believer in what I am doing, and he wished to assist in some way. I am honoured to have his support, and the support of Alphard.
What is it like being in the music business all these years?
It has had its ups and downs, but all in all it has been really amazing and rewarding. That old adage is true…there is no business like show business! With VIRGIN STEELE though, it really is much more than a career…it truly is a "Way Of Life" that has been quite extraordinary. We do not approach it as a business. It really functions as a way to exist, on the mental, physical and spiritual plane…To be able to take my thoughts, & emotions, and channel them into a coherent musical statement on record, has been, and always will be incredibly satisfying, and intensely gratifying to me.
If I look at your first and last album I can see so many changes.What do you think about this?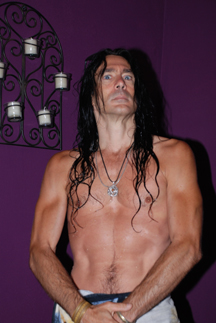 I think we have made tremendous progress since the first album. We have matured as performers, musicians and creators. We are a much better band now! The songs are really well crafted and the performances are much better than in the early days. Stylistically we have evolved enormously. We have our own sound, our own identity. Musically, Harmonically, Melodically and Lyrically we have travelled a great distance from the early days. As you live Life and as you learn…you bring all that back into the Music, and this enables the Music to grow and develop.
I believe that the latest album contains some of my best compositions thus far. It is also the rest of the Group's favourite VIRGIN STEELE album. Compared to the very early albums, there is a lot more ambition, colour, maturity and emotional terrain in our Work now.
Your Bio reads, From a whisper to a scream; barbaric, romantic, bombastic, yet subtle; grandiose, yet earthy. A call, a shout, an invocation to Freedom and the continual awakening to the awareness that every moment of life is lived to its fullest potential. It is a force, a Sacred Quest which drives VIRGIN STEELE on! At first, this mix of oppositions (barbaric-romantic) seems strange. One can see the presence of oppositions in your lyrics and music.Can you explain the importance of this for Virgin Steele?
I firmly believe in the idea of bringing together things that are usually or supposed to be kept apart. (I am a true believer in being Defiant)…I think that these special unions create new elements. I think that a third element forms that is stronger and more interesting than the two on their own. I believe in smashing boundaries, and conceptions, and conventions. There are no rules or laws for me when I am creating. I believe in struggle and counter-struggle…Life is what the Ancient Greeks called an "Agon", a great and glorious struggle that brings forth new and exciting developments!
Looking at your lyrics and various concepts, one can see that you are interested in Greek Mythology.What is the reason for that interest and its reflection in your lyrics?
I am interested in the Myths of all Cultures. I was introduced to the Greek Myths through my interest in Drama…the Theatre. I grew up in a Theatrical household. My Father was a director, producer and actor involved in live Theatre, Plays…I grew up watching rehearsals and performances of the Works of Euripides, Aeschylus, etc…and that sparked my interest to read and study further on my own. I like the Greek Myths because the Gods & Goddesses are all portrayed as very Human. They all have Human passions, and this gets them into all sorts of difficult and mischievous situations, which is quite exciting. What I also enjoy is that all the tales are timeless…they are totally relevant today, which goes to prove that we have not changed very much in 3,000 years. That being said, it should be understood that I am not interested in giving a History lesson. My lyrics actually discuss real life, current day situations for the most part. I may reference a certain Myth now and then, but what I am really discussing is life today. Of course the HOUSE OF ATREUS albums are steeped in Myth as I am more or less telling that tale. However, even in that Work, I am also talking about what is happening in the here and now.
Are you interested in other myths, such as the Nordic or Egypt myths? Are you interested in ancient beliefs and their magic, such as paganism or shamanism?
Yes of course. I am quite familiar with the Nordic Myths, and also Sumerian, Egyptian, Roman, and so on…etc…Yes I am interested in the Magickal side of Mythology, and I am a keen student of Paganism. The entire "VISIONS OF EDEN" album is about the unfortunate destruction of Paganism and Gnosticism, which occurred long ago...
I saw that your nickname is "Dionysus", the god of wine.Why Dionysus?
I am a huge fan of Wine! Ha! I am interested in Dionysus. He is the eternally dying and resurrecting Godman. He is that archetype related to, and that which is the same as others such as Mithra, Adonis and Christ; to name a few…He along with Osiris began the whole idea of what eventually became Christianity. And…actually that really is my middle name.
For me there is much magic in the music of Virgin Steele. Inspirations from Classical Music to modern Heavy Metal, from sensitive piano partitions to heavy guitar riffs abound.What can you tell me about the magic of Virgin Steele. Can you explain the contents of that magic for the young magicians who want to make such powerful and beautiful magic like Virgin Steele?
Thanks for saying so. I believe that the Magick in the Music comes from a variety of sources. First is the essential Harmony of the songs, what the Works are constructed from. I am referring to the actual changes…from chord to chord and how they are interwoven with the melodic elements. As I mentioned earlier, this is the foundation. The harmonies that I use are many and varied. I never use just a few Power chords and a riff…there is always more going on. Next comes the way the songs are delivered. The performances must capture the essence of what the harmonies and melodies suggest. When recording or performing there can be no distractions. One must be intensely involved. One must "live" the songs. You have to be willing to take risks when composing and recording and performing. You can't play it safe. And then the third element is the lyrical side. What is the tale you wish to portray or what is the emotion you wish to convey. The lyrics must enhance what the music is saying and vice versa. You must believe in what you are doing, for if you do not…then the Magick will not be made and the Music will not reach out across the ether and engage the listener.
You are the songwriter of Virgin Steele.Can you explain how you go about your composing? Is it like "lets sit down and write new material" or suddenly the muse comes to you and then you begin, or what exactly?
The birth of each song or any musical piece is always different. Sometimes inspiration/lightning strikes when you least expect it, and you are off and running on another track. Other times it is more like…"OK today I will sit down and attempt to create". Often if one is in the habit of doing that on a regular basis, which I am…it can work. And yet other times, I might be improvising at the piano, or doing some sort of work around the house, and an idea will come that I find interesting enough to spend time on. If I am working around the house and an idea comes, I will immediately drop what I am doing and run to the piano and record the idea. I often find that when the body is physically engaged elsewhere, the mind becomes free to travel the creative path. Anyway, regardless of from what method the initial "birth" of the idea comes, the next and most challenging part, is "developing" that idea all the way through to its best and proper conclusion/completion. This is the demanding part that requires all one's inventiveness, patience and true love for Music. I never want to short-change a song. I want each composition to reach its full potential. To me my Works are like my children…I have to make sure that they all grow up properly.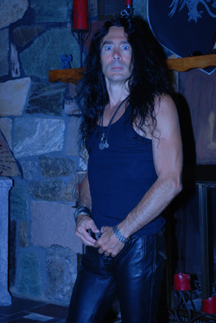 In my opinion Virgin Steele is one of the bands that gave shape to Heavy and Power Metal.There are many bands and musicians that have been inspired by Virgin Steele.What is the reason for such success and power of Virgin Steele for you?
Thank you. Yes I have heard many bands that have a Virgin Steele influence. Some even proudly display that in their choice of name. For example there is a group called Invictus, another group called Noble Savage. Some bands have covered Virgin Steele songs on their recordings, and other Fans both musicians and non-musicians, use the song titles as their e-mail addresses or myspace names, so yes…the influence has grown. We have always been extremely passionate about what we do, and intensely dedicated. I believe that we have always had an honest and direct approach to everything we have done, from the creation of albums, to performing, to which record companies we got involved with. This honesty comes through and reaches people, and our passion and dedication and determination have been both inspiring to our Friends & Fans, and infuriating to our Enemies.
Virgin Steele is one of the first metal bands that I listened , along with Blind Guardian and Manowar.I know that you played and toured with Manowar. What do you think about comparisions between yourself and Manowar?
We have done shows in the past with Manowar, and we have also appeared on a few festivals with Blind Guardian. Both bands are really excellent onstage and off.
Any comparisons between us are really superficial. The Music is completely different. Our approach, our way of composition and the "Harmonic Vocabulary" that we use is vastly different from what they do. What might be similar, is our extreme passion, power and over the top attitude. We don't play it safe and neither do they, and we are both fearless in our approach and dedication to what we wish to achieve.
As many others have been inspired by you, which bands and musicians have influenced you?
QUEEN, LED ZEPPELIN, BLACK SABBATH, and RAINBOW…T.REX…the list goes on…also CHOPIN, VERDI, and DEBUSSEY, LISZT…etc…
Virgin Steele is more popular in Europe then in the U.S.A. What is the reason for that? Have you any European tour plans ?
I think it has to do with the fact that we have this classical side perhaps. Also we have always had a better organization in Europe. Our record labels have all been essentially European, and our booking agency is European. We have always had a better business infrastructure in Europe. Yes we will return again and do more touring in the months ahead.
I know that you wrote an opera based on "The Marriage Of Heaven And Hell" and "Invictus" albums, and that opera sold out in Germany.What can you tell us about that?
The Stage presentations…or "Metal-Operas" that I did were very well received. I did more than one…I did 3 of them. The first one was based around the songs that I wrote for THE HOUSE OF ATREUS albums. The second one was based around the MARRIAGE OF HEAVEN & HELL & INVICTUS songs, and the third one was based around the music I composed for the VISIONS OF EDEN album. That particular "Metal-Opera" was presented onstage under the name "LILITH", and it included one or two pieces of music that will probably appear on the next album and also on an instrumental album that I am attempting to complete. These were fully realized stage presentation, with many actors in costume and special scenery, all combining with the Music, to create a Magickal moment in time. Each "Opera", had over 50 performances. They were all successful, which was very gratifying to me.
Will you make more projects like that?
I am pretty satisfied with the fact that I have done 3 of these types of Works already, but…yes I would like to do more. I also wish to do some movie soundtracks. I have had several songs in various movies over the years, but I would like to be in charge of doing a complete full scale film score one of these days.
You were also involved in the Avantasia Project. That was like a dream for me, the musicians that I really like were all in the same project. What do you think about Avantasia?
I enjoyed doing it. I had no idea what it would become, because all I initially heard were those little sections where I appear, so I had no idea at the time that I was recording it, what the whole thing would be like. I recorded my parts one day when I took a short break from working on the HOUSE OF ATREUS album. It was done very quickly.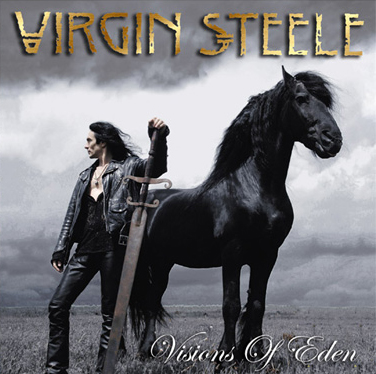 Lets talk about your last album "Visions of Eden". First of all I want to say it is excellent! I really love it.After I listened to the album I came to realize that it is very different from the title.The album cantains completely the opposite of what the title implies.When you see the title it seems like the album should be about happines and peace but then when you listen to the album you see the opposite.What can you tell me about "Visions of Eden"? How were the reactions of the fans to the album?
Yes, as you said, The VISIONS OF EDEN album is definitely not about happiness, peace, contentment or Eternal tranquility…it is the opposite. It is about disorder, strife, struggle, dominance, and the annihilation of a culture, a way of Life, and the violation & annihilation of a human being. It is a Work based on the destruction of Paganism, Gnosticism and the desecration & eradication of the Goddess Principle that once dwelled so freely within Divinity. A massive blow was struck against these early beliefs, by first, the rise of the "Father-God" principle, and second by the development of the "organized" religions. The album concerns LILITH, first wife of Adam, (he of Biblical fame, as in, you guessed it, Adam & Eve and the apple, the snake and all that fig leaf and rib propaganda), plus Ancient Sumerian Myths concerning Lilith's relationship with Adam, Eve and God. However, that being said, in actuality, it is really about today…modern times and how we might have arrived here at this strange place we are now in
The main character Lilith is a rebel. Should you need a frame of reference from the male perspective, perhaps something akin to a female Prometheus if you will? However…She is actually something infinitely more powerful. She is the manifestation of the Primal Energy, the Life force, and creativity, indeed the Origin Of All Life itself. Due to the tremendous appeal, power and popularity of the Great Goddess within early "Pagan" Society/ Religions / "Mystery Cults", etc., Patriarchal, Male God worshipping Societies felt their status threatened, therefore they enacted laws and actions in which the worship of the Goddess was made illegal. She was demonized, and attempts were made to make her become hateful to women. These attempts were only too successful. My story seeks to parallel what occurred long, long ago, concerning this shift and destruction.
One of the first times that we hear about Lilith is in the Ancient text "The Epic Of Gilgamesh". There She is described as an unpleasant squatter in a Tree. Lilith is often equated with the Egyptian Isis, Inanna, (sometimes called the hand of Inanna), also Astarte, Hecate, Sophia, Mary, and all the other powerful feminine deities. She represents the primordial fount of all Mother/Goddess figures. And yes, according to legend she was actually the first wife of Adam, prior to Eve. From earth / mud / clay, she was created, just as Adam was. Lilith felt that She was Adam's equal, a true mate & match for him. In the early Legends it is said that She & Adam were created as a dual being…joined back to back. As such, Lilith wanted to remain independent, and did not wish to be subservient to the male personality, Will and ego. Adam, however, considered himself to be the Supreme Power. He claimed that it was decreed to him by his God, that he should be the master over Lilith. And so…my friend trouble in Paradise/Eden began…. anyway…
Let's go back to the beginning. God gives "Birth" (or thinks he does), to Lilith in the Dark of Night, through the miracle of…nocturnal emission, (this is discussed in ADORNED WITH THE RISING COBRA), and forever lusts after her. (He's got a great passion for Flesh!) However, she is not his child. Again what Lilith really is, is the exact other "side" of True Godhead…the Goddess, or female half of Divinity. This God…we are discussing is not a true God…He is a demi-urge or half-maker. Lilith is part of a higher Authority/Energy/Emanation, an equal part of the True…Oneness or "God Above God". Anyway…Lilith has awakened this particular God's Dark, sensual Nature. However... this God is really very afraid of Lilith. He finds her ... "uncontrollable", wild, untamable and far too difficult to understand, so... he creates Adam in the Light Of Day, to be the mirror of his own image, thus IMMORTAL I STAND (The Birth Of Adam). Adam & Lilith meet ... they try to have ... a Magick, Romantic Evening ... but everything goes horribly wrong. Oh yes... very wrong. Adam wants to be on top ... (sexually & otherwise), and Lilith wants the same so... they have an enormous fight! She pushes him off her and screams out "bastard", he calls her, a "bitch", and She flies off on her Glorious Green Wings! She is able to do this because she is in possession of the Power/Knowledge of the True "Name" of God. Lilith knows THE INEFFABLE NAME. She has found out that which was supposed to be forbidden and unknowable. In anger, rage and fear…God & Adam curse Lilith…. and Adam demands that God create him a new partner…. Someone perhaps a bit easier going…
In the aftermath of her dramatic flight, God creates Eve for Adam, to be Adam's subservient, docile helper. Lilith then momentarily reappears, confronts Eve & Adam, and rages at them…BLACK LIGHT ON BLACK. Here is also introduced the idea of what might have caused the real "FALL" from Grace/Paradise. Not the eating of any worm-ridden apple, but…Adam's ultimate defection from Lilith. He prefers to cling to his idea of superiority, with himself as "Master" to the submissive Eve, rather than explore the potential of equality with Lilith…Anyway, next our heroine winds up in the Red Sea where it is said that she cavorts with Demons and has numerous children with them. (This is the beginning of a smear campaign against her). Then along come Three Black Angels who begin to torment & abuse her. This is essentially the idea behind…BONEDUST. The Black Angels (sent by God), attempt to force her to come back to Adam. They tell her, "for this unlawful flight, this transgression, as punishment 1,000 of your children will die every day unless you return, we will kill them". Lilith says ... "No! I am beyond your control. I know the Ineffable Name of God. This…gives me Power! I do not have to come back, I will not come back, and your God knows this"! The "Angels" are in confusion, as they were not aware of this arrangement with God. They however are great tricksters and of course with a God such as this, there must be punishment, so these crafty "Angels" contrive something truly dreadful. They devise a way to convince her that in return for her willfulness, stubbornness, independence, pride and femaleness…She must in fact be the one to do these killings of children. And thus the process begins where she is dramatically transformed, turned from the Beautiful, Noble idea of the Great Goddess / Good Mother ... into the Terrible Mother / Evil Demon, repugnant to all women. (ANGEL OF DEATH)…Lilith in rage and madness…takes their poison bait…Later She comes to her senses and laments her Fate, but… the damage has already been done. Infection sets in…However, Her Pure Essence, her Divine Core cannot fully comprehend why She must become this dark, vile, hideous thing. She questions, she cries out, She begs, She implores the GOD ABOVE GOD, to deliver her from this tragic fate…And thus the Nobility in her Nature requires still further corrupting to be up to such killing, so She, (or is it the "Angels" again), conjure Samael…THE HIDDEN GOD. Unbeknownst to her, Samael, is actually Adam in disguise. With his influence and trickery The Feminine Divine is finally overcome, seduced, perverted, corrupted and She… becomes the CHILDSLAYER…Eve and all Women of the World begin their Eternal Lament…WHEN DUSK FELL…and…the struggle begins/continues…VISIONS OF EDEN…
Once again…remember…regardless of any Ancient, Myth-like qualities the nature of this Tale may invoke, everything that occurs is actually going on now in real time, in the mind of a specific Woman while she is being raped…and…this Story is not over yet…no…not yet
Audience reaction? Well...the album has been well received. People really like the songs, and they have been going over very well onstage. We have gained many new Fans with this album, especially Female Fans...And due to the cover artwork, we have now gained the support of the Equestrians!
What will be waiting for us in the next Work? What are the plans of Virgin Steele for the future?
I am continuing where I left off from the last album, and also moving forward into new and unexpected terrain. Some of my songs are about 90% finished being recorded, and others are about 25% recorded. Right now I am still writing and recording. I already have so many songs, and as I mentioned earlier, I am trying to organize them all into two or even possibly three different, coherent albums. Some tracks are very heavy plus I also have some strange ethereal tracks and acoustic songs that might all go together on an album. We shall see. I want them to be complete, strong and able to stand on their own, before I issue them.
Have you seen any concerts lately?
Yes, I just saw HEAVEN & HELL, ALICE COOPER and QUEENSRYCHE. VIRGIN STEELE'S photographer Gail Flug, invited me to the show. I throughly enjoyed all the performances and I had the good fortune to speak with Ronnie James Dio afterwards. I have met him on a few occassions now, and I can honestly tell you that in addition to being an incredible singer, he is a really warm, friendly and gracious Human being. I also spoke briefly with Geoff Tate, who was also quite friendly and outgoing.
Lastly I want to thank you for answering questions and giving us this fantastic music.If there is anything you want to add, the last words are yours.What do you want to say to your fans?
GREETINGS, CHEERS & BY THE GODS & GODDESSES to you All! We thank you for your great interest and enthusiasm! We look forward to visiting you sometime soon! Thanks for all your Faith, Heart, Belief and Tremendous Support! Keep well and remain…Forever…Invictus!
29 July 2007
VIRGIN STEELE is currently working on two brand new studio albums, and will perform at the sold out Prog Power Festival, which takes place in Atlanta, Georgia on October 5th.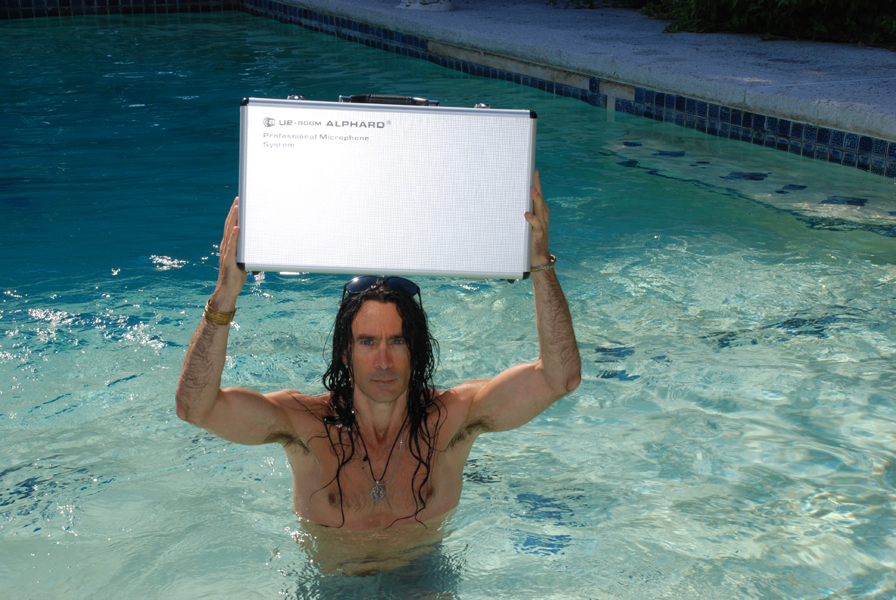 David DeFeis and VIRGIN STEELE are Proud & Honored to endorse: ALPHARD SOUND TECHNOLOGY ETP - POWER OF YOUR SOUND - www.alphard.pl
ALPHARD is a new company out of Poland, which specializes in all phases of sound reinforcement, with a complete line of amplifiers, mixers, speakers and microphones.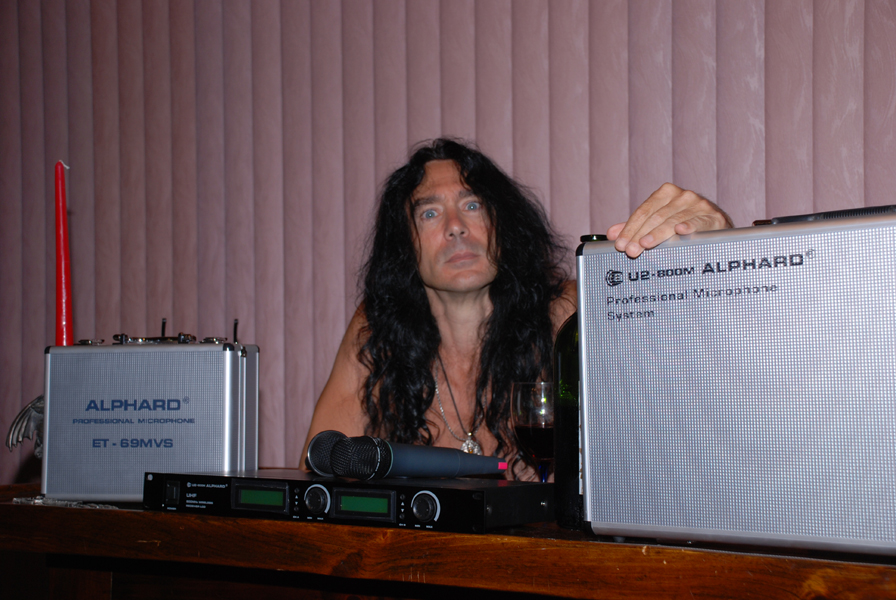 The Company recently surprised David with a wonderful assortment of microphones that he has now begun to utilize on the next forthcoming VIRGIN STEELE album. When asked about the ALPHARD microphones, David had this to say, "I love them, they sound much better than anything else that I have been using for years! I look forward to trying out more of their products"!
When we asked David how the endorsement came about, he explained…"I was introduced to the Company by my friend Bart Gabriel. He is kind of like the King of the Underground Metal Scene in Poland. He is a producer, writer, and he manages several bands over there, (including the very talented Crystal Viper), and he also works with a label called Karthago Records. He has always been a loyal VIRGIN STEELE Fan, and perhaps because of this he contacted me about using ALPHARD'S products. He said that they were a new Company that made amazing stuff, and that I should try it, so he asked ALPHARD to send me some of their latest gear which they did, and now that I have tried it, I can honestly tell you that their gear most definitely kicks ass!"
I want to say thanks very much to ALPHARD for making such excellent gear, (and providing me with the opportunity to explore it), and I also want to say thanks to Bart Gabriel, for introducing me to the Company…I most definitely look forward to trying out more of their products! Hail, Wail & BY THE GODS"!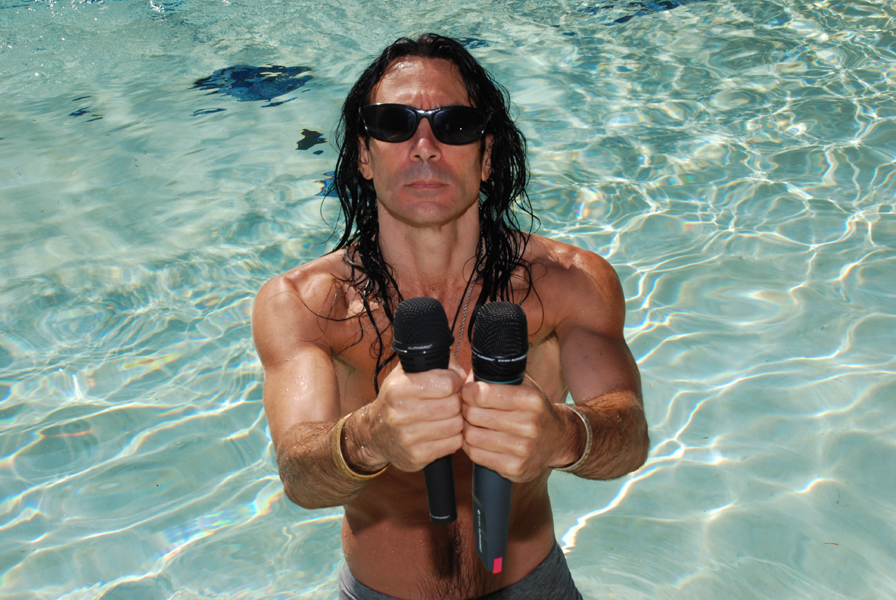 For additional information check out: www.myspace.com/virginsteele and www.alphard.pl

15 May 2007
New Festival date:
VIRGIN STEELE are confirmed for the:
Nummirock Festival - Helsinki, Finland. June 23rd 2007, 8:00 PM.
Evolution Festival - Firenze, Italy. July 7th, 05:30 PM.
Prog Power Festival - Atlanta, Georgia USA. October 5th, 8:00 PM.
Attention - this show is SOLD OUT! More information: www.progpower.com.

Truemetal.it published a great article about the VIRGIN STEELE acoustic shows in Italy - find the raport and photos here.
You can also see bunch of great photos by entering the gallery here.
16 March 2007
New Festival date:
VIRGIN STEELE are confirmed for the
Evolution Festival in Italy at Rosignano Solvay - Livorno, on Saturday, July 7th 2007
For more information contact: Simone Doneda at s.doneda@loudsession.com or Louise Fitzgibbon at louise@loudsession.com
VIRGIN STEELE'S David DeFeis & Edward Pursino will also be in Italy in April for the 2 FLASH MAGAZINE PARTY EVENTS. They will perform an acoustic set and be on hand to meet and greet all Fans and help celebrate the Glory of FLASH MAGAZINE.
04/27/2007 09:00 PM - THUNDER ROAD CLUB
LAKE CDOVEDILLA (PAVIA) - Pavia, ITALY www.thunderoad.it
04/28/2007 09:00 PM - SIDDHARTA CLUB:
FLASH MAGAZINE PARTY #2 PRATO( FLORENCE) PRATO( FLORENCE), ITALY at the SIDDHARTA CLUB: www.energyzone.it
The second of 2 acoustic shows For more information please contact: Fulvio Trinca - Flash Magazine - PRESS Office mc.balder@gmail.com
11 January 2007
VIRGIN STEELE-BARBARIC-ROMANTICISM LIVE ON LONG ISLAND
BY THE GODS & GODDESSES, THE DUBLIN PUB & HM DAVE PROUDLY PRESENT "An Evening with VIRGIN STEELE" ~ FRIDAY Jan 19, 2007

BY THE HAMMER OF ZEUS, come and see them in this rare "one off" appearance before they return to Europe.

Hosted By: HM Dave
When: Friday Jan 19, 2007
Where: The Dublin Pub
2002 Jericho Turnpike
New Hyde Park, NY 11040
USA

Doors open at 9:00 PM
Tickets:$10.00 in advance
$12.00 at the door

For advance tickets & further details contact HM Dave at: hmdave66@aol or The Dublin Pub at: (516) 352-9131

Radio Interview
The Interview with VIRGIN STEELE'S David DeFeis on WebRadioWCWP will be re-broadcast Saturday, January 13th @ 5pm.
Tune in by logging onto WebRadioWCWP.org. Users can listen with their Windows Media Player , RealPlayer or with Quicktime anywhere in the world with a modem.

5 January 2007
WebRadio Show
Mr.DeFeis and Metal Dave will be guests of WebRadioWCWP on Saturday, January 6th @ 5pm. The Show will air live and then repeat a week later on Saturday 13th at the same time.

They'll be discussing the upcoming VIRGIN STEELE gig @ Dublin Pub on Jan 19th.

Tune in by logging onto WebRadioWCWP.org. Users can listen with their Windows Media Player anywhere in the world with a modem.