News
26 November 2011
New York / Long Island confirmed:

On the "Home Front"-VIRGIN STEELE has confirmed a rare local performance for early next year.

On January 14, 2012 they will be at:

OLLIE'S POINT
140 Merrick Road
Amityville, New York 11701.

For information please contact:
TEL: 631-264-7712

This will be a warm up show for their upcoming 30th Anniversary dates....

See you there,
VS HOME OFFICE
Mark Gorman

18 November 2011

A personal message from David and the band....
"We want to thank everyone who came to our concerts in South America, the Czech Republic, Slovenia, Germany & the USA over the Summer, and Spain, Italy & Greece these past few weeks...It was an honour for us to visit you all. We truly had a most amazing time performing for you, and we look forward to seeing you all again very soon...Plans are already underway for what will be our 30th Anniversary Concerts, plus we are planning some US shows for within the next few months, and... we are playing the 70,000 Tons Of Metal Cruise in January....We look forward to seeing you all....Thanks very much for a great Summer & Autumn....Cheers & a Loud....BY THE GODS & GODDESSES to you ALL..." VIRGIN STEELE

2012 Confirmed shows: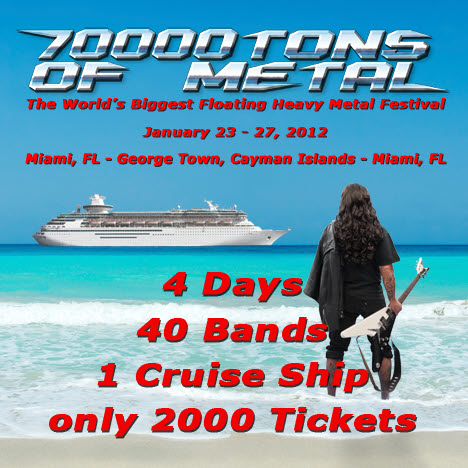 January 23th - 27th 2012

www.70000tons.com

May 18th 2012
Headliner: Ragnarokkr Metal Apocalypse Festival
Mojoes,
22 west Cass Street
Joliet, Illinois
www.ragnarokkrmetal.com


Age Of Consent re-issue details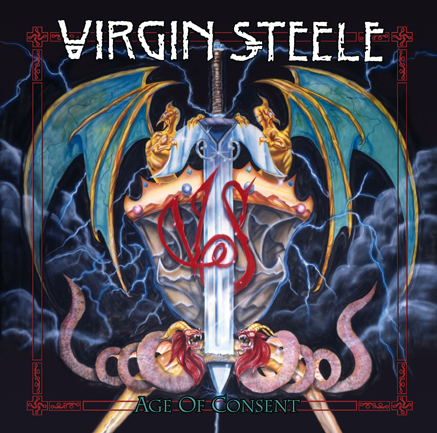 SPV / Steamhammer is proud to re-release Virgin Steele´s "Age Of Consent". This 2 CD digipak re-release comes with bonus tracks, 5 of them previously unreleased, and a massive booklet with new liner notes and unseen photos. And since 1988 the first time again on vinyl!
Release Date Europe: November 28th, 2011
Release Date: Germany: November 25th, 2011
Release Date USA/Canada: November 22nd, 2011



"Age of Consent" was the fourth full length album by Virgin Steele. It took eight months to be completed, in comparison with "Noble Savage" that was recorded in a few weeks, and was originally released in October 1988. The songs of this album follow in style and content the music of the previous album. Before the release of "Age Of Consent" the Virgin Steele toured heavily in Europe as special guest for BLACK SABBATH and MANOWAR.

David DeFeis comments on the re-release:
"Our good Friends over at SPV will be re-issuing our AGE OF CONSENT album in November 2011. To me "Age Of Consent" is the album that I usually refer to as…"the one that got away album" in our career. When it was originally released it was sent out into the World without any promotion or fanfare, much like a soldier, catapulted onto a battlefield, naked and without any weapons. Because of this many people were completely unaware of its existence. Therefore we are absolutely over the moon about being able to present it to you once again. For this re-issue, I have re-mastered all the songs from the original source tapes, and...added several more "Bonus Tracks". Some of the bonus material features brand new compositions, and other tracks are covers that have been re-arranged and in some cases re-written. We hope that you will join us in celebrating our anniversary, and....we hope you will enjoy & play at maximum volume...these Barbaric-Romantic creations...."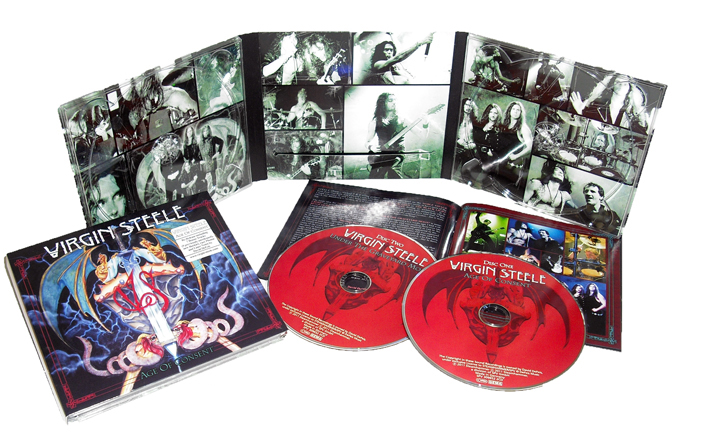 TRACKLISTING:
- Double digipak incl. new booklet with rare photos and new liner notes by David DeFeis
CD1
01. THE BURNING OF ROME (CRY FOR POMPEII) 6:39
02. LET IT ROAR 3:48
03. PRELUDE TO EVENING 1:10
04. LION IN WINTER 5:32
05. STRANGER AT THE GATE 1:30
06. PERFECT MANSIONS (MOUNTAINS OF THE SUN) 8:33
07. COILS OF THE SERPENT 1:24
08. SERPENT'S KISS 8:15
09. ON THE WINGS OF THE NIGHT 4:41
10. SEVENTEEN 4:21
11. TRAGEDY 4:22
12. STAY ON TOP 3:37
13. CHAINS OF FIRE 3:35
14. DESERT PLAINS 4:52
15. CRY FOREVER 4:32
16. WE ARE ETERNAL 4:13
CD2
01. SCREAMING FOR VENGEANCE 5:11 (Bonus Track)
02. THE CURSE 2:57 (Bonus Track)
03. BREACH OF LEASE 5:58 (Bonus Track – previously unreleased)
04. ANOTHER NAIL IN THE CROSS 6:24 (Bonus Track – previously unreleased)
05. A CHANGELING DAWN (Noble Savage Acoustic Version) 10:56 (Bonus Track – previously unreleased)
06. UNDER THE GRAVEYARD MOON 6:53 (Bonus Track – previously unreleased)
07. DOWN BY THE RIVER 5:43 (Bonus Track – previously unreleased)
- Double Gatefold LP in coloured blue vinyl and printed innersleeves -
LP1
SIDE A
01. THE BURNING OF ROME (CRY FOR POMPEII) 6:39
02. LET IT ROAR 3:48
03. PRELUDE TO EVENING 1:10
04. LION IN WINTER 5:32
05. ON THE WINGS OF THE NIGHT 4:41
SIDE B
01. SEVENTEEN 4:21
02. TRAGEDY 4:22
03. CHAINS OF FIRE 3:35
04. CRY FOREVER 4:32
05. WE ARE ETERNAL 4:13
LP2
SIDE C
01. PERFECT MANSIONS (MOUNTAINS OF THE SUN) 8:33
02. COILS OF THE SERPENT 1:24
03. SERPENT'S KISS 8:15
04. THE CURSE 2:57 (Bonus Track)
SIDE D
01. SCREAMING FOR VENGEANCE 5:11 (Bonus Track)
02. ANOTHER NAIL IN THE CROSS 6:24 (Bonus Track – previously unreleased)
03. UNDER THE GRAVEYARD MOON 6:53 (Bonus Track – previously unreleased)
27 September 2011
EXCLUSIVE INTERVIEW with David and Edward
(as discussed with longtime VS photographer and industry insider) Gail Flug: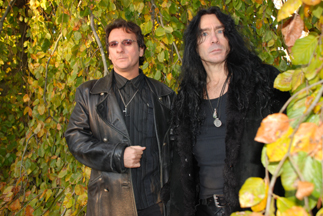 What's new in the Land Of Steele, guys?
David's Answer: Well we are currently completing the bonus tracks and re-mastering for the "AGE OF CONSENT" re-issue, which is due out on November 28th. It will have 7 more bonus tracks in addition to the 12 original tracks and 4 bonus tracks that we released when it was first re-issued. And just like the re-issue we just did for "NOBLE SAVAGE", it will also be released in a vinyl Lp version.
What sort of things can we expect from those tracks?
David's Answer: Well…some tracks are covers that I have re-arranged and added additional new material to, (such as the quite Epic…Breach Of Lease"), and some tracks are brand new songs, and there is also a very different version of the song "Noble Savage" included on there. This version is mainly piano and vocal and features quite a different take on the song. Those who have heard it found it to be very moving.
Edward's Answer: Yes that one is really amazing! Dave has managed to present the song in a new light. I find it to be very new, yet just as epic as the original, and very heroic. There is also a new song that David wrote called, "Under The Graveyard Moon", that I really like. I swear it is a hit, and the guitar solo on it is highly emotional….
David's Answer: Indeed! There are a several really strong over the top guitar solos that Edward did on these tracks that I think are absolutely incredible!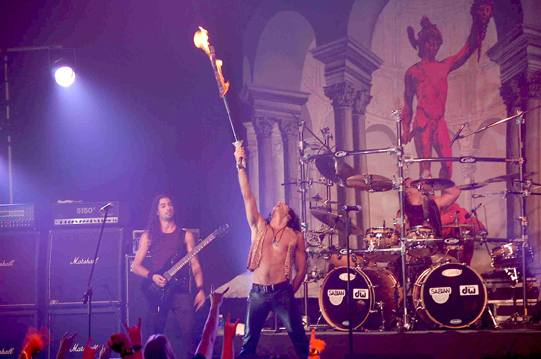 What about live activity?
David's Answer: We are heading over to Spain in October for shows in Barcelona, Bilboa, and Madrid, and we will also be going to Bologna, Italy and Athens, Greece in November. We are all really looking forward to these dates.


Edward, you weren't with the band onstage at the last shows in South America and Europe. Why?

Edward's Answer: I couldn't be there due to personal issues here in the USA that I needed to take care of. I am happy that the guys carried on anyway, and I am really happy to have solved my personal issues, and am now once again able to take part in the living, breathing madness & live onstage activities of VIRGIN STEELE. This is something that I love to do, and I missed not being there. See you all onstage next month and November!

David's Answer: Indeed…everyone in the Group is happy to have Edward onstage with us again…. Probably none happier than me, as we have been performing together since we were small children…
After the "AGE OF CONSENT" re-issue and the next live dates, what can we expect from the VS Camp next?
David's Answer: More live dates, and the next re-issues which I believe will be "THE MARRIAGE OF HEAVEN & HELL" albums and the "LIFE AMONG THE RUINS" album, all with additional bonus tracks, and new additions to the packaging, and probably once again in vinyl format, as well as CD. In addition, we will also be working on what will be our next full-length new album. And we hope to be celebrating our "Anniversary" in a special way.

Edward's Answer: We are also starting to do some videos for the new re-issue and we hope to be able to re-visit the catalogue and present some type of video from some of the other releases as well. We have begun shooting video for the song "Perfect Mansions". We want this video to be as over the top and emotionally charged as the song is. And as Dave said, we have some ideas about our upcoming "Anniversary" that we will reveal later in the weeks ahead. We hope to explore some possibilities that will enable us to be in even closer contact with our audience, and also present the songs in a new and different light.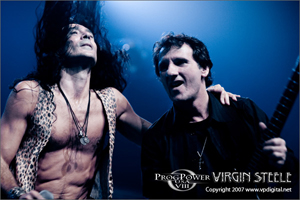 David, Virgin Steele toured South America for the first time this year; what was the experience like? And what were the audiences like?
David's Answer: Actually we performed there for the first time last year. This year marked our second visit to South America. The experiences were quite extraordinary. We found out that we have many friends there who are very into what we are doing. The audiences we encountered were all absolutely great! They were incredibly enthusiastic, and extremely passionate. Many Fans traveled large distances and many hours to attend the concerts. We were really amazed by the entire experience. Everything was great, from the organization of the dates, to the crowds, to the travel…the food…everything…

It was also the first time you played with an on-stage keyboard player – was it a different experience having to just be responsible for singing?
David's Answer: This year was the first time we ever did something like that. For years many people said…"we don't want you hidden behind the keyboard, we want you out front relating directly to us"…so we tried it. Now some say…"we miss you on the keyboards"….Well…I miss playing them as well, so I will be doing both duties once again. But we will also augment the line up from time to time, with our good friend Lynn Terramoto on keys, because…then we can actually pull off even more of the various orchestral parts from the albums, if we both play…when needed. And it can free me up now and again to spend a bit more time with the audience directly…It was a nice experience having Lynn onstage with us. I enjoy working with her. I actually have done a couple of gigs with just her on keys and me singing…We did rare covers, and strange Bluesy numbers…Lynn was in my side project, CARNIVAL OF SOULS, (along with Edward, Josh and Mark Edwards who is otherwise known as Geoff Fontaine…from the EXORCIST), and we have been working together on and off since about 2002. But anyway, for these forthcoming dates it will just be the usual 4 guys, me, Edward, Frank & Josh.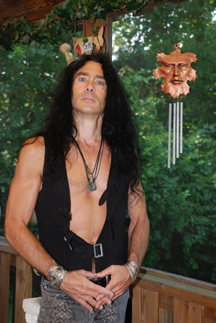 As someone who grew up listening to vinyl albums, you are aware that records and CDs have a different tone. When you do the re-masters, do you allow compensation (if that is the right word) being it will be released in that format?
David's Answer: Nice question! There are actually differences in the results, and the vinyl should be treated differently as the medium reacts differently. When we do make the masters for the vinyl as opposed to the CD versions, there are some things that are handled a bit differently such as overall compression on the master for example.
Many of your most recent albums have been concept albums based on history and biblical accounts. What efforts do you do as far as research? Do you come up with the idea and then do the research, or has the concept already evolved before you write the songs?
David's Answer: I am always coming at the writing from different angles. Sometimes I write lyrics first, or have a title and a general idea of what I want to express…other times…it is music first and sometimes both music & lyrics arrive together in my mind…so it is always changing. But as regards conceptual albums like THE HOUSE OF ATREUS, I started out with the basic idea that I wanted to explore that tale, and I actually began writing straight away as I was pretty intimate with the story…I think the first piece I wrote was KINGDOM OF THE FEARLESS…however, I did go back later on and further research the story again so I had more detail in mind to draw from at all times. There are a lot of historical or mythological references in my songs, but I am not necessarily giving a history lesson…I use those bits metaphorically…I am more often actually discussing life today and real life current experiences. But as regards…research, I am always diving into the world of myth, history, or whatever, always exploring and trying to learn about various subjects. You might say that I am on a constant quest for knowledge.
What new music have you been listening to? Has anything inspired you lately?
David's Answer: Lately I have been hearing mostly the tracks that we are working on…when not hearing that stuff, I have been listening to some soundtracks like the Last Of The Mohicans…or classical things…Grieg, Brahms, some Vivaldi or Rossini…etc…or bands like The Cult, Type O Negative…some Cradle Of Filth…also early Queen lately and some Page & Plant stuff…it varies.

Edward's Answer: The new Whitesnake is very strong…and I love the early Blue Murder stuff. I started listening to some of that again this week. Dave and I just watched Queen live at Hammersmith a few nights ago…that was incredible. What an amazing band they were…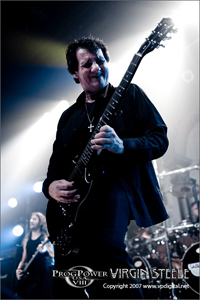 What is going on with the long-overdue covers album you have been talking about for years?
David's Answer: We have actually done several covers recently that will be issued inside this AGE OF CONSENT re-issue…For example we did a very strange version of Neil Young's Down By The River. It is very different than his version. Ours is very trippy, but the guitars and bass are very down and dirty and it has a weird Bluesy yet somewhat Gothic, with a hint of Zeppelin three feel…I could tell you more…but I prefer to make you wait! There are more that we have done or have started doing and some of those might be released along with some of the next re-issues…or perhaps at some point a full on cover album…It all depends on where they might fit…if anywhere…

Edward's Answer: We started out years ago in both Dave's basement and my basement playing covers that we loved by Led Zeppelin or Black Sabbath, etc., and we still like to go back now and then and have a go at some of the songs we used to do. There probably will be more covers released that we have been exploring in the months ahead.
Virgin Steele has been around for close to 30 years… what is the secret to your longevity? And what kind of advice would you offer younger bands, musically, spiritually and professionally?
David's Answer: If there is any secret…I would guess it would be that we are still very passionate about what we do, still very driven, and still knocked out by music and all the possibilities that exist within the musical sphere. We still like to push ourselves and we still want to make that ultimate album…Advice? If I was asked by any musicians…musically I would say…learn all there is…and understand that there is always more to learn…the quest for knowledge is endless and the more you learn, & the more you experience…the more you can put into the music, the art…and life. Spiritually…I would say…be open to those ethereal elements and embrace them when they come and try your best to express them in sound and word. Professionally…I would say…do it for the pure love of it…never do it for financial gain or the pat on the back…Do it from the heart for the magick that exists within the art-form…We never set out to do this as a business…it is just our particular way of seeing the world…We wanted to create a world within a world…a way of life, that would be worthwhile, sustaining and fulfilling.

Edward's Answer: It is what we were born to do. Dave and I have been working together forever. It is our way of life. I'll never stop playing. I love the guitar. Even if a day comes when we don't release anything anymore, I'll still play and I'm sure we will still work together.
And finally, what are you doing to commemorate Marc Bolan's birthday on Friday?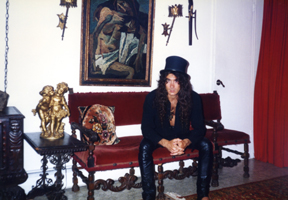 Edward's Answer: I will light a candle and bang a gong….

David's Answer: Well Gail…I will put on my top hat, shout out…"I ain't no square with my corkscrew hair", crank up some of his albums, & maybe watch "Born To Boogie"…We've actually done several T.Rex covers which I hope to issue somewhere, somehow, someday…and on one of them…I swear Bolan stepped in and made his mark. There is a weird guitar feedback that just appeared on one the songs we did that I truly do not remember experiencing as we were recording the guitars. I am pretty sure it did not come from us…I think he made that sound happen! Bolan and T.Rex rule!

5 September 2011

CONFIRMED VIRGIN STEELE DATES:

LIVE IN SPAIN:
OCTOBER 19, 2011 Wed - Barcelona @ Sala Salamandra
OCTOBER 21, 2011 Fri - Bilbao @ Sala Rockstar Live
OCTOBER 22, 2011 Sat -Madrid @ Sala Live

In ITALY:
NOVEMBER 5, 2011 Saturday Event: STEEL FEST 2011 ESTRAGON, BOLOGNA, Italy (www.estragon.it)

In GREECE: NOVEMBER 6, 2011 Event: Up The Hammers Festival Greece - Athens Venue: Kyttaro

And...in January 2012: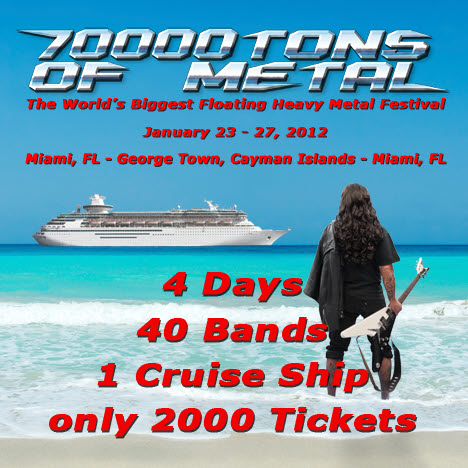 www.70000tons.com

AGE OF CONSENT RE-ISSUE

Watch for the re-issue of AGE OF CONSENT on November 21 featuring with an extra disc featuring 7 bonus tracks and a playing time of somewhere around 40 minutes... Details coming soon.

17 June 2011
The VIRGIN STEELE Concert in Rio de Janeiro, Brazil is canceled.

Due to difficult circumstances, Virgin Steele has unfortunately been forced to cancel their show in Rio de Janeiro. The reason being the sudden change in arrival time of flights to Rio de Janeiro, thus making it impossible for the band to arrive in town on the scheduled date.

However, the other shows on the 24th and 25th are still on and confirmed. Virgin Steele will be in Curitiba in the Music Hall on the 24th, and in Sao Paulo at the Manifesto Bar on the 25.

This will be the first ever visit by the band to Brazil and they are planning a set list drawn from the many albums in their extensive Catalogue. The Group is very sorry about this, and hopes to return again either later this year or early next year.

20 May 2011

This is the first Official "home" video from the new VIRGIN STEELE album, "THE BLACK LIGHT BACCHANALIA". It again like the "God Of Violence Kill" video we just posted, uses only still images. This video was created one day before the "God Of Violence Kill" video.



Music & Lyrics by David DeFeis. Published/Copyright 2011 by DeFeis Music ALL RIGHTS RESERVED. All Visuals are Protected, and the copyright in this sound recording is owned by David DeFeis under exclusive license to STEAMHAMMER SPV. Instrumentation

On this track: David DeFeis-all vocals, keyboards, bass and orchestration
Edward Pursino-6 string guitars
Josh Block-7 string guitars and guitar solo
Frank Gilchriest-drums


19 May 2011
CONFIRMED VIRGIN STEELE DATES:

JUNE 4 - LONG ISLAND (warm up gig)
The Village Pub
at 174 North Wellwood Ave.
Lindenhurst, NY 11757
Call (631) 592-4260 for infomation

JUNE 20-ARGENTINA
Buenos Aires- at Teatro Flores

JUNE 23- BRAZIL
Rio de Janeiro/ RJ at Hard Rock Café

JUNE 24- BRAZIL
Curitiba/PR at Music Hall

JUNE 25 -BRAZIL
São Paulo at Manifesto Bar

JULY 14 Masters of Rock CZECH REPUBLIC
www.mastersofrock.cz

JULY 16 Metalcamp Tolmin, SLOVENIA
www.metalcamp.com




This is an Official VIRGIN STEELE home video for one of the bonus tracks on the new NOBLE SAVAGE RE-ISSUE. The song is called GOD OF VIOLENCE KILL. Music and Lyrics by David DeFeis, Published, Copyright 2011 By DEFEIS MUSIC. ALL RIGHTS RESERVED. The copyright in this sound recording is owned by David DeFeis under exclusive license to STEAMHAMMER SPV. All Visuals are protected. ALL RIGHTS RESERVED.

11 May 2011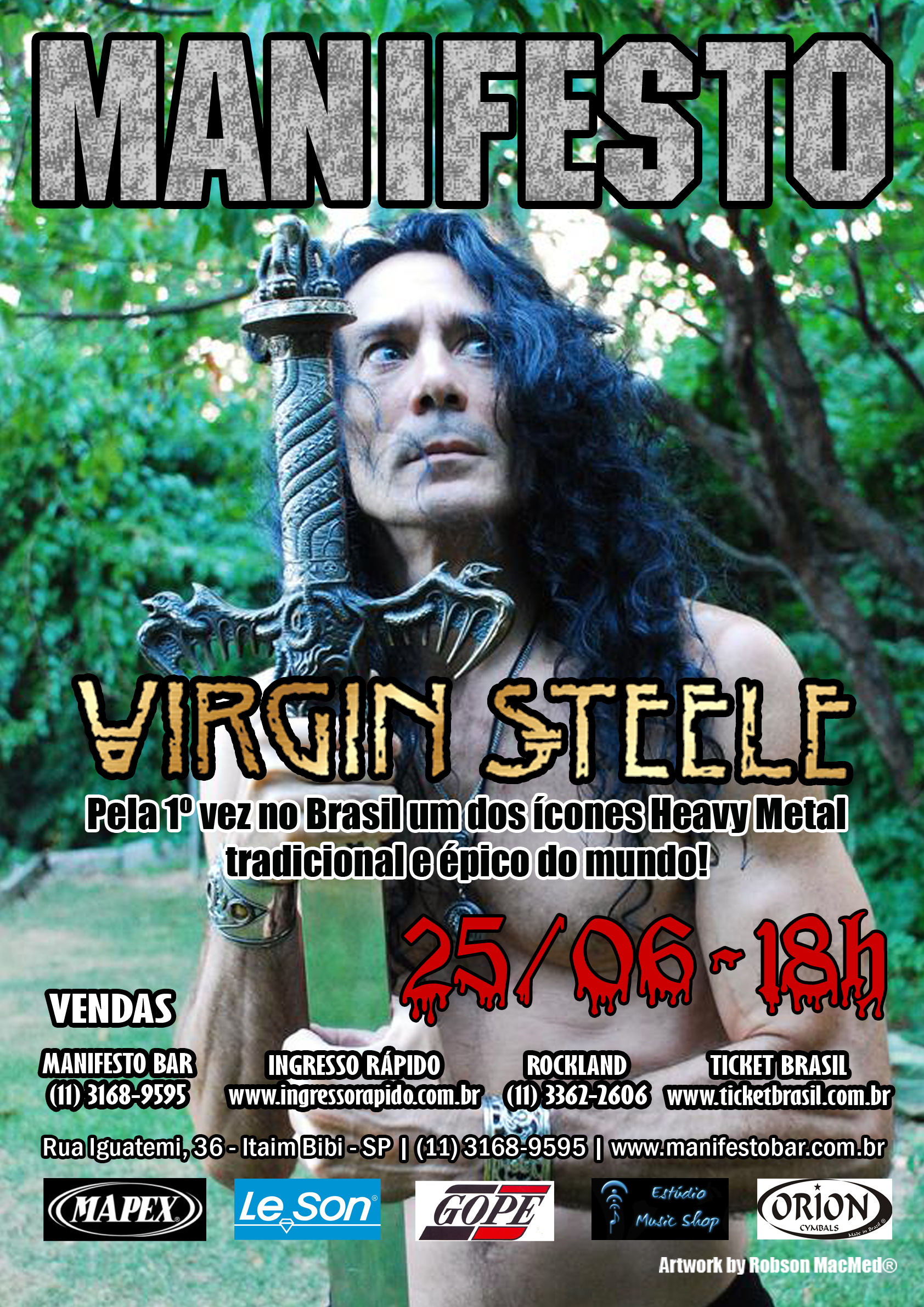 12 April 2011
Here is a preview of the Noble Savage re-releases.
See below for Details and track listing.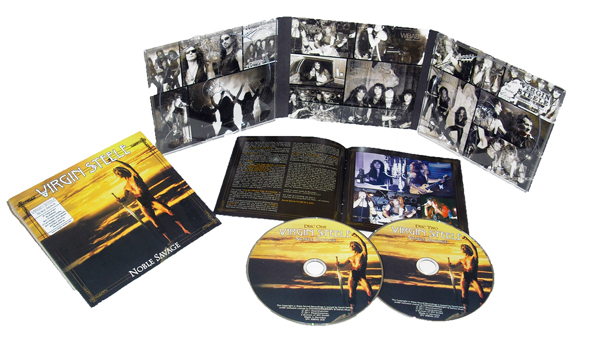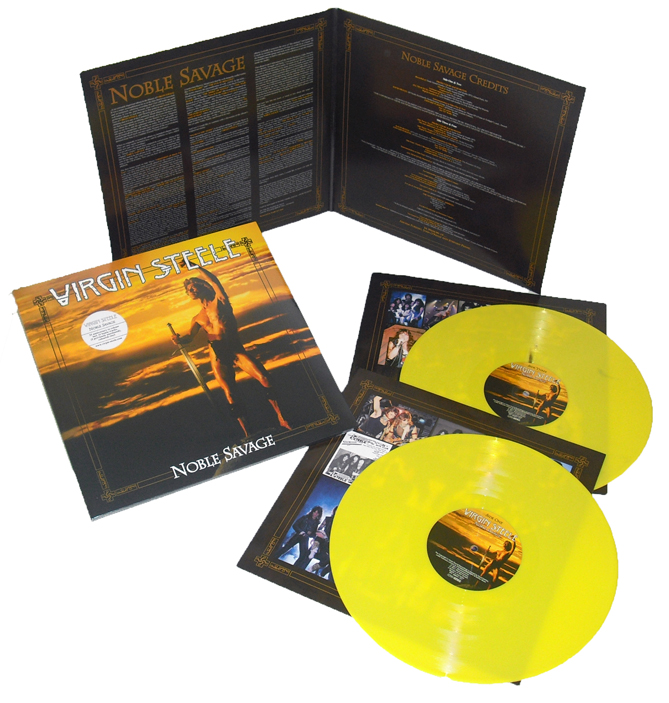 We also have two new shirts available on the Mechandise page...