25 May 2002
Current Tourdates
June 4 - THE UNDERWORLD (Camden High Street, Camden, London, NW1; opposite Camden Town Tube Station, below the WORLD´s END pub)
June 5 - THE MATRIX, Bochum / Germany (http://www.matrix-bochum.de)
June 7 - SWEDEN ROCK FESTIVAL, Sölvesborg / Sweden (http://www.swedenrock.com)
June 9 - GODS OF METAL FESTIVAL, Milan / Italy (http://www.godsofmetal.it)
3 May 2002
DEMON/ANGEL
Here's an interview/article from the Long Island paper GOOD TIMES announcing the VIRGIN STEELE concert of April 25th. All those who haven't been there: check out the concert-review of the show at "Mulcahy's" written by David Hilsenrath who saw not only Angels that night ...
29 March 2002
Countdown to Meltdown
VIRGIN STEELE will play the Metal Meltdown Festival in New Jersey on April 5th. The band will perform in the Paramount Theater at 9.30PM, and the set will be about 40 minutes. For further information visit:

http://www.metalfest.com
17 March 2002
Change of date for the show at "MULCAHY's"
Please note that the concert with ANGEL at "Mulcahy's" will be on APRIL 25th, not April 18th as announced before!! For tickets and further information regarding this particular date see the following:

MULCAHY'S 3232 RAILROAD AVENUE

WANTAGH, NY

www.mulcahys.com
3 March 2002
U.S.A. VIRGIN STEELE Concerts!
The band is currently organizing some shows in the states. The first will be on APRIL 18th at 9:00PM NY TIME at a place called MULCHAYS in WANTAGH, NY. Call 516-785-9398 for tickets and information.

VIRGIN STEELE will be Co-headlining with the great band ANGEL. Ticket prices are $10.00 in advance and $12.00 at the door. For further details see www.coallierentertainment.com.

Another show will be on MAY 18th at a place called JAXX in VIRGINIA. For information contact:

www.jaxxroxx.com
6355 Rolling Road
Springfield, VA 22152
Boxoffice & Info Line:
(703) 569-5940

More dates will be announced soon.
28 February 2002
Enter the Kingdom of the Fearless...
... if you have a good command of the RUSSIAN language! VIRGIN STEELE on the net goes multilingual - if you don't believe it, check out the links section.

A Sword of the Gods -
now passed over to Thorsten Retzlaff from Ludwigsburg / Germany, the lucky winner of the raffle-off at the NOISE / SANCTUARY website. Wield it in Strength, in Pride and Honor!

The right answer was - of course - B4. Ah, it wasn't so difficult to pick the right wrong De-guy from that selection, was it? ;-)

More Interviews Online:
Check out www.knac.com and www.metal-realm.com for some interesting reading in between.
31 January 2002
VIRGIN STEELE is currently rehearsing, preparing for upcoming Festival shows in Europe, plus several 3 hour shows which the band have been longing to do for some time now! These special gigs will happen in various Cities throughout Europe starting most likely .... the first week of June. Stay tuned for further details. In addition to the full blown Metal-Bombast that you've come to expect from the band, there will be a chance for those of you who heard about the "acoustic performances" that David & Edward did last year, to actually see/hear some of what that was all about! Yes it is true,...these 3 hour shows will feature some of those secret acoustic bits & pieces! Several of these concerts will be recorded & filmed for the future live album/DVD that the band wishes to release in the not too distant future! We will keep you informed here!!! Stay well Friends!!!

BY ZEUS,
VS Home Team

28 January 2002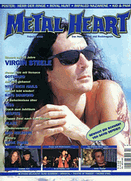 NO, this is not a toothpick! These are 48 inches of pure (virgin) steel ready to get clashed. SANCTUARY RECORDS and german METAL HEART magazine give you the chance to make it guided by YOUR hands! Go and seize it with both hands, 'cause there are only 7 days left.









In Vain

Sad but true - our help for you to log in to the live chat with David at the ROCK HARD website seemed to have come a little late, as their internet provider had to face technical problems, so that most of you true and faithful VIRGIN STEELE fans couldn't get a password and missed out on the chat-room. Anyway, David really did enjoy the NOISE STARBOARD and he surely WILL resume this kind of chat some time in the future! So ... don't be surprised then and keep the good vibes cominī in!
21 January 2002
As the online chat on www.rockhard.de is meant to be open for all VIRGIN STEELE fans around the planet, we want to come to assistance of all those who donīt speak German. Click here and follow the instructions.

Get your password immediately and donīt be late tomorrow! The chat will start at 6.00pm Central European Time.
18 January 2002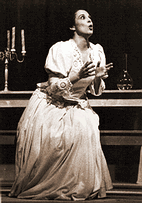 You've purchased or perhaps stolen (Haaaa...) "THE BOOK OF BURNING", youīve been listening to "The Chosen Ones" and you really dig those guest singersīs voices during the introduction section don't you? Sure, you already read about them in the interview. But if you want to learn more about one of those mighty operatic voices, then you should check out www.realmutoartists.com. It might knock you off your feet...
14 January 2002
Live attack - First 2002 concert dates confirmed!
The band is going to play the SWEDEN ROCK FESTIVAL (Sölvesborg, Sweden) on June 7 and GODS OF METAL (Milan, Italy) on June 9th. More to follow.
Live talk
The online chat with David DeFeis will happen on January 22 at 6.00pm CET at www.rockhard.de. Until January 20 you can give him also the 3rd degree at the NOISE STARBOARD

11 January 2002
So you think we forgot to ask David the most important question at all in our last interview?! Okay... Thereīll be another chance within the near future, and this time itīll be YOU who ask!!! - Stay tuned for the online chat with David DeFeis. Further details coming soon.

"VIRGIN STEELE rules" - yeah, who didnīt know that?! But did you also know that thereīs a channel of the same name at www.live365.com playing VIRGIN STEELE around the clock?
3 January 2002
Only four days to go until "HYMNS TO VICTORY" and "THE BOOK OF BURNING" are being released. Two weeks ago we talked to David DeFeis to get some background information on both albums. Now enjoy the promised interview - here it is.
19 December 2001
Greetings and salutations ...
... to all our friends and faithful metal listeners around the globe! Welcome back! Since an update on the news section is way overdue, we now have some updates for all those impatiently longing for another concert tour and another new album (even though "HYMNS TO VICTORY" and "THE BOOK OF BURNING" are about to be released in a couple of weeks):

David is pretty busy at the moment. Not only is he still doing interviews for the forthcoming releases, but he has also decided to record new material over the wintertime instead of summer as the band usually does. So, from now on, touring will (hopefully) be scheduled for the rest of the year, especially for summer. By the way, which season do we have now?

All the well-informed travelers on the internet may already know that "HYMNS TO VICTORY" is the album of the month on the NOISE / SANCTUARY website. The cover images, liner notes and all tracks are online, plus interviews with David and Edward. And thereīs still more to come! If you don't know this, you should check out this site.

Since David is giving lots of interviews for the media, why shouldn't we also have our own special interview?! Just check out this site in a couple of days again!
10 August 2001
Welcome, Friends...
Well, Headquarters has been off-line for a few weeks due to some technical difficulties, but we're back once again!!! Updating the status of the new release, The Book of Burning, all is moving along quite well and on-schedule.
As soon as production is completed on the next album, there will be some MAJOR revisions to this site as David will be working in direct conjunction with us. So check back soon. Until then, may you all remain Invictus!!!
17 July 2001
In light of the recent interview in which Jack Starr alleges that David DeFeis made comments regarding any other bands or their members therewith, please be advised that they are all fabrications & untruths. Virgin Steele has nothing but respect for Hammerfall, Manowar and any & all bands who are committed to their art, performance & musicianship.
12 July 2001
HAIL!!!! We hope this update finds you all well met!!! First off, we'd like to say "Thank You" for your patience with the maintenance (or more appropriately lack thereof) with the site. We are happy to report however, that updates will now be made on a regular basis as maintenance will be done within Virgin Steele Headquarters.
Big news on hand at the moment concerns the release of two new CDs this October. The first will be called The Book of Burning. It will contain re-recorded versions of classic tracks from Virgin Steele I, Guardians of the Flame and the EP, A Cry in the Night as well as a collection of other rare, previously unreleased tracks (both new & old) that the band has written over the past ten years.
The second CD will be an anthology of classic Virgin Steele material, spanning the years between Noble Savage through the House of Atreus, which will feature many different versions, remixes and outtakes of classics from those works.