INTERVIEW # 3:
HARD ROCKER MAGAZINE POLAND - INTERVIEW
Questions by Justyna Szewczyk
HR: Hi David, how are you doing?

ANSWER: I am fine thanks for asking. I hope all is well with you too. Cheers & a LOUD..."BY THE GODS & GODDESSES" to you, and all the Staff & all the Readers of Hard Rocker Magazine.

HR: Let me ask you about the early years. How did your journey with rock music have start? Did you know - as a young boy - that music will be the most important thing in your life? And who makes you to start listen to rock music?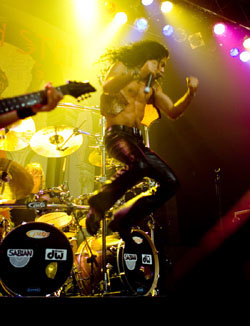 ANSWER: Yes I did know from a very early age that I wanted to be involved in Rock Music. My older brother and my sisters were involved in Music. They took lessons on piano, cello and violin, and then later my brother Damon and my sister Danae, had bands; often together, while my sister Doreen was training to be an Opera singer. So...I was surrounded by Music and also the Theater. My Father had and still has a Theater company and he puts on Plays. Between the Music and the Drama...I could not help but to turn out the way I did. I watched my Father's rehearsals and performances, (everything from Euripides to Shakespeare, to Albee,), and I watched my siblings rehearsals and gigs. I was introduced to the Music that they listened to, groups like Black Sabbath, Led Zeppelin, also the classical world...Mozart, Bach, etc...and I was intensely inspired by all of this. I quickly realized that I wanted to contribute in some way, so I joined my first band at the age of 11, and I have been singing ever since. I have also been able to combine my passion for Music and Drama, by developing my compositional skills, and doing all these concept albums, and bringing onstage the 3 "Metal Opera's that I have done.

HR: How do you remember music scene around you, around Virgin Steele, in 1981? How do you remember these years? Were you back then main composer in the band, or you worked with other guys on new songs?

ANSWER: Yes of course. I remember everything. Those were great years! It was a wild, exciting time and everything was endlessly new. I was going out every night to all the Rock Clubs, seeing all the great bands of that time, and also going to concerts, meeting women, and writing and recording and performing with VIRGIN STEELE. We became quite popular in our area straight away. The local Music Papers all wrote stories about what we were doing, and we quickly landed record deals on both sides of the Ocean. Yes I was always involved in the compositions and the musical arrangements, right from the beginning. I was able to understand and appreciate what needed to be done in the studio very early on, and I immediately took the bull by the horns and made things happen.

HR: Did you expect back then, that Virgin Steele will be so successful band?

ANSWER: I knew that there was a chance that things could go well if we worked very hard at it. Therefore we did work our asses off to make things happen. I sold the first album from the trunk of my car, even before we had any record deals. I got some money together, and managed to press up 5,000 copies of what was our demo. They sold out quickly, so I pressed up another 5,000. Before the second pressing was sold out, we had 2 offers. One was from Music For Nations in England, and the other was from a US label called Mongol Horde. Our first album, was in fact the very first release on Music For Nations. The catalogue number was MFN 1. After us they signed Mercyful Fate, Ratt, Wasp, Manowar, etc...

HR: Historical themes seems to be one of the most important subjects in the Virgin Steele lyrics. So, a strange question: if you could travel back in time, what would you change in world's (maybe ancient) history?

ANSWER: It should be understood that it is not necessarily my intention to give a History lesson with the Lyrics. I reference certain aspects of History to show that we are still operating within the same Human parameters as the Ancients. We have not really changed since those days, and what was relevant then...is still relevant today. But anyway...if I could go back in time and change something, hmmm...that is a tough one, as so much could be changed, and I am only one person, so...how much I would be able to do is anybody's guess.... But perhaps...it would be great to try to intervene and try to stop the destruction of the Library of Alexandria...so much was lost when they torched that institution...and also to try to stop the alignment of organized religion with government...

HR: Are you perfectionist? I heard somewhere, that during recording sessions you are able to mix the songs on and on, until someone will stop you.

ANSWER: I can be a perfectionist, but I do know when to say that a track is done. Every mix, every mastering can always been done differently. If you listen on all sorts of sets of speakers, you will notice different aspects of the mix coming out, but...all in all once I achieve the correct mood or feeling of a track, I am able to say that it is finished. However, if I do get the opportunity to explore a re-mix or something like that...I will usually take the opportunity to explore it. I may stick with the original at the end of the day, but I enjoy having the opportunity to try to improve a track or pursue it from a different angle if it is at all possible.

HR: With no doubt classic music was a huge influence on what you did with Virgin Steele. If you could choose some famous composers or musicians with whom you could record the album - who it would be? Liszt? Mozart? Chopin?

ANSWER: Yes it is true. I am a huge fan of Classical Music. I would have loved to have been able to work with Chopin or Debussy. I really like the Romantic and Impressionistic Schools of Classical Music. The extended harmonies of those "schools" really appeal to me, and have a strong effect on my emotional center.

HR: From what I know, before you started with Virgin Steele you played some cover songs - what was that exactly? Which were your favorites? And what covers would you like to record let's say with Virgin Steele?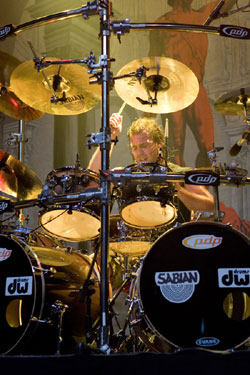 ANSWER: Everyone generally starts out playing covers. That is how we learn our craft and develop our ear. Listening to records and trying to figure out all the chords and riffs, is great training for musicians. In my very early bands, we did songs by Led Zeppelin, Queen, Black Sabbath, Aerosmith...Deep Purple, Mountain, T.Rex...Bowie and on and on...In VIRGIN STEELE, we occasionally do some covers. In the past in the live show we sometimes did some Zeppelin, and when Edward and I do the acoustic Set, we sometimes play Prince's "Purple Rain". For the fun of it, I sometimes play gigs around NY with a group I put together called, Carnival Of Souls. With Carnival Of Souls, we do more obscure cover tunes by people like Iggy and The Stooges, or Mother Love Bone...or some old Blues things...We perform them in a very improvisatory manner, as if we had just written them at the moment you are hearing them.

HR: I need to ask you about cooperation with the Polish heavy metal band Crystal Viper. What was your reaction when you firstly heard they're going to record "Blood And Gasoline"?

ANSWER: I thought OK great! I looked forward to hearing what they would do with it. I like the energy and passion that they brought to the track.

HR: Was it easy to work with them? I need to say, that the final result simply kills! And by the way, do you know that here in Poland fans used to call recording line of that song "Crystal Steele"?

ANSWER: Thanks very much. I am glad to hear that you enjoyed it! Yes it was pretty easy to work with them. I had a few e-mail conversations with them about the song, and I let them in on a few facets that the song has that they were not aware of. One thing that was strange for me, was that they changed the key that the song is in. I wrote it in Eb, and that is the key I recorded it in with VIRGIN STEELE. The Crystal Viper version is in F#, which is 3 steps higher. I had fun singing it in the higher key, and exploring another color with my vocals. I think the combination worked out quite nicely. Yes whenever 2 groups unite to do a track you get those funny names...like when Ian Gillan joined Black Sabbath...we had Deep Sabbath, Black Purple...and later we had the "VAN HAGAR" thing...Crystal Steele, Virgin Viper...it's all cool...

HR: Would you call yourself rock musician, or rather a classic musician?

ANSWER: A Rock musician. I have studied Classical music quite extensively, but...I am still a Rock musician.

HR: Virgin Steele always followed its own path, some albums had a better response, than others. Tell me please, weren't you ever thinking about turning your music into more commercial one, to have more fans like for example '80s US hard rock bands, such as Poison or Motley Crue?

ANSWER: Yes I have always followed my instincts, and performed the kind of Music that I believed in. I want each album to be different. I don't want to make the same album over and over again. I did not form VIRGIN STEELE to be the biggest band on the Planet, or to be the flavor of the month. I formed the band so that I could create the kind of Music that I wanted to listen to. I was not a big fan of that "Poison" style, so it never occurred to me to write songs like those bands you mentioned. I wanted to create Music that would be the Soundtrack for my world, so that is what I did, and that is what I am still doing. I can only create the kind of Music that comes naturally to me. I have no desire to force something out just to be the flavor of the month. So the answer is no. I never contemplated changing the Music for any commercial considerations.

HR: Talking about the Virgin Steele success: can you say "Victory Is Mine" with hand on your heart? Was Virgin Steele always the most important thing in your life, or you had some period that you wanted to give up, and start something else?

ANSWER: Yes I can, because I have done it my way, on my terms. VIRGIN STEELE, and Music...writing, singing, playing are my Life. I have created a Lifestyle around what I do. There is really no separation from what I am on the albums to what I am in my every day existence. I am the same person, living through the Music, and giving back to the Music. No I never wanted to give up doing this. There are times when it is difficult to continue, but the struggle is what keeps me committed. The most interesting lives are not the easy ones, but the ones that are fraught with turmoil.



HR: You have just re-released the classic "Noble Savage" and "Age Of Consent" albums - and from what I know you included there some bonus tracks...?

ANSWER: Yes there are 2 on each CD. On "AGE OF CONSENT" we have a rare track called THE CURSE, which is something we were exploring awhile ago, but never quite finalized. it is kind of in the Thrash style. It is very short and direct. The other bonus track is a cover of Priest's "Screaming For Vengeance". We recorded it more in a maniacal, Bluesy way, and added a new middle section. it is quite different from their version. I like how it turned out. It made sense to include it, as we also had the "Desert Plains" track, which we also did our own way. I think they both fit the attitude of the rest of the album. On NOBLE SAVAGE I included a re-mix of FIGHT TOOTH & NAIL, which is more psychotic than the original mix, and a new version of the song NOBLE SAVAGE.



HR: Why have you decided to release "Noble Savage" with totally different front cover artwork?

ANSWER: That has become a part of our style. We have done that several times already. I like having different covers. It is what editors do with books. Whenever a book is re-issued they change the cover. But also this time there was a more practical reason...I could not find the original slide of the original cover. I do have it...but...I could not locate it in time for the release.

HR: I know you started to work on the new album, few words about this? It will be some kind of concept album, like the last one "Visions Of Eden"?

ANSWER: I have started work on several new albums...I have written many songs, and I am still writing. Some of what I am working on is conceptual and some of it is not. What I will offer for the next album is still not completely clear yet to my mind. I might go with a collection of unrelated, or non-conceptual tracks, or I might jump right in with another concept...If you ask me again in 2 months...perhaps I will have a more definitive answer.

HR: When can we expect the VIRGIN STEELE DVD? You guys exist almost 30 years, and the only one video material released so far was the "Tale Of The Snakeskin Voodoo Man"...

ANSWER: We will do one...I can't tell you when it will be released, but we will do one. It will be a proper one, detailing the ideology and the history of what we have been about. I have tons of footage from the beginning up through last week.

HR: Are you perhaps planning some visit in Poland? Last time you were here on tour with Hammerfall, exactly 10 years ago. Do you have any memories from that visit?

ANSWER: I will know more about all concert dates in the weeks ahead. We are still in recording mode at the moment. Yes indeed I do remember! It was an amazing experience! The audience was really very kind and very responsive to what we were doing. I look forward to returning! And next time I hope to see a bit more than the concert hall! I would very much like to explore your Country...perhaps visit Chopin's home...Sorry about the long delay in returning…We hope to rectify that in the months ahead, and visit everyone everywhere.

HR: Thanks for an interview, David. All the best to you and the whole Virgin Steele family!

ANSWER: Thank you! Cheers & once again many thanks to you, and to your Readers and all the Staff! Thanks for listening and believing!

BY THE BLACK SUN & MOON...

David
Note:
David was also quoted in a huge BLACK SABBATH/HEAVEN & HELL article in GOLDMINE at: LINK

and BLABBERMOUTH picked up on this here at: LINK