28 March 2003
Lilith - Cast Of Characters
When we asked David DeFeis last night how he and Lilith are gettin' along at the moment, he told us the following:
"As of last Night/early this morning, I have committed 31 songs/ideas to tape. I am in the process of completing the composing/arranging on approximately 8 more songs. Then ... perhaps I will be satisfied that I have enough ground covered! The characters in this Tale are ...
Lilith - a Goddess / first Woman from a very remote time in the World's History, and first mate of Adam
Adam - he of biblical fame ... first Man ....
Eve - the second Woman created after Lilith, second mate of Adam
God - a puzzling, confused being, with powerful Lusts and a taste for Thunder & Vengeance
Samael - who is essential Lucifer / Satan
Three Angels - who are not terribly nice! No, not at all!
And ... there is another mysterious figure, that is more of an "Eternal Presence"...."
The results of our attempt to dig deeper into the plot ... :
"The very, very basic premise is:
God gives "Birth" to Lilith in the Night, and lusts for her. She awakens his Dark, sensual Nature. God is afraid of Lilith. He finds her ... "uncontrollable", so... he creates Adam in the Light Of Day, to be more in his own image. Adam & Lilith meet ... they try to have a hmmm... Romantic Evening ... but all goes very wrong. Adam wants to be on top ... (sexually & otherwise), and Lilith wants the same so... they fight! She pushes him away & flies off on her Glorious Green Wings! She winds up in the Red sea where she cavorts with Demons and has numerous children. The 3 Angels arrive to make her come back, but she refuses. So... they tell her OK, as punishment 100 of your children will die per day. We will kill them. Lilith says ... "ahhh Fuck off, I will be the one to do any killing around here!" and so... she is slowly turned from the Good Mother ... into the Terrible Mother. This is an exact parallel to what occurred with the destruction of the early "Pagan" Societies, by the more "organized" Religions. Meanwhile God creates Eve for Adam, and the plot ... thickens!
Of course this synopsis of mine, is extremely brief. Essential what we are dealing with are male / female relationships and the schism between the sexes which occurred early on in our Past."
METAL HEART & ORKUS present:

"Lilith" Rockoper:
24.06. Memmingen / Germany - Landestheater Schwaben (Premiére!)
26.06. Memmingen / Germany - Landestheater Schwaben
27.06. Dillingen / Germany
28.06. Memmingen / Germany - Landestheater Schwaben
30.06. Lindenberg / Germany
02.07. Memmingen / Germany - Landestheater Schwaben
04.07. Memmingen / Germany - Landestheater Schwaben
05.07. Memmingen / Germany - Landestheater Schwaben
06.07. Memmingen / Germany - Landestheater Schwaben
08.07. Füssen / Germany
11.07. Lindenberg / Germany

Advance ticket sale has begun!
Ticket-Hotline: (Germany) 0 83 31 - 94 59 16

For more info in German keep an eye on the LTS website
Your Shots
You've met VIRGIN STEELE and you didn't miss the chance to take a photo of you and the guys? Send it to virginsteele@optonline.net and we'll put it in the Gallery. And, while you're there, check out the Live photo section and also the FanArt gallery for the latest additions. And don't forget to read the Quote of the Month ...
BY THE HAMMER & THE NINE,
VS HOME TEAM
18 March 2003
BY THE GODS & GODDESSES, ETERNAL NOBLE GREETINGS DEAR FRIENDS,
Here's a short Hello & an update as regards what is going on with us.
As you know we are recording the music that will be featured onstage at the LandesTheater Schwaben's Premier of "LILITH", this June 24 in Memmingen, Germany. A CD of this Work will not be released prior to the Premier this Summer. "LILITH" is quite a long & involved work, that to complete properly, will take quite a bit of time. The second track alone, is 12 minutes long!
What you will hear if you attend these Theatrical Presentations, will most likely be rawer versions, and excerpts of the full amount of material. If the Theater actually used all the music, the performance would end up being about 3 days long, like in the Days of Wagner! But have no fear...this work will be released when it is ready.
Meanwhile we are also sorting out footage and concert recordings for a live album & a DVD. Most likely more concerts will be recorded before we feel that we are satisfied, but ... again have no fear ... we will release a live album, and in addition there is more music for another studio album or albums as well, which is being worked on. And ... last but not least, we are preparing for several Summer shows. In conclusion...The Future holds much to look forward to.
We Thank You All for your Truly Incredible Belief, Faith & Support!!! You are Eternal...You are the Flame that Never dies!!! We Wish Each And Every One Of You the Very Best!!! Stay Invictus!!!!!!!
BY THE HAMMER OF ZEUS,
David DeFeis
15 March 2003
We Rule The Night ...
... and the day ... in Hell! - Live concert date confirmed: VIRGIN STEELE will play on JUNE 28th at the "SUMMER DAY IN HELL FESTIVAL" in Bologna / Italy!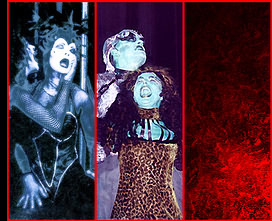 "... and he shall rule over thee." (The First Book of Moses, Chapter 3 / 16)
After "Klytaimnestra" and "Hel" the third part of the Heavy Metal-Trilogy about furious/wicked women deals with Lilith, one of the most controversial and fascinating female characters in mythology.
We first hear about Lilith in the Ancient Sumerian text "The Epic Of Gilgamesh". She is often equated with the Egyptian Isis, and the Sumerian Inanna. According to Jewish legend she was the first wife of Adam. From loam created like he himself, Lilith felt that She was Adam's equal, and a true match for him. Lilith wanted to remain independent, and not subservient to the male personality/ego. Adam, however, considered himself to be the one with the power. He claimed that it was decreed to him by God, that he should be the master over the woman.
In this myth about the ancient and perpetual battle of the sexes Lilith sprouts gigantic green wings and flies off from Adam. For this she is punished by God & turned from the "Radiant Sophia/Good Mother" into the "Terrible Mother", the slayer of children. Adam demands of God another helpmeet and gets Eve, while Lilith lives on as a demon until the Day of Judgment ... or the Day of Mankind's coming to True Gnosis.
For the "Lilith"-project the staff of the Landestheater Schwaben, Memmingen / Germany is looking for an enthusiastic Heavy Metal fan, who knows how to handle MS Powerpoint, video and other cinematic design means to produce diary-like cinematic contributions about the course of the rehearsals. These recordings will be aired/broadcasted each night on the Theatre square via a large screen.
The rehearsals will start on May 8 2003, the Opera premiéres on June 24 2003. If you are interested, call (Germany) 0 83 31 - 94 59 - 29. For information in German check out the LTS website.
Photos Update
Check out these photos from the show at the MATRIX last year sent in by Oliver Ritter. We have also added some more wallpapers and a few Winamp-skins plus a couple of shots to the last interview. Enjoy!
10 March 2003
Lion In Winter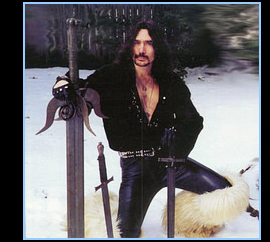 The Wrecking Ball of Thor & The Hammer of Zeus is still pounding out more Over The Top sounds! DeFeis is now 22 songs deep into the "Lilith" Project, and more songs are still coming!!! Will there be a double CD worth of Music???, we inquired. The response we received was: "Double, triple, quadruple - who knows!!! (and ... hey where's my Brandy?!)" said David, and he then continued "... I'm letting everything pour out now, the full & total Beast within, and whatever the final outcome is, ... hmmm ... well, it will be determined by how much of this material is captured correctly on tape. This has been one long Dark Winter Night for me, with no sign of the morning! I feel like the Maelstrom of Chaos, all swirling clouds & atoms striving to shape & form the massive formless void!!!". Yeah well, OK Dave, thanks very much for the ... errrrr update!
When we cornered Edward he had this to say: "... sounds like the next step in a musical evolution to me, I dig it!" And when we cornered Frank, he said, "... sounds like an Opera, sounds like ...Virgin Steele!!!".
Some titles that David mentioned are "BLACK CYPRESS", "ANGER NEVER DIES" and "ETERNAL REGRET" and "THE DEATH OF THE DAWN".
In other News, VIRGIN STEELE has been offered several Festivals in Europe for the Summer, and negotiations are underway now as we speak. Among these offers is a very prominent Italian Festival. Stay tuned for more in the days ahead.
More shows are being planned to film and be recorded for the promised live album/DVD. Also the Premier of "Lilith" on June 24 in Memmingen/Germany will be filmed for possible inclusion on the DVD. There might actually be several DVD projects. One would be Historical, the other Live Concert Sequences, and another the Metal-Opera history/making of. This might possibly be a Trilogy Concept like Queen did with their "Magic Years" Videos. Then again ... who knows, it might be an 18 Volume Encyclopedia, or all combined into one (Mind, Body, Spirit - all are One!!!). Whatever the outcome - we are sure it will be Epic!!!
Stay tuned also for the "Historical Cassette Player Contest"!!! More News on this in the Days ahead! Keep checking: www.virgin-steele.com
Interview

Are you ready for a Lesson in Composition/Harmony theory, Numerology and to find out about ... the RED QUEEN!?... Clara Ramas spoke to the "Voice of Mythology" and got behind, err... hidden messages! All that has been revealed can be read in this interview


IMMORTALLY COMMITTED ...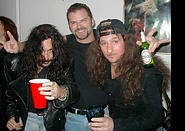 ... the band David DeFeis collaborated with not so long ago, is already known to some of you. In case you haven't heard of them before - here's an interview Mike Festa, the drummer of IMMORTALLY COMMITTED, did. If it made you curious about the band and their music, check out their website (find the address at the end of the interview)!
More shots ...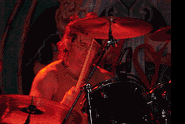 ... from the DOWNTOWN gig can be found here. Already on the page for about two weeks, but we didn´t inform you about it. Sorry, folks ...
... and even more shots ...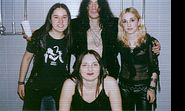 ... from the "Nit de Reis" festival this January. Already uploaded two weeks ago, but, err ... Only a few photos, though. So if you out there have more pictures taken at that show, feel free to e-mail them us to virginsteele@optonline.net and share them with VS fans around the world!
You have a good command on Italian language but not a single VIRGIN STEELE album in your collection!? Then beware of the Hammer of Zeus (it might hit your temple ...) and better check out www.truemetal.it immediately to read these VS album reviews!

That's all for today. Stay ... INVICTUS!!!
BY THE GODS & GODDESSES,
VS HOME OFFICE

24 January 2003
Welcome to the Wrecking Ball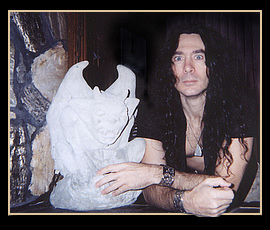 David DeFeis is currently locked in the new studio which he has started building. This Studio that David has named "THE WRECKING BALL OF THOR", is currently occupied with the recording of the music that David is composing for his new Metal-Opera, based on the Ancient Sumerian Character ... LILITH. This Completely & Insanely Over The Top Work will premiere on the Theatrical Stage (performed by THE LANDESTHEATER SCHWABEN) this coming June in Memmingen, Germany. Other Premieres will also take place in Munich & Cologne.
The resulting soundtrack album which will be issued sometime after, plus all subsequent VIRGIN STEELE albums, will henceforth bear the following: "A HAMMER OF ZEUS PRODUCTION", RECORDED AT: THE WRECKING BALL OF THOR STUDIO! Yes, things are a bit wild out there on the "Sacred Island of Long"!!!
When asked, David said that the new music sounds like the next stage in development from THE HOUSE OF ATREUS. It is Bombastic, Epic, Romantic, Barbaric, Complex and yes also quite Un-complicated at times, and always containing real memorable/sing-able melodies. It can be Aggressive & Tender and perhaps sometimes comes across as HOUSE OF ATREUS meets THE MARRIAGE Of HEAVEN & HELL" !!!??? This listener was privileged to hear a portion of one track and I can only say ...: "EPIC-THUNDEROUS-HUGE"!!!
In addition to this Major Opus, another completely different set of songs is also beginning to be worked on for another completely different album!!! David won't say much about this one at all! (He didn't reveal all that much about LILITH either!) The Man is being very secretive about everything these days! When hard pressed, he said: "I'm composing like a wildman ... we are rehearsing both new material and still adding other songs to the Live Set, that we've never done before, like WINGS OF VENGEANCE and SERPENT'S KISS, for example, and ....... I'm drinking more wine than usual. I've also been enjoying the Scotch more than ever!"
And, we can tell you this, ... yes, a Live album/DVD is still being discussed for release over the next year! This will feature a Historical Perspective plus various Live Show footage from the latest performances and those yet to come! Said Mr.DeFeis and I quote: "I really want people to experience the Band live, that is why the DVD is so important. We are a much better Band now than we ever were! I want people to hear & see Edward roaring up & down the fret-board buzzing like an angry wasp! I want people to hear & see the Thunder of Josh's bass and stage action, and I want people to experience Frank's full flight powerhouse drumming! I believe he is the finest drummer in Rock today!!! I want all to witness the unusual chemistry that exists between us".

And ... speaking of the Live Concert Scene, negotiations are underway for further European dates, which will include some prominent Festivals. Stay tuned for further developments!
Best Regards,
VS HOME OFFICE

18 January 2003
Hard Facts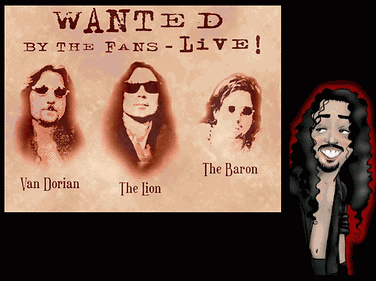 Yes, it's true, no VIRGIN STEELE show scheduled for today ... Nevertheless there'll be a party tonight - and, not just because it's Saturday again. Guess why young Josh is smiling in the picture here ... Just study these files and find out why. VS Fan and Cartoonist Maria Picassó already knows.
15 January 2003
Return of the Kings
Only a few days after their return from Spain to Long Island VIRGIN STEELE have just gone into total recording / arranging mode to give birth to that wicked creation which will, by the beginning of June, descend onto earthly theater stages ...

If you visited the "Nit de Reis" festival - which, frankly, should have been called "The four Kings" (btw., what is Spanish for this?) this year ... ;-) then you may still remember that big (birthday) party and its great audience! If not, just read this review written and sent in by somebody you may have heard/read of before and who found VIRGIN STEELE's appearance at the "Nit de Reis" festival way too short. Anyway, recalling those moments has been a pleasure, though, as we were told.
Did you take photos at the VIRGIN STEELE show in Barcelona? If so, we'd like to put them on the website by adding them to the concert review. Just e-mail them off to virginsteele@optonline.net!
Meanwhile check out the review of the DOWNTOWN gig again for more live-photos from that show. We have added some more cool shots here!
Last but not least, we like to inform you about the Official Spanish VIRGIN STEELE Fan Club which welcomes all of you and provides you with information in ... well, Spanish of course!

2 January 2003
On the Wings of the Night ...
... VIRGIN STEELE come riding into the Old World again to ring 2003 in with a bang: This Saturday, on January 4th the band will perform in Barcelona / Spain "Palau Sant Jordi" at the "Nit de Reis" festival! For more information check out www.rocknrock.com.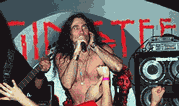 To get you in the mood, put the laser in the groove of your favourite VS album and turn your stereo to eleven. Or ... read the review of the DOWNTOWN gig written by that fortunate guy who saw VIRGIN STEELE live in concert for the third time in only/just one year. There is no justice, we know ... But for now, Barcelona you better watch out - iremos a por ti!!!
Not a House of Dust ...
... but THE HOUSE OF STEELE (www.virgin-steele.kit.net) has opened its doors to provide you with information on the band both in English and in Portugese! Check it out!