23 December 2002
VIRGIN STEELE live at THE DOWNTOWN
Those of you with soar throats and aching necks may still remember what your ears still keep ringin´ on ... To those who haven´t been there, here´s last Saturday Night's Set, which lasted 3 hours: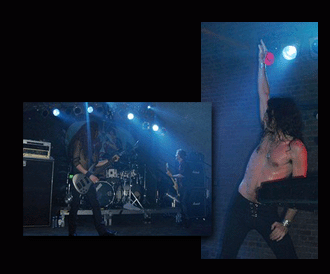 1.INVICTUS
2.LIFE AMONG THE RUINS
3.VOICE AS WEAPON
4.CONJURATION OF THE WATCHER
5.FROM CHAOS TO CREATION
6.TWILIGHT OF THE GODS
7.GOD OF OUR SORROWS
8.VOW OF HONOUR/DEFIANCE
9.DUST FROM THE BURNING
10.A TOKEN OF MY HATRED
11.VOX INTRO / CROWN OF GLORY
12.WHEN THE LEGENDS DIE
13.THY KINGDOM COME-INTRO
14.GUITAR SOLO / VOX SOLO BURNING SWORD!!!
15.GREAT SWORD OF FLAME
16.A SYMPHONY OF STEELE
17.THE WINE OF VIOLENCE
18.IN TRIUMPH OR TRAGEDY
19.RETURN OF THE KING (COMPLETE WITH LORD PRIAM'S SEVERED HEAD)!!!
20.FLAMES OF THY POWER
21.DRUM SOLO
22.(Improvised intro incorporating Whole lotta Love) I WILL COME FOR YOU
23.KINGDOM OF THE FEARLESS
ENCORE:
1.A CRY IN THE NIGHT/DON'T CLOSE YOUR EYES (Acoustic)
2."MARRIAGE THEME" into VENI VIDI, VICI
3.NOBLE SAVAGE
ENCORE #2:
1.THE BURNING OF ROME (CRY FOR POMPEII)

8 November 2002
Exclusive Interview Preview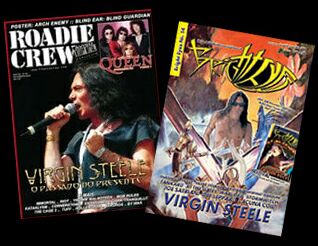 Special Thanks to ROCK HARD Magazine of Spain for allowing us to re-print this Interview, which is exclusive to them.
If this isn't enough .. then check out "Roadie Crew Magazine - The Heavy Metal Magazine From Brazil" #46 and the German magazine "Bright Eyes" #14.

Also check out this fine wallpaper sent in by Oliver Ritter. (340kB)
23 October 2002
Of Gravity and Chemistry
Sit down with David, Ed and Dave, make yourself comfortable and have a breather with them. And ... enjoy their conversation as they look back on the band's eventful journey so far and into its future! You may have to take a deep breath afterwards ...
18 October 2002
In Concert
VIRGIN STEELE WILL PERFORM A VERY SPECIAL CONCERT ON SATURDAY DECEMBER 21st at: " THE DOWNTOWN", in FARMINGDALE, LONG ISLAND, NY. The Address is:
THE DOWNTOWN 190 MAIN STREET, Farmingdale, NY 11735
Telephone: (516) - 293 - 7700
Web Site: www.thedowntown.com
Tickets are available at the Downtown box office, or Ticketmaster.com and all Ticketmaster locations.
DOWNTOWN BOX OFFICE HOURS ARE:
Monday: Noon to 7:30 PM
Tuesday thru Friday: 12 noon to 1 AM
Saturday: 4 PM to 1 AM
Sunday: 5 PM to Midnight
*** The Band will play an extra long set, and ... this show will be recorded for an upcoming live album/DVD!!!
VIRGIN STELE'S SHOWTIME start, will be between 11:00 & 11:30 PM. This Night will be hosted by Long Island's Legendary Fingers and WBAB, and in fact this is his Annual Kissmas Party Special Spectacular!!!
14 October 2002
Plans & Projects
VIRGIN STEELE are currently preparing for a few more end of the year USA Concerts. In addition plans are in the works to bring the band back to Europe at the beginning of the New Year. In addition, David DeFeis is heavily involved with composing for two major works. One is a Metal-Opera type of thing based on Ancient Sumerian Myth Cycles, while the other is shrouded in mystery! Presumably it is to be a collection of songs based on whatever has been going on in his mind these past two years. He hasn't told us anything directly, so we really have no idea. He just says ... "It will be very heavy and unexpected". The first project based on the Sumerian Myths will premier onstage in Germany this coming June. Cheers, VS HOME OFFICE
Picasso's Granddaughter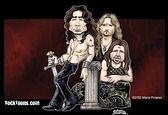 We're not 100% sure if she's really his granddaughter ... so, just take a look at this fine work and decide for yourself if it's proof enough. VIRGIN STEELE have entered the Hall of Cartoon Fame. Incredible ... Keep up the good work, Maria!
10 October 2002
Postcard From Josh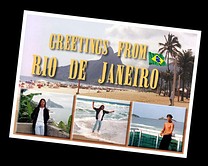 We read here that somebody asks where Josh spent his holidays this year... Well, he sent us a postcard (!) asking us to forward it to you. Er, somehow it got lost in the office, but just the other day we came across it by chance and now we don't want to withhold it any longer from you! The back reads as follows: "Greetings V.S. fans!!! I had a great time on a holiday in Brasil recently. Partying with the fans was a blast! I hope to return very soon ..... You rule the night!!!!!" Josh "The Sorcercer" Click (the right spots) to enlarge;-) Also, find a couple of new live-shots of him and the band here on the photo page.

You're running out of interviews to read? Here is one by Daniel Michael Dees and one conducted by Enzo Ferrara, in Italian. Enjoy!
7 October 2002
THE DESTRUCTION OF L'AMOURS - or: Beware of the sprinkler system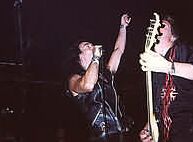 Just sent in from our man at VS live concert watch, David Hilsenrath: the concert review of the L'AMOUR gig of September 21st 2002. So ..., re-live that Saturday night and read his report here!
1 October 2002
New E-mail Address To Get In Touch With Us
Do you have a request or do you want to get in contact with the band? Send your mail to our new address virginsteele@optonline.net.
27 September 2002
They've returned - VICTORIOUS!!!


The wait, the search is over. Both the Band's debut "VIRGIN STEELE - I" and its follow-up "GUARDIANS OF THE FLAME" - much desired and hard to find collectors' items - are being re-released on these days - 23rd September for Europe, 26th November in the States - at last. Besides (the usual unusual) bonus tracks

they come with an interesting packaging - giving you a rare and often intimate glimpse into the Dark Past of the Band. When a few of the songs were re-recorded for "THE BOOK OF BURNING" CD, (released earlier this year), they were transfigured, and re-born, utilizing today´s recording technology and the fire-power of the band as it exists now. Older tracks like "Children of the Storm", "Guardians of the Flame" and "The Redeemer" have proved on "THE BOOK OF BURNING" that they can stand the test of time. And now, for your listening pleasure, and ... for the first time ever available on CD, you can hear these songs, (plus a whole lot more), in their ORIGINAL form, as they first appeared on the early releases. What shall we say, as far as we know "VIRGIN STEELE - I" and "GUARDIANS OF THE FLAME" are also receiving only good reviews. If you haven't done so yet, read one of them here or here or while you're at www.revelationz.net check out the reviews on almost everything else VIRGIN STEELE have released so far!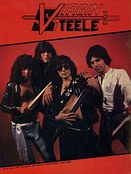 In 1982 Shrapnel Records released a compilation album entitled "U.S. METAL Vol.II" which contains "Children of the Storm" by VIRGIN STEELE. It was probably this track that induced two Heavy Metal fans who later founded a band themselves called METALLICA to write a fan-letter to VIRGIN STEELE then! Well, new generations move up and the heirs of Metal carry on. How the first two VIRGIN STEELE records appeal to one of them, you can read here.

Yes, we know that you check out often the self-updating part of our website (the guestbook). But if you should have overlooked Neon Blonde's message, then we recommend to check out this interview on her website.
15 July 2002
New York, New York ...
On Saturday September 21st VIRGIN STEELE will perform at L'AMOUR , the premier Rock/Metal Venue in Brooklyn, NY USA! For tickets and further information check out www.lamourrocks.com or contact:

L'AMOUR
1545-63RD STREET
BROOKLYN, NY 11219
TEL: 718-837-9506
4 July 2002
Concert Reviews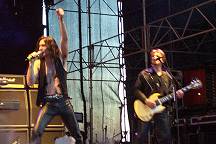 Read David's review of the JAXX gig and take a look inside his tour-diary from June when VIRGIN STEELE hit European stages again. Thanks to Gail Flug and Naughty for providing the photos!

13 June 2002
No Rest For The Fearless
After last week's European assault, the band has just returned to their Long Island Stronghold and has started to work on the re-release of "VIRGIN STEELE - I" and "Guardians of the Flame". For the first time officially released on CD, both albums will be out in Autumn. The re-issue will also include the EP "Wait for the night".

Dates for another tour later this year are in the process of being finalized. For now, check in again in a couple of days to read the reviews of the gigs from last week.