25 September 2003

Win A Signed VIRGIN STEELE CD!
Visit Prog4you.com and try your luck: three signed VIRGIN STEELE CDs are waiting impatiently for you!
7 September 2003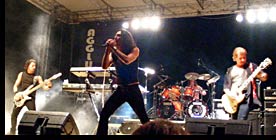 A Royal, Noble & Very Special Thanks ...
... (MILLE GRAZIE) goes out to all who made the AGGLUTINATION FESTIVAL possible, and so Very Special for us. Cheers & Hats off to:
Gerardo Cafaro - Promoter
Vincenzo Fuccella - Stage Director
Graziano Sarubbi & Monika Jungermann - Friends, Helper, Translator
V.I.P. STAFF: Cristian Guzzo, ( We'll meet you at ... GATE OF KINGS) Carmela Cafaro, Gaetano Spaltro, Carmine Coringrato, Nicola Micali and friend, Sabatino Iannibelli, Igor Marino, Lorenzo Viceconte, Gianluca Quinto und Bruder, Cristian, Carlo Lecce, Raul Nardini, Nico Longo a.s.o.
See you all again soon!!!
BY THE HAMMER & THE NINE!
VIRGIN STEELE

P.S.: Thanks to Enzo Ferrara from Truemetal.it too, who wrote a report of the VS concert at the AGGLUTINATION METAL FEST. Read about his impressions and check out the photos taken and sent in by Stefano Guercia here. Further more you will find a nice batch of photos taken by Josh´s electric eye ...er... digital camera ...
6 August 2003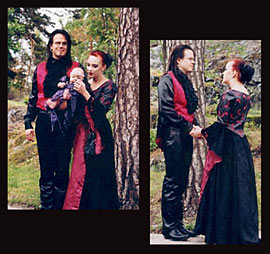 Heaven And Hell Pt. I
Walking down the aisle to the sounds of the "Marriage of Heaven and Hell" theme?... They really did it!!! Juhani lead our Sarita to the altar and what they were accompanied by was indeed that noble tune that you all know. Both got married recently and these photos they sent us should be proof enough that this marriage has a promising start. Congratulations and a bright future to you!
Heaven And Hell Pt. II
Thanks to Alessandro who went through a Summer Day in Heaven and Hell and sent us his report, all of you who are going to see VIRGIN STEELE live at the 9th AGGLUTINATION METAL FESTIVAL in Chiaromonte, Italy this Saturday get a glimpse what awaits you ... for as we were told by David Hilsenrath the Hammer of Zeus is gettin´ ready to rumble!
18 July 2003
Dear Friends,
As regards the confusion of the METAL DAYZ FESTIVAL in SWITZERLAND, the Band is not performing. This announcement of their involvement was a mistake of the group's booking agency. VIRGIN STEELE never confirmed or committed themselves to this gig. It was incorrectly and prematurely announced that they would appear. Sincere Apologies go out to all the Fans and to the Venue and Festival Organizers for any inconvenience.
Best Wishes & Kind Regards,
VS HOME OFFICE
M.G.
16 July 2003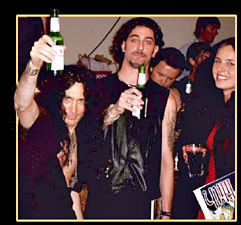 BY THE GODS & GODDESSES,
I WISH TO EXPRESS A ROYAL THANKS & AN ETERNAL ROUND OF DRINKS FOR THE GOOD PEOPLE OF: MEMMINGEN, KEMPTEN AND ALL THE OTHER SURROUNDING TOWNS IN SOUTHERN GERMANY. THANKS TO YOU ALL FOR COMING TO WITNESS THE INSANITY THAT IS THE LILITH WORK, AND... ACTUALLY ENJOYING IT!!!
A NOBLE THANKS TO ALL AT: THE LANDESTHEATER SCWABEN, DIETRICH STERN & FAMILY, WALTER & JOSEPHINE WEYERS, PETER KESTEN, ULRIKE AISTLEITNER, EVA RODEKIRCHEN, PATRICK STAMME, PIET MOEDEBECK, LISSIE POETTER, JOCHEN GANSER, PETRA SCHULZ, SABINE MANTEUFFEL, JENS FISCHER, CHRISTOPH GERKE, MARK BECKER, AND ALL THE CREW!!! CHEERS TO HOTEL WEISSES ROSS, PEDRO EIS, WEINTRODDLER SCHLUMINGER, PIZZA ROMA, CLAUDIA AT VALENTINO'S, EACH & EVERY APOTHEKA (for keeping me alive & walking), AND EVERYONE WE MET ON THE STREETS!!! THANKS FOR ALL THE GLORIOUS CARAFES OF WINE & THE MOUNTAINS OF SCOTCH!!! OUR STAY IN MEMMINGEN WAS A MAGICKAL TIME THAT WE WILL NEVER FORGET. THE WORK, THE SWEAT, THE BLOOD, THE PERFORMANCES OF POWER, WILL REMAIN FOREVER IN OUR MIND, BODY & SPIRIT!!!
GLORIOUS CHEERS & THANKS MUST ALSO GO TO: SANDRA EICHNER (hope you enjoyed the Exclusive 6:00 AM Interview!), & ALL AT METAL HEART, FOCUSION P&M, ORKUS, POWER METAL.de, Stern, Bayerischer Rundfunk - TV, Andreas Schöwe & Hammer, Radio Free FM, Metal-Inside.de, Süddeutsche Zeitung, The Memmingen Morning Post & each and every other magazine, webzine, radio & TV that was in attendance!!! A Special Thanks to the Folks who own the 1947 Oldsmobile, and the Fireworks brigade!!!
Thanks to all at: Sanctuary Records, Blue Grape, Markus Staiger, Jay Lansford, Yole Altieri, etc....
A LOUD MILLE GRAZIE TO: THE CITY OF BOLOGNA AND ALL WHO WERE IN ATTENDANCE FOR THE "A SUMMER DAY IN HELL FESTIVAL"!!! A MORE TRIUMPHANT DAY IN HADES WAS NEVER SEEN BEFORE OR SINCE!!!
Hats off to: STORMLORD, EXTREMA, PRONG, ANNIHILATOR, LACUNA COIL, OPETH, TYPE O NEGATIVE, (thanks for the Water fight ... and sorry about the mess), BLIND GUARDIAN, ROCK TV, Andy Kuntz from VANDEN PLAS and Maia, Alex & Fabio from Rhapsody, and all at the after-show party.
We look forward to seeing all of our Friends again at the AGGLUTINATION FESTIVAL on August 9, 2003!!! This will be a long headlining show, featuring several interesting surprises... (we hope)!!!
TO ALL, THANKS FOR YOUR ETERNAL FAITH, HONOR, BELIEF & SUPPORT!!! To answer the current question, YES, the music from the "LILITH OPERA", will be released next year. In addition we are also working on the DVD and a live album will happen, as well as a full scale tour.
BY THE BLACK SUN & MOON,
D
14 July 2003
VIRGIN STEELE to headline the AGGLUTINATION FESTIVAL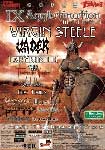 To those who´ve prayed to the Gods ... You have been heard! For a second time this summer VIRGIN STEELE will return to Italy to play an extra long concert - just as a proper headliner band should do - at the 9th AGGLUTINATION METAL FESTIVAL in Chiaromonte, Italy on August 9th. For more info check out the AGGLUTINATION website.
Find some new pictures in the Photos section sent in by Filippo Bigazzi taken at the SUMMER DAY IN HELL festival last month. Thanks to you Filippo, and ... to all of you who also were there - keep your photos and reviews coming via e-mail! The set list of the concert was:
1. DAY OF WRATH intro
2. A SYMPHONY OF STEELE
3. VOICE AS WEAPON
4. INVICTUS
5. WINGS OF VENGEANCE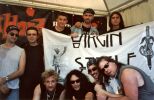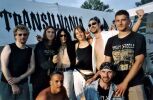 6. BY THE GODS
7. THROUGH BLOOD & FIRE
8. EMALAITH
9. THROUGH THE RING OF FIRE
10. BURNING OF ROME
11. THY KINGDOM COME intro
Guitar/Vocal SOLO
12. GREAT SWORD OF FLAME
Lilith - The Premiére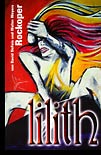 To give you an impression of the LILITH premiére show and what was going on along with it in Memmingen, we have taken some photos at the final rehearsal (which was open to the public) as well as at the autograph signing session, and of course at the theatre on the night of the premiére! There was also a film team around shooting a report / documentary film on LILITH which will be broadcasted on german tv within the next weeks (We'll keep you informed!).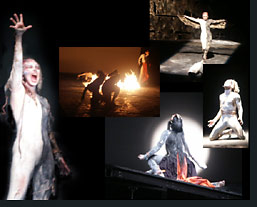 If you're interested in a copy of the LILITH programm book (90 pages full of photos, lyrics and other interesting and entertaining footage) or in a LILITH t-shirt, send an e-mail to the Landestheater Schwaben. Please notice that it will not be possible to reply to your request between August 4 and 23.
The next planned performances are:
31.12.03 Memmingen - Landestheater Silvester
16.04.04 Memmingen
18.04.04 Memmingen
20.04.04 Memmingen
Options:
23.06.04
24.06.04
2-4 dates in the end of june beginning of july 2004
For a review on LILITH and an interview conducted with David DeFeis on the premiére night visit www.metal-inside.de (in German only)!
And, if you can´t get enough ... check out the Argentinian Clamando Venganza Metal Webzine, go to "Notas" and find ... another interview!
18 June 2003
By the Hammer of Zeus ...

... and the Flames of the Black Star! Another VIRGIN STEELE website launches from northern skies and provides you with information in Finnish and English. Keep up the good work, Sarita & friends, and let the flames shine brightly!
5 June 2003
The Answer Is To Be Found ...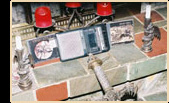 What was once used to bring forth mighty epics and noble tales ... can now be yours! Well, only if you've studied these pages carefully enough, of course. Then you may have a chance to win this contest. Check out the details!
Autograph Session
In addition to the premiére of "Lilith" on Tuesday 24 June 2003, an autograph signing session with David DeFeis and Josh Block will take place at the Music-Land Metal Shop in Memmingen, Herrenstrasse 11 at 5.00pm. Cool drinks available!
How to get here:
Take the 2nd exit at the roundabout at autobahn exit Memmingen-Nord, proceed straight, crossing 3 crossroads. Turn left at the next T-crossroad, proceed straight, crossing the next traffic lights and drive through the Westertor. Proceed straight until the pedestrian precinct, turn right onto Herrenstrasse, Music-Land Metal Shop will be approximately 50m down on your right hand side. SEE YOU THERE!!!

Introducing Lilith
If you have a good command of the German language and you check out the LTS website regularly, then you may have already read that this Friday evening is going to be a quite interesting one. Read more here ...
Autogrammstunde
Zusätzlich zur LILITH Premiere am Dienstag den 24.06.2003 findet im Music-Land Metal Shop in MEMMINGEN, Herrenstr.11 um 17.00 Uhr eine Autogrammstunde mit David DeFeis und Josh Block statt.
Für gekühlte Getränke ist gesorgt!
So findet Ihr uns :
Autobahn-Ausfahrt Memmingen-Nord-Kreisverkehr 2. Ausfahrt (geradeaus), dann immer geradeaus über drei Ampeln bis eine T-Kreuzung kommt; dann links abbiegen und wieder geradeaus über eine Ampel und durch das Westertor. Geradeaus runter bis zur Fussgängerzone, dann rechts in die Herrenstrasse, 50 Meter auf der rechten Seite. SEE YOU THERE!!!
online Stadtplan von Memmingen

22 May 2003
Steele meets Steele ...
on A Summer Day In Hell, Saturday 28th June Bologna / Italy
The schedule:

BLIND GUARDIAN: 21.30 - 23.30
TYPE O'NEGATIVE: 19.50 - 21.00
OPETH: 18.25 - 19.25
VIRGIN STEELE: 17.15 - 18.00
LACUNA COIL: 16.05 - 16.50
ANNIHILATOR: 15.00 - 15.40
PRONG: 14.05 - 14.35
EXTREMA: 13.15 - 13.45
STORMLORD: 12.25 - 12.55
GUILTY METHOD: 11.40 - 11.05
ADIMIRON: 11.00 - 11.20
9 May 2003
The Latest info regarding the LILITH PROJECT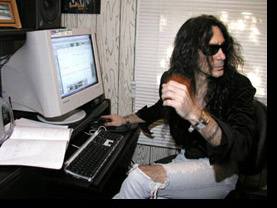 David DeFeis has completed over 40 pieces of Music for this Work. He has recorded and sent over to the Theatre for the upcoming performances 11 (eleven) Instrumental Pieces and 18 (eighteen) Songs. Hopefully the majority of these compositions will actually be heard in the final outcome of the Theatre's Presentation!

These Works, plus all the others not used but already prepared, make enough material for perhaps the next 3 or 4 VIRGIN STEELE albums, and in addition to this music, David tells us that bedsides these works, he has many more songs in various stages of completion! This past Winter has been incredibly prolific for him! Some titles we were allowed to hear were: "WHEN GODS DREAM(RAGING LUST IN HEAVEN)", "AND IN THE RED SEA...", "THE HIDDEN GOD", "ADORNED WITH THE RISING COBRA" (which is a massive Epic!), "IN THE PRISON OF YOUR SLEEP", "THE INEFFABLE NAME", "ANGEL OF DEATH" and "CHILDSLAYER".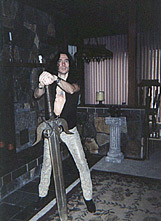 We believe these works to be epic, bombastic and totally full on Metal, sort of like Conan the Barbarian meets Wagner in a dark gothic cave! Several tracks contain a very eerie, dark haunting quality that would be very much at home in a Horror Movie such as "The Omen", "The Ninth Gate" or "The Exorcist" ... ! All are extremely heavy, moody and melodic. It is music to accompany either the Ending of the World, the Birthing of a New World or both!!! The Works we heard feature David playing all of the instruments, orchestrations and vocals. We sincerely hope these songs make their way onto a CD soon, as it is our belief that these are some of the finest compositions ever to emerge from him.

When we asked David about this "Metal-Opera", he told us: "I don't think of it as a Metal-Opera. What it really is, ... is the Soundtrack for a Major Motion Picture that has yet to be made! And By The Fucking Hammer Of Zeus .... I will make this film one day!!!" He calls this Work ..."A Barbaric-Romantic Movie Of The Mind".

The Premier in Memmingen/Germany will take place on June 24th 2003, with many more dates following. And do not forget VIRGIN STEELE will be appearing live at "THE SUMMER DAY IN HELL FESTIVAL" in Italy on June 28th, and the AGGLUTINATION FESTIVAL on August 9th also in Italy.

Stay tuned, for the best is yet to come!

Best regards,
VS HOME OFFICE
16 April 2003
Please take notice of the slightly changed tour dates of the "Lilith" guest-performances:
27 June Dillingen (Stadtsaal), ticket reservation / phone: +49 - 90 71 - 5 41 95
08 July Füssen (open air), ticket reservation / phone: +49 - 83 62 - 90 31 47
11 July Lindenberg (open air), ticket reservation / phone: +49 - 83 81 - 8 03 28
Note: the performance at Sonthofen is cancelled.