12 July 2004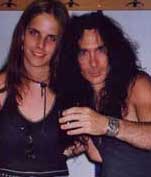 ANOTHER IN DEPTH INTERVIEW ...
"ROUND 4": Clara Ramas discovers more about Tradate, the fans and composition from David DeFeis and the band. This is actually an ongoing dialogue, so perhaps you should read the earlier ones first Noble Cyber Surfer (read talk #1 and talk #2 and talk#3 here) ...
26 June 2004

Check out the Power, Magick, Mystery & Might of VIRGIN STEELE in TRADATE, ITALY. Setlist here and more photos here!
24 June 2004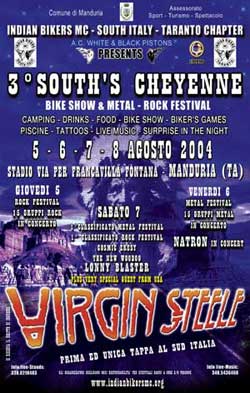 Just when you thought you could relax .... They're coming back!!!
VIRGIN STEELE is confirmed as the Headliner for THE SOUTH'S CHEYENNE METAL ROCK FESTIVAL INTERNATIONAL BIKER SHOW
Date: 7th August 2004
City: Taranto South Italy
Venue: Stadium Open Air
Ticket price: Euro 15.- (for three days: 6, 7 & 8)
Date of VIRGIN STEELE'S performance: Saturday 7th August 2004
For more information contact:

DRAGON PRODUCTIONS
a division of A.S.S. Concert & Promotion GmbH
Rahlstedter Strasse 92 a
22149 Hamburg
Germany
Phone: +49-40-675 699-36
Fax: +49-40-677 89 33
http://www.dragon-productions.com
http://www.ass-concerts.de
OR: Sol Music-c/o Tiziana Arrigoni
Via al Ticino 27,
6514 Sementina
Switzerland
Phone office +41 91 857 21 60
Fax: +41 91 857 21 60
www.solmusic-production.com
16 June 2004

The Best Guitarists Ever
Check out who made Alanna Evans' Top 10 Guitarist slot ...

"EDWARD PURSINO - Overshadowed by the impressive presence of David DeFeis, Edward Pursino has been mucking about in Virgin Steele since the band's first serious incarnation with "Noble Savage". He's dazzled us for over fifteen years but rarely recieves the nod he deserves. He rips, shreds and inspires. Hot Spots: Virgin Steele: "Noble Savage", "The Marriage of Heaven and Hell II", "The House of Atreus Act II" "
Check out the whole Top 10 Here.
03 June 2004

Concert canceled
Unfortunately the Valpolicella festival VIRGIN STEELE were to do on July 25th has been cancelled. Fear not ...The Tradate Festival in June is still going on!!!


21 May 2004

CARNIVAL OF SOULS concert review...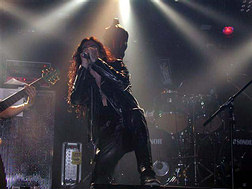 Read Edmund Alscott´s report about the gig at MULCAHY´s on May 8th and check out some photos.

Concert info
Find more information on the Tradate Iron Festival 2004 and all other forthcoming VIRGIN STEELE live shows here. For information in Italian check out www.eutk.net.

FanArt page updated
Clara Ramas is getting better and better! Check out her latest contribution for our FanArt section.

Interview
VIRGIN STEELE are featured as the band of the month at OLD METAL MANIA. Here is an interview given to this webzine.



12 May 2004

How to get tickets for the Accoustic Show in Strasbourg, France on September 04. 2004 ...

Order by e-mail:
- send your mail to: guardiansofmetal@yahoo.fr with the detailed message how many tickets, name and your adress
- only reservation
- tickets to pick up at the box office at the 04.09.2004

Order by phone:
- Give us a call: 0033 - 684955371 (Infoline or answering machine )
- tickets are only reserved same as order by mail

Ticket price:

Advance Sale: 15,- Euro
Box Office: 17,- Euro or direct in FNAC Euro 15,00 or via web www.fnac.com


Last Saturday night´s CARNIVAL OF SOULS setlist was ...

1.BLACK MASS INTRO (with headless demon walking around onstage)
2.BIG "E" Chord!!! WALKING THE DOG
3.TAKE ME FOR A LITTLE WHILE / CRYING IN THE RAIN
4.MONKEY MAN
5.THE INVOCATION (a new version)
6.SYMPATHY FOR THE DEVIL (Weird version)
7.FOUR STICKS
(DRUM SOLO***)
8.SWORD OF THE GODS Intro - FLAME ON.with Poem insert
9.THE WANTON SONG
10.F# DRONE GTR / VOX SOLO
11.BLACK LEATHER
12.PURPLE RAIN
BASS SOLO
13.ACE OF SPADES
14.QUEEN OF THE DEAD
15.CHANGE IN THE HOUSE OF FLIES
16.DESERT PLAINS
(GUITAR SOLO***)
17.KEYBOARD SOLO
18.THE END... into... WHITE
19.AMERICAN HORSE
20.IN THE CLOUDS
21.Organ Solo YOUR TIME IS GONNA COME
22.THANK YOU
23.GIMMIE DANGER
24.Doors Jam RIBALD Intro / ROAD HOUSE BLUES

In addition to the sonic delights the group featured the rare black & white footage on 4 large screens of both the "Carnival Of Souls" movie & the classic "Horror Hotel"!


30 April 2004

"CARNIVAL OF SOULS"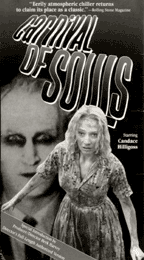 VIRGIN STEELE'S David DeFeis, Edward Pursino & Josh Block will team up with former EXORCIST drummer, Geoff Fontaine, and keyboard High Priestess Lynn Delmato, to perform another gig of "Strange & Beautiful" cover tunes. This show will take place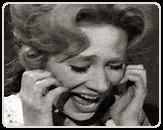 on MAY 8th 2004

at MULCAHY'S 3232 RAILROAD AVENUE, WANTAGH, NY.

This concert is a benefit for the South Shore Music Foundation. Tickets are available through:
South Shore Music,
TEL: 516-541-7433)(516-541-RIFF
or MULCAHY'S, TEL: 516-785-9398
For further information contact: www.mulcahys.com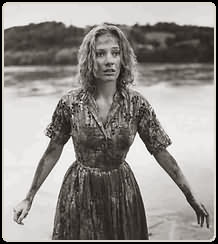 The Fastest Chat:
Q: What can we expect from this CARNIVAL OF SOULS gig on May 8th?
A: Total bedlam, pandemonium and other assorted chaos! It's really a wing & a prayer sort of thing, but to which God or Goddess...I have no idea!

Q: What songs are in the Set at present?
A: Who knows!!! Last night we touched upon some Led Zeppelin, Tony Iommi, The Cult and Iggy Stooge to name just a few. But the end result is still way up in the air....beyond the stars....It is still developing. Ask me next year.

Q: Will there be any VIRGIN STEELE in the Set List?
A: Yes Edward & I will do some acoustic stuff, and maybe with the full group we'll try one or 2 things that we've never actually done live with VIRGIN STEELE. But remember..it isn't VIRGIN STEELE, it is a totally different animal.

Q: What about any EXORCIST songs?
A: Yes indeed! Most likely QUEEN OF THE DEAD and hopefully something else.



Q: What does Frank Gilchriest think about this?
A: Frank has been at both of the previous Carnival Of Souls gigs and he will be at this one too. Frank is always doing something musical. That night he is performing in a classical recital, and then he will be down at our gig. He's very into what we are doing. I've been to gigs he has done with other groups and he reciprocates. It's totally great! He is also very good friends with Geoff Fontaine, and if he wants to come up onstage & join in, he knows that he is always more than welcome to do so. So in effect we will all be in the House so to speak.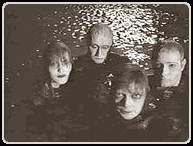 Q: What is the latest on the VIRGIN STEELE front?
A: Preparing for a few Summer Festivals and working on a new VIRGIN STEELE album. I am writing and recording and sorting through songs. We will be laying down further tracks over the next weeks. The work on the new album proceeds bit by bit and should hopefully be wrapped up over the next months. Once it is... I will discuss it further. Until then... stay Invictus!!! And hey... see you on the 8th of May.

21 April 2004

How to get tickets for the ACCOUSTIC SHOW in Bad Wimpfen, Germany on Sept 03 2004 ...

Order by e-mail:
- Send an e-mail to tickets@explosive-music.de with following infos: how many tickets, name, adress
- We send you our bank account.
- After receipt of the outstanding amount we sent you an exchange certificate with your own name & no.
Order by phone:
- Give us a call: 0049 -(0) 72 64 - 96 04 71 (after 18.00 CET or answering machine )
- Same procedure as above...

Ticket price:
Advance Sale: 12,- Euro + delivery+packaging (in Germany 0,60 Euro / order)
Box Office: 13,- Euro

14 April 2004

Unbelievable...
VIRGIN STEELE have finally made it into ROLLING STONE! Check the Band Biography and the album reviews!


30 March 2004

CONCERTS
MAY 8th MULCHAY'S, Wantagh, NY -CARNIVAL OF SOULS - "Strange & Beautiful" cover gig

Featuring David, Edward & Josh from of course...VIRGIN STEELE. Joining them on drums will be Geoff Fontaine from EXORCIST, and Lynn Delmato from THE GALLEY PIRATES.
AND NOW.......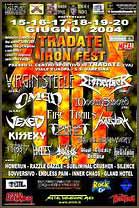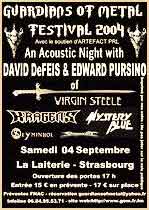 VIRGIN STEELE HEADLINER SHOWS!!!:


SAT 19. June 2004 ITALY
Tradate @ Tradate Iron Festival

SAT 25. July 2004 ITALY
Verona @ Valpolicella Metal Festival
PLUS:


ACCOUSTIC SHOWS with David DeFeis & Edward Pursino of VIRGIN STEELE

FRI 03. Sept. 2004 GERMANY
Bad Wimpfen (near Heilbronn) @ "Alte Kelter" , Schiedstraße 40

SAT 04. Sept. 2004 FRANCE
Strasbourg @ La Laiterie