30 December 2005
BY THE GODS & GODDESSES!!!
We wish you All a most Glorious & Magickal NEW YEAR!!! Thanks so very much for all your incredible Faith, Heart, Honour and Belief... It is because of YOU that we continue. The new album is almost ready to be mixed. See you again soon! Keep well and remain Forever...INVICTUS!

By The Hammer Of Zeus,
VIRGIN STEELE

P.S.:
metalcovenant.com talked to David DeFeis recently. You can find that interview, which has been posted as an mp3-file, in the interview section of thier website.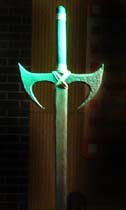 07 November 2005
That was the K.I.T.
We have posted the first few photos from the Concert at the K.I.T. Festival in Königshofen, Germany last saturday. There will be more to follow, and with your support... even more! So, if you have taken some good pictures that night, send them in. The address is: virginsteele@optonline.net
23 October 2005
Interviews
David was talking to Greek Webzine METALZONE recently.That interview is now online. You can also listen to it. Just go to the bottom of the page and click the link to the mp3 file!
While the afore mentioned interview comes in Greek and in English, you must have a good command of the French language to read the interview given to the METAL SICKNESS Webzine.
3 October 2005
On air with Dr.Metal
David DeFeis will be doing a live Radio Interview this coming Friday October 7th with Dr.Metal on Radio WRUW 91.1 FM Cleveland, Ohio.
You can listen to that Radio Station on the internet right now! The "signal" is a streaming MP3. In order to listen, you'll want to download an MP3 player that can receive live MP3 streams from the net:

DSL, Cable, T1, etc.
Dial-up

The show - Metal Meltdown with Dr.Metal - is aired every friday from 4:30 to 6:30 pm. David will be on at 5:00 pm!

More wallpapers
Nikos has just sent in another two of his works. Check them out here.
23 September 2005
Check out this batch of very well done wallpapers sent in by Nikos Anastopoulos.

5 August 2005

More pictures ...
Check out the Photos pages for more live shots from RAGNAROCK and three new wallpapers.

VIRGIN STEELE will Headline KEEP IT TRUE FESTIVAL V
See below for further details:
KEEP IT TRUE V "Guardians Of the Flame"
date: 5 November 2005
at: Lauda-Königshofen, Tauberfrankenhalle
full line up:
VIRGIN STEELE (USA)
(Einzige Deutschland Show 2005)
RAVEN (UK)
(Einzige Europa Show 2005)
JAG PANZER (USA)
(Special "Ample Destruction" Show)
RUFFIANS (USA)
INTRUDER (USA)
SLOUGH FEG (USA)
SKULLVIEW (USA)
STORMWARRIOR (GER)
FORSAKEN (MALTA)
IGNITOR (USA)

KEEP IT TRUE V - Warm Up Show "Night Of the Blade"
date: November 4, 2005
at: Dittigheim, Sporthalle

with:
ANVIL (CAN)
POWERGOD (GER)
(exclusive Covershow)
EMERALD (HOL)
(Final Farewell Show)
STRIKELIGHT (GRE)

Tickets available at www.keep-it-true.de (KIT 17,- Euro , Warm Up Show 8,- Euro, plus shipping)
(Karten gibt es bereits im Shop auf www.keep-it-true.de für 17 Euro (KIT), bzw. 8 Euro (Warm Up) zuzüglich Versandkosten und an allen Vorverkaufstellen.)
This show will be filmed and recorded for possible inclusion on a DVD. The long awaited DVD will be issued promptly after the next studio album. And speaking of that, Work continues on what will be that next studio album. The Group hopes to have all recording & mixing finished by the end of October, in order to prepare for a release sometime between January & March. In addition to this David DeFeis has been asked to compose yet another "Metal-Opera" for a German theater. We will give you more information on this News item as we here receive it.
Thanks for all your Faith, Belief and Great Support!!!
BY THE GODS & GODDESSES,
VS HOME OFFICE
Mark Gorman

21 June 2005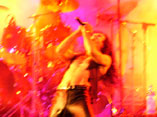 "FROM THE CAVES OF ICE THE MIDGARD SERPENT ROARS AS THE STARS FALL FROM THE SKY" ...
Those of you who came and saw the Lion roaring, the bass pumping, The Krakan pounding furiously and Van Dorian's guitar shredding, we thank you for letting your throats join the Hymns of Victory, and sending a message to the stars above!!!
Here now are some photos and the setlist from last Saturday Night. A review will follow.
14 June 2005
This weekend, by the Twilight of the Gods ... VIRGIN STEELE live at RAGNAROCK!!!
We hope to see you all in Goes, the Netherlands at the RAGNAROCK Festival to celebrate a three-hour concert of electric Magick Fire Music on Saturday June 18th and a special Acoustic set on Sunday June 19th! For more info check out the Live Dates page.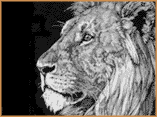 6 June 2005
Dear Friends,
We want to thank you all very much for your Faith and Support and for your best Wishes that came in within the last days! This e-greeting-card was sent in by Young Simone & Young Alice from Italy. Thanks!

Also, please notice the updated information on the LILITH theater play performance this July (see kindly news from May 9 2005 further down below).
25 May 2005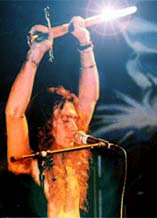 Greetings Friends!

Please kindly understand that we truly are seriously disappointed that we can not participate in the BANG YOUR HEAD & NUMMIROCK Festivals with you this year.
Without going into detail, one of the main problems that we face in regards to appearing there is David must undergo tests and procedures that week (as Mark Gorman announced earlier).

We however do not intend to leave that situation unfinished or unattended. We do hope to rectify these cancellations and hopefully somewhat make up for our absence at The BANG YOUR HEAD Festival, by headlining The KEEP IT TRUE FESTIVAL in Germany on November 5th. We will also arrange for a special concert in Finland to address our cancellation of Nummirock.

We know that many of you are disappointed that we won't be there ... We are also very disappointed, but as you have come to know, we will always go that extra mile for you, and we will come back ... stronger than ever!

We thank you ALL for your understanding, your patience, your faith, belief, and support, and we look forward to seeing you ALL again very soon ...

BY THE GODS & GODDESSES,

VIRGIN STEELE


23 May 2005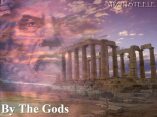 By the Gods! ...
... Simone "Young Ares" Fiorenza has just sent in three new images to decorate your noble screens! Check out these fine new pieces on the wallpaper page.
21 May 2005
RAGNAROCK: Pagan's, Gnostics and Spiritual People of all persuasions ... you are Invited to ...
Read more here on the Live dates page!

VIRGIN STEELE'S appearance at the BANG YOUR HEAD FESTIVAL & NUMMIROC FESTIVAL cancelled:
While undergoing a medical exam to discover the source of a severe, persistent pain, additional serious health issues were discovered that need attention, and it has been suggested by medical authorities that David DeFeis undergo further testing and treatment procedures. Since time is of the essence and these procedures will be ongoing, (several are scheduled for the week of these Festivals), therefore it is with a heavy heart and sincere regret that we must unfortunately announce to you that the Group must bow out of these two engagements. We thank you all for your understanding and patience, and we assure you that the Band will be back onstage with you all once again shortly…

VS HOME OFFICE
Management: Mark Gorman
18 May 2005
GUARDIANS of METAL

With kind permission of the editors we present to you a review of the Acoustic concert at La Laiterie, Strasbourg/France and an interview published last September in the French print magazine ODYM´ETAL.
Many thanks to Marie-Christine who put the magazine together and who also provided us with tons of excellent photos!
Here is the original french article, for the setlist of that concert and for more photos check out the news archive.
9 May 2005

Flowers of Evil: LILITH returns ...
... onto the Theater stage once more! The play - an open air event this time - is going to be performed again by the theater company of the Landestheater Schwaben on July 12 2005 in Munich, Germany at the Bundesgartenschau (National Show for Flowers and Gardens). The performance starts at 7.30 pm.
The Arena - a horse-shoe shaped amphitheater like location which holds seats for about 200 people - where the play is going to be performed can be found in detail B of the map. You can also download that map (pdf-file 375 kB) here. The Arena has location number 42 in the map.
Please notice that no member of the band will be present at that show.


4 May 2005
RagnaRock
The Festival´s website at www.ragnarock.nl is now available in english and in german! See you all on June 18 + 19 2005 in Goes, Netherlands!
28 April 2005
From the studio ...

... of HM Dave
Parts of the interview with David DeFeis at HM Dave´s Place from April 4 are available from the web. Go to www.hmdave.com and find mp3 samples in "The Downloads" section.

... of The Hammer of Zeus
David DeFeis has finally decided which Songs will be issued on the first CD, from out of the over 60 compositions he has prepared so far. And not only that, but the Group is actually now Officially half way through capturing the first 20 on tape. Sessions are going extraordinarily well, and the Group is hoping for a much sooner...rather than a much later release.
We will keep you informed, as the information comes our way. I have also heard rumors about a "making of" short video documentary that is in the works!

Thanks for your support, belief and patience!

VS HOME OFFICE
Mark Gorman
4 April 2005
This week: Live interview!
VIRGIN STEELE will be Live on the Air & in Cyber space:
Date: Thursday, April 7, 2005
Time & place: 8:30-9pm "live in the studio"
Show Name: HM Dave's Place...
Radio Station: WLIE 1240AM - on the AM dial in Eastern Long Island. (Scattered Western Long Island pockets can pick it up also).

***Interview can be heard and also v i e w e d online, via your Internet by logging onto www.wlie.com. Once you are past the Home page, click on "Listen Live" and follow directions to see & hear from there.
31 January 2005
Here it is, the recently announced in depth interview ...
22 January 2005

Headliner show in June
A week before the concert at the BANG YOUR HEAD Festival VIRGIN STEELE will headline the RAGNAROCK Festival in Goes, Netherlands, performing another 3 - hour marathon electric show!

Interview
Not the actual announced interview, but we hope you enjoy this appetizer none the less.

14 January 2005
Coming soon, an extremely in depth Interview featuring a myriad of topics, spanning the History of VIRGIN STEELE, and unveiling several mysteries regarding the new upcoming studio album ...


Click here for the newsarchive ...